Some Basic Info About TREVOR "The Games Man"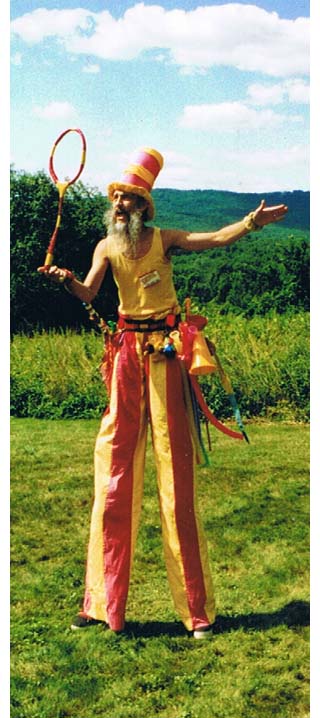 TREVOR "The Games Man" is:
• a trained and certified New Games Leader & Cooperative Play Specialist
• a professional stiltwalker
• a Cooperative Play Staff Development Training presenter
• Project: Ribbon Dancer craft project director
• and all around FUN guy! [Yup, I'm a fungi.]

As of 1/22/13, TREVOR has:
--- made 6, 346 professional appearances
--- in 16 states and provinces
--- entertaining 1,587,017+ people of all ages
--- current Lifetime Customer Satisfaction Rate = 99.96%.

TREVOR did his first professional appearance in 1972 at age 16. He now does around 200 shows a year. Southwest New England and the Connecticut River Valley are his home stomping grounds where he does about 75% of his appearances, however he also regularly appears in all 6 New England states and nearby areas of New York State. Note: he has traveled significantly further than that for performances, he just doesn't actively pursue gigs more than a few hours from home.
Although only about 30% of his work is strictly with kids, TREVOR is proud to have been voted "The Best Children's Entertainer" in the Valley Advocate art & news weekly's annual readers' poll for Western Massachusetts. However, he doesn't really like being pigeonholed as a "children's entertainer" since his various programs for teens, adults, and elders also get rave reviews all the time, too!

TREVOR is the original founder of the Hats Off Performers Guild in 1993. Currently, an association of seven full-time performers and presenters living in Western Massachusetts, the Hats Off Performers Guild meets on a monthly basis to discuss business, practice and critique performance pieces, share success stories, troubleshoot professional difficulties, have FUN together, and much much more including simply to enjoy each other's company. This group has been meeting for two decades now... I love these guys!

TREVOR has also served time as:
--- Cooperative Games column writer
--- Family Day Care Provider
--- Summer Camp Director
--- Youth Director
--- After School Rec Program Leader
--- Water Safety Instructor, Swimming Teacher, & Lifeguard
--- National Teen Organization President
--- Monthly Teen Magazine Editor
--- School Bus Driver
--- Senior Surrey Driver
--- Kitchen Crew Supervisor & Dish Washer
--- Janitorial Crew Supervisor & Sanitary Maintenance Engineer
--- Parent
TREVOR is very happily married to the love of his life; and the father of two happy grown-up kids who are also safely ensconced in happy relationships. YAY!
TREVOR'S Quality Guarantee:

YOU WILL BE 100% SATISFIED AND
YOUR GROUP WILL HAVE A WHOLE LOT OF FUN...
OR IT'S FREE!
413-247-3322
trevor@trevorthegamesman.com
PO Box 463, Haydenville, MA 01039