TREVOR's Known Periodical Appearance
1985-2012 arranged alphabetically by periodical
98 appearances in 47 periodicals
including cover features, articles, photos in newspapers, magazines, newsletters, bulletins, etc
NOTE: Most of these listed below are due to people kind enough to bring them to my attention --- I caught less than a tenth of them myself --- so I'm very grateful to anyone who either sends or reports any Periodical Appearances. Based on how often local pro photographers and reporters approach me compared to how often I catch a photo or mention in the local press, the list below is probably significantly less than 5% of my actual Periodical Appearances. So, if you see me in the press anywhere (even in my home area): please, please, please send it to me along with the name of the publication and the date, or just let me know when and where you saw it and I'll try to find it myself. (P.S. This goes for appearances in other media, too.)
And a big

thank you

to everyone who sent these in.

Aleppo Shriners News, Wilmington MA

October/December 2011 — (p.7) strolling stiltwalking photo and two brief mentions in a full-page article about Springfield MA Shriners Hospital's 2nd annual Walkathon & BBQ 9/17/11. --------->

Amherst Bulletin, Amherst MA
9/13/91 — 2 lines for "Toms & Tunes" Leukemia benefit concert, opening for Tom Paxton & Tom Chapin at John M Green Hall in Northampton MA 9/15/91.
Berkshire Eagle, Pittsfield MA
10/22/5 — (p.B2, top right) stilt photo, Great Barrington Halloween Window Display Day, stiltwalking for Berkshire Masquerade costume shop in Pittsfield.
Beverly Citizen, Beverly MA
10/14/10 — stilt high five photo, Topsfield Fair, Topsfield MA 10/6/10
Brockton Enterprise, Brockton MA
10/6/97 — stilt photo, Taunton Municipal Light Plant 100th anniversary 10/5/97
Cerebral Palsy & Developmental Services newsletter, Springfield MA
Spring 1993 — (p.3) handshake stilt photo, Cerebral Palsy telethon Holyoke Mall, Holyoke MA 1/24/93
Child Care Resource Agency Newsletter, Greenfield MA
Fall 1991 - Winter 1994 — full-page article followed by regular Cooperative Games column in each quartely issue
Childsplay magazine, Longmeadow MA
March/April 1992 — (p.11) 1" article re: winning the Valley Advocate's "Best Children's Entertainer" in the 1991 Best of the Valley readers poll awards
Cooperative Grocer magazine, Iowa City IA
July/August 2007 — (cover & p.6) stiltwalking photo at River Valley Market food cooperative groundbreaking 5/17/7
County Kids, Westport CT
June 2001 — head shot for KidCity Children's Museum's Kid Fest, Middletown CT 6/9/1
Cranston Herald, newspaper, Cranston RI
June 13, 2012 — color stiltwalking photo, Garden City Center Art Festival↓, Cranston RI 6/10/12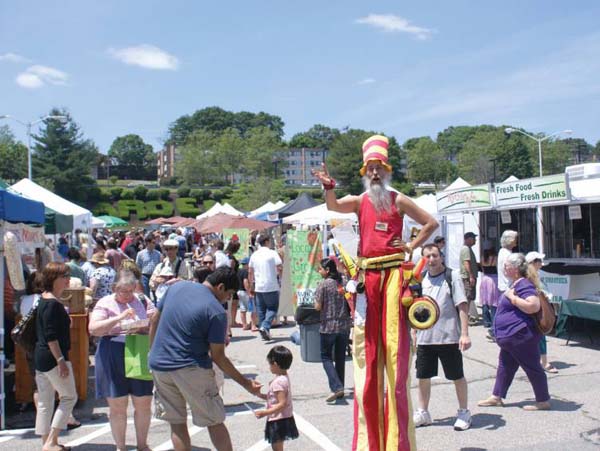 Daily Hampshire Gazette, Northampton MA
7/5/90 — (p.25) 1" text in article about the Sunwheel Festival, Amherst MA 7/7/90
10/22/90 — Chameleon Stick photo, Hampshire YMCA's 100th anniversary, Northampton MA 10/21/90
4/8/91 — ribbon dancer stilt parade photo, Young Child Parade & Festival, Northampton MA 4/6/91
7/31/91 — strolling stilt photo, Williamsburg-Haydenville Business Association BBQ 7/28/91
9/3/91 — stilt photo, Northampton Sidewalk Sales, Northampton MA 7/27/91
9/10/91 — 2 lines for "Toms & Tunes" Leukemia benefit, opening for Tom Paxton & Tom Chapin at John M Green Hall, Northampton MA 9/15/91
4/27/93 — ribbon dancer stilt parade photo, Young Child Parade & Festival, Northampton MA 4/24/93
6/28/93 — headline, 13.5" article, games photo, Leeds Elementary School, Northampton MA 6/21/93
8/10/94 — (p.15) games photo, Tilton Library summer reading program, South Deerfield MA 8/3/94
8/7/95 — (p.3) crowd photo, Bahai street fair, Florence Heights, Northampton MA 8/4/95 ↓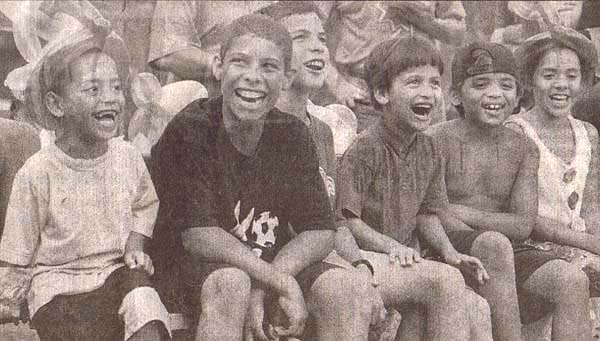 Enfield Press, Enfield CT
5/18/95 — (pp.4 & 9) games and wind whistler photos, Enfield Girl Scouts Health & Fitness Day 5/13/95
Family Fun magazine, Northampton MA
September 1995 —(pp.88 & 94) 4.5" text in article about age-appropriate pre-school activities
First Night Bennington program magazine, Bennington VT
December 1999 — (cover & p.12) color cover head shot, interior photo, 8" article, Bennington First Night 12/31/99
First Night Worcester program magazine, Worcester MA
December 1997 — (p.21) 1.75" text for Worcester First Night 12/31/97
Hampshire Life, Northampton MA
4/19/91 — (cover feature article) color handshake stilt cover photo, plus a 6-page article with 9 photos inside
Hartford Courant, Hartford CT
12/28/00 — (p.B1) color haircut stilt photo at LaMagna Center, Enfield CT 12/27/00
12/13/11 — (p.B1) color high five photo with i.d. in caption at the Connecticut Forum's 19th annual Children's Holiday party at the Marriott Hotel, Hartford CT 12/12/11. ↓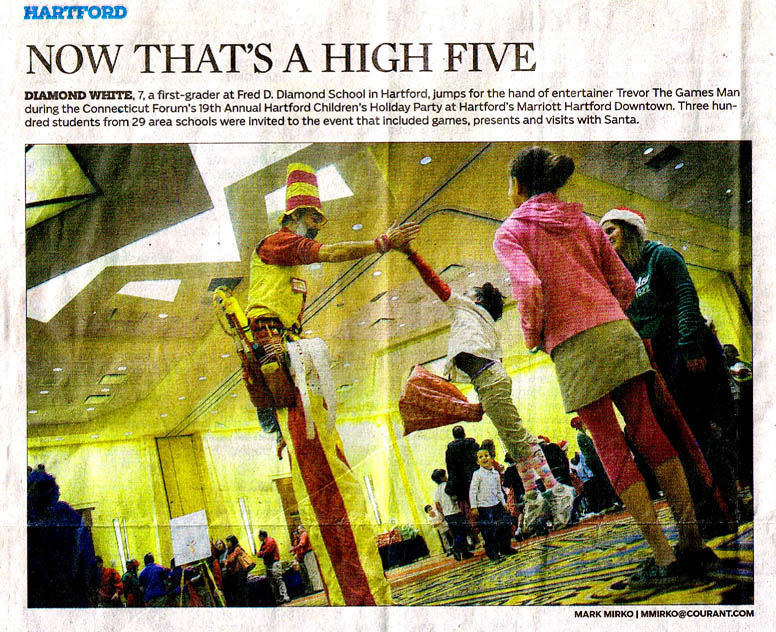 The Herald Press, Middletown CT
6/15/3 — (front page) color stilt photo, 2" article, KidCity Children's Museum's KidFest, Middletown CT 6/14/3
Jewish Weekly News, Longmeadow MA
4/2/92 — (p.7) ribbon dancer photo, paragraph caption, Nicholas Gold's bar mitzvah, Pelham MA 10/19/91
1/5/95 — (p.10) 6" article in the "Focus on..." column
Journal of the MA Association of the New Jerusalem, Newton MA
October 1989 — (p.27) 4.5" article, Mass. Association of the New Jerusalem annual meeting children's program, Cambridge MA 10/15/88
The Landmark, Holden MA
6/15/00 — (p.17-S) high-five stilt photo, "Holden Days" street festival 8/28/99
8/31/00 — (p.28) high-five stilt photo, "Holden Days street festival 8/26/00
Massachusetts magazine, UMass, Amherst MA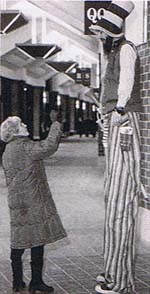 Spring 1993 — stilt photo, the Mullins Center grand opening, Amherst MA 1/13/93 -------------------------------------------------------------->
The Message of the Week, Chester VT
7/2/2 — (p.7) headline, 1" paragraph in an article, head shot, Bromley Mountain Thrill Zone 4th of July celebration 7/4/2

The Messenger magazine, Newton MA
April 1989 — (pp.61-63) 3-page article, 7 photos from Hartsbrook School May Fair 5/14/88
Mount Holyoke Alumnae Quarterly, South Hadley MA
Summer 2005 — (p.32) color high-five stilt photo with I.D. in caption, Mount Holyoke College reunion weekends, South Hadley MA 5/21/5
Natick Bulletin and TAB, Framingham MA
12/9/96 — (p.1-B) wind whistler photo at the Natick Center Associates' Christmas Tree Lighting on the Natick Town Common 12/8/96
The New Beet, newsletter of Green Fields Market, Greenfield MA
October 2002 — (cover & p.3) stilt photo out in front of the store on cover, stlit photo inside on p.3, Green Fields Market Grand Re-Set Grand Re-Opening 5/1/2
July 2003 — (cover) parade & standing stilt photos, Town of Greenfield's 250th anniversary parade 6/6/3, and Green Fields Market Member Appreciation Day 6/8/3
August 2005 — (p.6) standing stilt photo, Green Fields Market Member Appreciation Day 7/7/5
August 2006 — (p.5) indoor seated stilt photo at Green Fields Market Member Appreciation Day 7/26/6
November 2011 — (p.5) standing stilt photo at Green Fields Market Coop Month "Kick Off"
celebration 9/20/11

Newport This Week, Newport RI
March 22, 2012 — (back page, top left corner) stiltwalking parade photo, Newport St. Patrick's Day Parade 3/17/12
The Recorder, Greenfield MA

5/19/93 — (front page) wind whistlers stilt photo, Parent Child Development Center picnic, Beacon Field, Greenfield MA 5/18/93
6/9/3 — (p.21) uncredited color ribbon stilt photo, Town of Greenfield's 250th Anniversary Parade 6/8/3
7/27/6 — (front page, on the fold) ½-page color high-five stilt photo, Green Fields Market Member Appreciation Day 7/26/6 ---------->

The Republican & Union News, Springfield MA
7/23/91 — 3 lines for Northampton Sidewalk Sales, Northampton MA 7/25-27/91
9/12/91 — (p.W-2) 3 lines for "Toms & Tunes" Leukemia benefit concert, opening for Tom Paxton & Tom Chapin at John M Green Hall, Northampton MA 10/15/91
7/4/92 — (pp.13-14) headline, 16.5" article, 2 games photos, Greenfield YMCA's Camp Apex, Shelburne MA 7/3/92
7/31/93 — (p.H-13) strolling stilt photo, Northampton Sidewalk Sales, Northampton MA 7/30/93
7/26/98 — (p.A-12) high-five stilt photo, Northampton Sidewalk Sales, Northampton MA 7/25/98
10/16/99 — (p.B-1) strolling stilt photo, Western Mass. Food Bank's "Piece of the Pie" fundraiser, Greenfield MA 10/15/99
1/9/00 — (front page) headline, 16.5" article by columnist Tom Shea
6/25/00 — (p.A-13) headline, 10" article, Chameleon Stick stilt photo, Westfield Athenaeum, Westfield MA 6/20/00
1/26/3 — (p.A-24) Master of Ceremonies photo, River Valley Market Bingo Night, Northampton Center for the Arts, Northampton MA 1/25/3
7/27/6 — (p.B-1, above the fold) ½-page color high-five stilt photo, Green Fields Market Member Appreciation Day 7/26/6
5/3/7 — (p.B-9, top center) stilt photo with sign board, Affiliated Chambers of Commerce of Greater Springfield Market Show, stiltwalking for Hampden Bank, Mass Mutual Center 5/2/7
River Valley Market newsletter, Northampton MA
Spring 2001 — (p.5) two brief mentions as prize donor for the River Valley Market raffle, Florence Civic Center, Northampton MA 12/8/0
March/April 2002 — (front page) body shot and mention, Master of Ceremonies at the 1st River Valley Market BINGO Night, Northampton Center for the Arts, Northampton MA 1/2/2
August/September 2002 — (front page & p.3) cover stilt photo and p.3 mention, River Valley Market "Market Day", Smith Vocational Technical High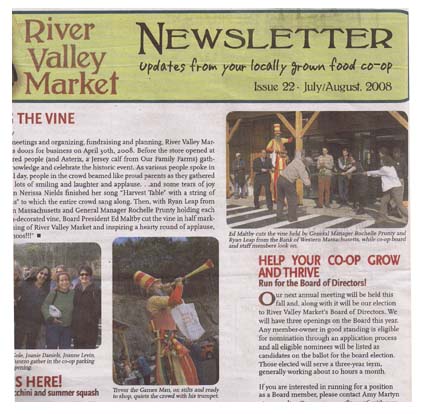 School, Northampton MA 6/2/2
December/January 2003 — (pp.7 & 12) body shot photos, Master of Ceremonies for River Valley Market "Talent Show", Florence American Legion Hall, Northampton MA 10/26/2
September/October 2007 — (front page & p.4) mention in bold on cover, stilt photo on p.4, River Valley Market groundbreaking, Northampton MA 5/16/7
Annual Report 2007 — (p.1 & 3) on stilts way in the background of p.1 photo, stilt photo on p.3, River Valley Market ground-breaking, Northampton MA 5/16/7
July/August 2008 — (front page) 2 color stilt photos --- one with me blowing my own horn! --- with article about River Valley Market's Grand Opening on April 30, 2008. ↑
The Rutland Herald, Rutland VT
12/30/5 — brief mention in article about Rutland First Night entertainment
1/2/6 — stilt photo, Rutland First Night, Rutland VT 12/31/6 (This was reported by my friend Willis Wood (of Wood's Cider Jelly). Willis said the Rutland Herald has printed a stilt photo of me every year I did Rutland First Night 2001-2006. This only underscores my request at the top of the page that you good folks please send me any mentions or photos of me in your local publications. In fact, at least 90% of the ones mentioned on this page were sent in or reported to me by someone who saw it and thought I "just might like to know." I would very much, thank you.)
The Sentinel, Belchertown MA
5/1/85 — (p.6) games photo, Amherst Leisure Services "Family Fun Fair", Mill River Recreation Area, N. Amherst MA 4/20/85 (First photo in print of me playing games professionally!)
Service Across Massachusetts, Salvation Army newsletter, Boston MA
Winter 1998 — (front page) 4" article, ribbon dancer photo, Salvation Army family Christmas party, Jackson St. School, Northampton MA 12/14/97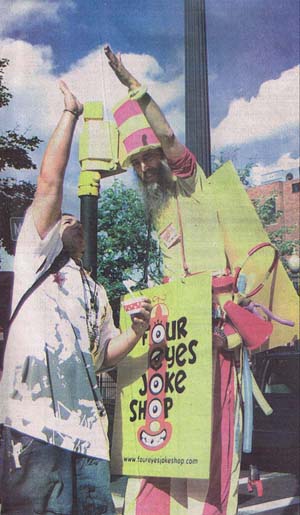 Southbridge Evening News, Southbridge MA
9/5/00 — (front page) standing stilt photo in front of the Charlton Library, Charlton "Old Home Day", Charlton MA 9/4/00 (First photo with my brand-new, I-made-them-the-day-before, wide stripe stilt pants!)
6/11/4 — (front page) color high-five stilt photo with sign board, Four Eyes Joke Shop pre-opening, Southbridge MA 6/10/4
7/23/4 — (p.A8) stilt photo with sign board, Four Eyes Joke Shop grand opening press party, Southbridge MA 7/22/4 ------------------->

Sunday Herald Press, Bristol CT
8/27/7 — (p.4) 1/3-page stilt photo, Terryville Fair, Plymouth CT 8/25/7
Swedenborg Chapel Newsletter, Cambridge MA
November 2005 — (p.5) paragraph about leading cooperative games with children and teens at the Fryeburg New Church Assembly family camp, Fryeburg ME August 2005
Topsfield Fair program magazine, Topsfield MA
2004 — (cover) color strolling stilt photo top center right over the title! (the entire cover was also enlarged and printed as a poster), Topsfield Fair, Topsfield MA 10/7/3
The Town Recorder, Monson MA
unknown date in the early 90's — photo of my good friend, magician Michael Wald mis-identified as me
Transcript-Telegram, Holyoke MA
3/20/89 — (p.S-10) parade stilt photo, Holyoke St Patrick's Day parade, Holyoke MA 3/19/89 (my 1st ever stiltwalking photo in the press!)
6/6/91 — wind whistler stilt photo, Wonder Group day care collective picnic, Buttery Brook Park, South Hadley MA 6/4/91
Twin Cities First Night program magazine, Fitchburg/Leominster MA
December 1996 — (p.11) 1.5" text for Twin Cities First Night 12/31/96
Valley Advocate, Easthampton MA
1/22/90 — (p.16) 1" text re: "Giant Tink-A-Saurus" permanent exhibit in my office
?/?/92 — 1 line announcing me as the winner of the "Best of the Valley" readers poll award for "Best Children's Entertainer 1991"
7/17/97 — 1" text about my upcoming performance at the Green River Festival, Greenfield Community College, Greenfield MA 7/19/97
West County News, Shelburne MA
6/13/97 — (front page) standing stilt photo, "Riverfest", Shelburne Falls MA 6/7/97
Westfield Evening News, Westfield MA
6/28/88 — (p.11) handshake stilt photo, Westfield River Festival, Westfield MA 6/25/88
Willimantic Chronicle, Willimantic CT
10/22/2 — uncredited ribbon dancer stilt photo, UConn-Storrs homecoming parade, Mansfield CT 10/19/2
Worcester Telegram & Gazette, Worcester MA
8/28/00 — (p.B2) high-five stilt photo, "Holden Days" street festival, Holden MA 8/26/00
8/25/2 — (p.B5) Chameleon Stick stilt photo, "Holden Days" street festival, Holden MA 8/24/2
6/11/4 — (p.B1) high-five stilt photo with sign board, Four Eyes Joke Shop pre-opening, Southbridge MA 6/10/4
413-247-3322
trevor@trevorthegamesman.com
PO Box 463, Haydenville, MA 01039