Listen to what Day Care Providers say about TREVOR: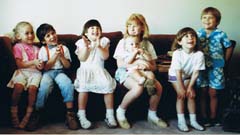 "The kids love the
FUN
times they have when you are at our center — as does the staff! We like the way you adjust to
different
audiences and age levels, your
flexibility
, and
special
offers. Always keeping us informed. Reasonably priced and sometimes on sale allows smaller centers to enjoy your shows as well. [Staff comments include:] '
WOW!
The kids
enjoyed
that.' 'That guy's
funny!
' Keep up the
good work
. TREVOR is always a
great addition to our program
. The kids look forward to his arrival and
love
his shows.
Watching the kids watch TREVOR perform is
l
ike having one of those gut belly laugh attacks!
"

Lisa Martin, co-owner/operator, Side by Side Preschool, Chicopee MA
"We would not consider celebrating completion of a fun-filled school year without TREVOR. He brings joy to everyone: teachers, parents, grandparents, children of all ages! It is a pleasure to see whole families involved in the play that TREVOR brings to our end-of-the year celebration! Looking forward to seeing you again next spring!"
Marcia D'Agresto & Lynn Santaro, Mountain Rd. Schoolhouse, Gill MA (1990-2005)
"Thanks for being so prompt, cheerful, and genuinely upbeat! We adults were all quite impressed, as were the children!"
Mary Brown, pre-school parent, West Hartford CT
"Kevin went to school Monday talking about 'the Funny Man TREVOR'. According to the preschool staff, the talk was all about the man with the long legs. Kevin also talked about how TREVOR said, "No laughing," but everybody laughed. He thought that was funny. I think the whole show was great! Several parents commented on how you kept a diverse group (deaf, hearing-aided, [hearing], different ages) all engaged in one activity. Thanks TREVOR — it was a lot of fun for everyone. Kevin really enjoyed you. (Ethan too!)"
Past Lusted, Kevin & Ethan's mom, Northampton MA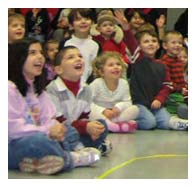 "Fabulous — everyone loved it!
Humor perfect for 5-year-olds.
We loved watching you make them laugh.
You really understand children!"
Carol Friedman, pre-school parent, Amherst MA
[answering machine transcription:] "Hi, um... Hi, this is Ryan Osbourne. I liked the time with you, um... today, and I hope you had a good time at school with us. And I hope you had a GREAT time! And I, um... because I did, too! And thanks for these little magnets. And... ... ... ... goodbye." [Click.]
Ryan Osbourne, who goes to Agawam Early Childhood Center, Agawam MA