TREVOR's Recommended
Word Games
For your next party, family gathering, or just any time, try some of these. If you like word games, you'll love these!
WORD GAMES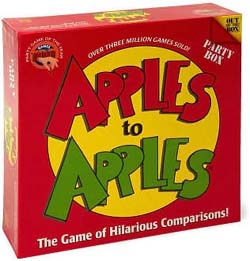 Apples to Apples A terrific specialty card game for anyone and everyone. It's great for children, teens, adults, and elders. In fact, it's a wonderful inter-generational game: elders can play with kids, teens can play with adults, they can all play together, that's how versatile this game is. Absolutely no skills are required except reading. You don't even have to know what the words mean because they tell you. And the more people there are playing together, the funnier it is! This game is causing a sensation at parties and living rooms everywhere. It's a blast!

grade: A+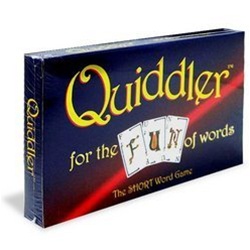 Quiddler
This fabulous game is basically gin rummy with words. The specialty card deck has letters instead of numbers on the cards. And like gin rummy, you can't go out until you can spell words with
all
of the cards in your hand. Each succeeding hand, you have one more card than the previous one, so longer and longer words become possible. Each hand, there's a 10 point bonus for whoever makes the longest word, and another 10 point bonus for whoever writes the most words. My lovely wife always wins when the two of us play.
grade: A+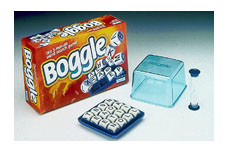 Boggle This is a timed, competitive word search game using dice with letters on them. It's easy to play. Spelling is the only real skill involved. The bigger your vocabulary, the better your chances. Great for older elementary school students to adults.
grade: A


Anagram A rather difficult, highly competitive, add-a-letter word stealing game. Not for the faint of heart. To anagram a word is to take all the letters in it and spell a different word. For instance: NOTES, TONES, STONE, & STENO are all anagrams of each other. NOTES + R = NOTERS, TONERS, STONER, STERNO, & TENORS. This is a game for those who absolutely love to play with letters. Most Scrabble fans love Anagram, too. (Evidently Google understands it, too, because if you google "anagram", it asks: "Did you mean nag a ram?"
grade: A

TREVOR'S QUALITY GUARANTEE:
YOU WILL BE 100% SATISFIED AND
YOUR GROUP WILL HAVE A WHOLE LOT OF FUN...
OR IT'S FREE!
413-247-3322
trevor@trevorthegamesman.com
PO Box 463, Haydenville, MA 01039