TREVOR's Recommended
Reading List
BOOKS OF GAMES
1. The Cooperative Sports & Games Book

2. The Second Cooperative Sports & Games Book both by Terry Orlick (Pantheon)
Sorted by age and activity level with exceptional inter-chapter material. Although there's actually not really any "sports" in either book... it's all great cooperative games!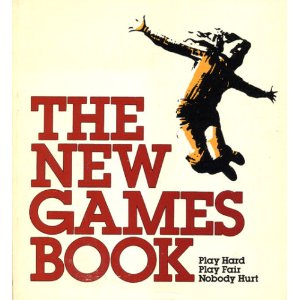 3. The New Games Book
4. More New Games both by Fluegelman & Tembeck (Doubleday)
These two are the original source books for this terrific play movement. A chart at the back sorts all the games in both books by group size and activity level.
5. New Games for the Whole Family by Dale Lefevre (Perigee)
Several re-runs, but still quite good.
6. Playfair by Matt Weinstein & Joul Goodman (Impact)
Games for college students and adults. An excellent resource for this age group.
7. Everybody Wins by Jeffrey Sobel (Walker)
Basically a collection of stuff from the first six books on the list with a few extras.
8. Let's Play Together by Mildred Masheder (Green Print)
Another collection, but from a wider variety of sources.
BOOKS OF OTHER ACTIVITIES

9. The Outrageous Outdoor Games Book
10. The Incredible Indoor Games Book both by Bob Gregson (Lake)
There are no games in these books: they are actually activity books. Only for the creative and open minded.
11. Steve Caney's Play Book by Steve Caney (Workman)
"...spontaneous and inventive things to do for children in all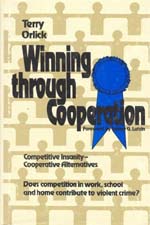 sorts of places." Includes old-timey traditional games like Mumbly Peg, Jacks, etc.
BOOKS ABOUT COOPERATION
12. Winning Through Cooperation by Terry Orlick (Hawkins)
13. Finite and Infinite Games by James Carse (Free Press)
14. The Ultimate Athlete by George Leonard (Avon)
BOOKS ABOUT OTHER ASPECTS OF COOPERATION
& A CATALOG
15. Keeping the Peace by Susanne Wichert (New Society Publishers)
Subtitled "Practicing Cooperation & Conflict Resolution with Preschoolers"
16. How To Talk So Kids Will Listen & Listen So Kids Will Talk by Faber & Mazlish (Avon)
Exactly what it says. Read it.
17. Siblings Without Rivalry by Faber & Mazlish
"an easy to read, down-to-earth approach to managing sibling conflict"

18. The Win/Win Way by Lucy Beale and Rick Fields (Harcourt Brace Jovanovich)
Subtitled "The New Approach Transforming American Business and Life"
19. P.E.T. Parent Effectiveness Training by Dr. Thomas Gordon (Plume)
This should be required reading. Read it. Learn it. Do it. It works. (With adults too!)
20. Animal Town Games catalog (P.O. Box 485, Healdsburg CA 95448 1-800-445-8642)
My favorite source for cooperative board games, plus other fun stuff.
TREVOR'S QUALITY GUARANTEE:
YOU WILL BE 100% SATISFIED AND
YOUR GROUP WILL HAVE A WHOLE LOT OF FUN...
OR IT'S FREE!
413-247-3322
trevor@trevorthegamesman.com
PO Box 463, Haydenville, MA 01039