"We really enjoyed your
inter-active talk, too!"
Linda Driscoll, principal, Broer Elementary School, Hatfield MA
TREVOR'S KEYNOTES
unusual, unique, participatory fun addresses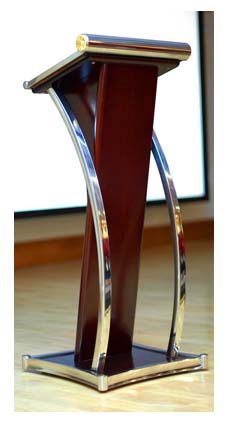 From the outset, let's make it clear that TREVOR is not a professional orator; he's not a member of any speakers bureau; and he's never been to Toastmasters. TREVOR "The Games Man" is a professional entertainer who also does keynote addresses. But he has been in front of over 6,000 audiences and has worked with over 1.5 million people as a certified New Games Leader & Cooperative Play Specialist and professional stiltwalker... so he's got plenty of experience in front of crowds of people!
That being said, what's a keynote by TREVOR like? Unusual. Unique. Participatory. FUN! As an expert in the field, TREVOR always focuses on cooperation. He may be talking about how conflict levels go down as Cooperative Play is substituted for traditional competitive games with pre-schoolers. He may be introducing teenagers to the concept, philosophy, and inclusivity of Cooperative Games and how teens who've learned to hate gym class nearly always take to these games because they don't shame players for not "measuring up" to some arbitrary standard. Or he may be discussing the increased bottom line that inevitably happens when intra- and inter-office cooperation is purposely instituted in large businesses.
No matter what the topic, and no matter what audience, TREVOR's keynotes are always very participatory. For each point in the address, TREVOR pulls a cooperative game out of his repertoire that demonstrates the intent of that particular point. He doesn't just talk about the game... we play it together! So the audience actually experiences the point right then and there. (This also makes TREVOR's keynotes way more FUN!) So a typical 45-minute address will contain an average of a dozen brief participatory games that get the group pumped up about the topic, as well as pulling the entire group together into a cohesive unit working together towards a common goal.
And that, after all, is the whole point.

TREVOR's Keynote Addresses have been enjoyed by such diverse groups as the Hampshire YMCA's 101st annual meeting in Northampton MA; the North East Massachusetts Association of Student Councils in Amesbury MA; Child Care Focus & Hampshire Community Action Commission's annual School-Age Conference in Holyoke MA; and the Breor Elementary School 6th grade "Moving Up" family banquet in Hatfield MA.
TREVOR'S GUARANTEE: YOU WILL BE 100% SATISFIED
AND YOUR GROUP WILL HAVE A WHOLE LOT OF FUN...
OR IT'S FREE!
413-247-3322
trevor@trevorthegamesman.com
PO Box 463, Haydenville, MA 01039