HOSPITAL & SICK BED VISITS

a bedside pick-me-up for someone you love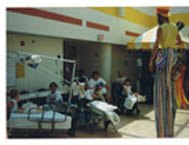 There is no doubt that a stay in the hospital can be a cheerless and lonely affair. Every visit — whether from a relative, friend, or someone else — can help lift the spirits of your loved one. If you can't visit yourself, or if you'd like to host a special visitor, TREVOR "The Games Man" will be delighted to help cheer up bed-ridden children, teens, adults, and elders.
Drawing from his extensive repertoire and over 30 years of experience as an entertainer of all ages, TREVOR will choose games, activities, and equipment specific to the age and interests of the ill or bed-ridden in the hospital, clinic, or at home.
On arrival, even TREVOR's appearance often brings the first smile to their face! In his bright red and yellow Cat in the Hat hat and matching outfit, his Utility Belt packed with fun and unusual playthings, and his sunny demeanor, most people are immediately cheered at least a little just by his mere presence.
And then the real fun begins! For starters, TREVOR will do a few brief tricks of skill from his Aerial Delights Show to the wonderment of whoever is watching, just for warm-ups and as an Ice Breaker. Impression of animals, sports, music using Wind Whistler tubes, pictures-in-the-air with Ribbon Dancers, and the amazing color-changing Chameleon Stick are especially popular. In fact, kids and teens especially seem to always want to try the Chameleon Stick themselves. And adults and elders are just pleased that someone is entertaining them.
Then it's Game Time! As a certified New Games Leader & Cooperative Play Specialist, TREVOR will select age-appropriate "everybody wins" games from his repertoire that guarantee they will smile, maybe laugh, and definitely have a good time. We'll do several quick and different partner games that can be played in bed and involve low level movement and high level FUN! Then a few brainteasers to stimulate that old grey matter, followed by some guessing games, call & response games, math & geography games, games that require a bit of imagination, and maybe even a silly game or two if it's appropriate.
TREVOR can also bring a craft project that will leave your loved one with a fun toy to enjoy after again and again after the visit. (See Project: Ribbon Dancer)And, if you would prefer, TREVOR can also bring cards, board games, and other traditional activities for extended or repeat visits to add even more variety to an already FUN visit.
All told, it's a good time for the infirm, ill, or bed-ridden that will cheer their hearts, lift their spirits, and will be a happy memory they can continue to draw on later. And TREVOR always leaves a little memento (something FUN) to entertain them even more later and help remind them of the FUN they had!

TREVOR's Sick Bed & Hospital Visits have helped cheer up adults and children since his very first one in 1984 when he was booked to visit 5-year-old Beth Ann Freed for a series of ten visits over a one month span during her extended stay at Cooley Dickinson Hospital in Northampton. He has also visited Vera Beauvais in her home in Northampton MA, Jan Difilippo in a post-surgery visit at Berkshire Medical Center, as well as the children at Shriners Hospital in Springfield MA, among others.
TREVOR'S GUARANTEE: YOU WILL BE 100% SATISFIED
AND YOUR GROUP WILL HAVE A WHOLE LOT OF FUN...
OR IT'S FREE!

Click
here
to read comments from delighted clients.