"Thank you for adding life and spirit to the"Boo at the Zoo" this year. From the roar of the kids and the look of
amazement in their eyes, I can tell they loved you!
I hope you enjoyed yourself as much as we enjoyed
having you. I hope you continue to amaze children and
bring wonder into the lives of everyone you meet."
--- Barbara L. Condor, Director of Education, the Zoo in Forest Park, Springfield MA
STILTWALKING


&
The Aerial Delights Show

a unique extravaganza of up-in-the-air amusements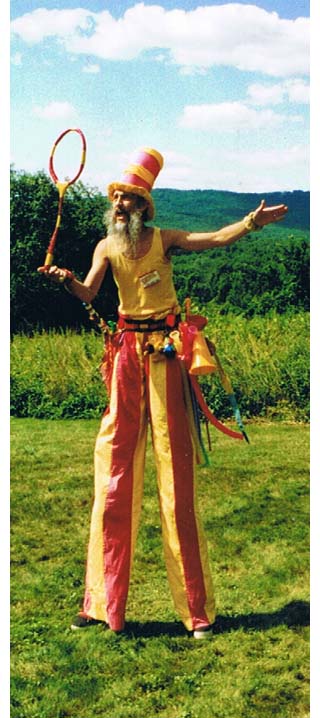 Standing out in the crowd at over 9' tall in his bright red and yellow Cat in the Hat hat and extra, extra, extra long pants, TREVOR's colorful and festive appearance — not to mention the sheer size of the guy! — quickly draws the attention of young and old. The crowds both near and far thrill at just the sight of him.
TREVOR's Utility Belt and Bag of Tricks carries a wide variety of equipment — from silly to serious — that entertains all ages in this exciting, creative, stimulating, and imaginative show. Full audience participation from beginning to end ensures the enjoyment of this unique revue of tricks and skills featuring:
Wind Whistlers swing 'em to make different notes. Sports and animal impressions, too!
Ribbon Dancers: long ribbon on wands make patterns, words, and pictures in the air!
Big Yellow 10+ yards of big, bold, bright yellow ribbon visible from 1/2 mile away!
Chameleon Stick it changes colors in the air! Plus tricks of skill to amaze the crowd!
Sparkly Boxes shiny cigar boxes stay up in the air, but only two ever get touched!
Rotating Racquet the audience always gets a big hoot out of this unusual novelty!
Wind Tubes 10' long, swirling, colorful playthings! Run with 'em & they fill with air!
Hula Hoop Baskeball everyone cheers when the beachball goes through the hoop!
Pushpin Soccer several minutes of craziness with two teams, balloons, and pushpins!
Hidden Secrets a chance to actually learn how the stilts are constructed and worn!
And More who knows what sort of unique up-in-the-air amusements he'll think UP next!
TREVOR's stiltwalking has added a whole new dimension of FUN to thousands of outdoor events including fairs, festival, fireworks, and field days; picnics, parades, and parties; concerts and conventions; and a wide variety of private and corporate events.
TREVOR'S GUARANTEE: YOU WILL BE 100% SATISFIED
AND YOUR GROUP WILL HAVE A WHOLE LOT OF FUN...
OR IT'S FREE!
Click here for comments about TREVOR's Stiltwalking & the Aerial Delights Show.
Click to see a list of TREVOR's Parade Appearances
Click to see a list of all TREVOR's Stiltwalking "Walk-Around" Appearances
413-247-3322
trevor@trevorthegamesman.com
PO Box 463, Haydenville, MA 01039