"How can we ever thank you enough for helping us
out at the Cerebral Palsy Telethon. As expected,
the strolling [stiltwalking] performances
you gave at the mall were wonderful! You
absolutely delighted our mall audience and
added lots of excitement and fun to Telethon Day!"
Barbara Griffin, Past President, Cerebral Palsy & Developmental Services, Springfield MA
STILTWALKING
"WALK-AROUND"
strolling entertainment draws attention near and far
suitable for indoors or outdoors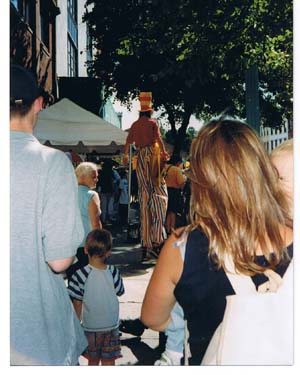 Whether it's a fair or festival, picnic or promotion, grand opening or graduation, trade show or telethon, table-to-table during a formal dinner, a public or private event, indoors or out... a stiltwalker definitely adds a whole new dimension to your event! Drawing attention from both near and far, TREVOR's stiltwalking "walk-around" performances are a moving performance... literally!
TREVOR can be strolling among the crowds or out in front drawing people in. Either way everyone's face breaks into a smile when they first catch sight of the big, tall man on stilts. In his signature Cat in the Hat hat and extra, extra long striped pants, TREVOR adds lots of color and a festive touch to your event.
As he walks through the crowds, nearly everyone accepts the offer to jump up and give him a really High Five! Some days, 150-200+ people an hour have gotten their feet off the ground and their spirits lifted by that one simple act. Kids, teens, and a surprising number of adults all want to get in on the FUN!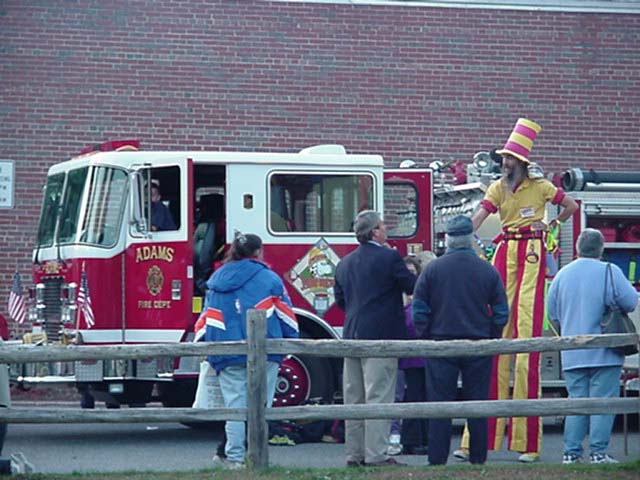 But wait, there's more! As he works the crowds, whenever and wherever small groups gather, TREVOR pulls equipment from his Utility Belt and Bag of Tricks and entertains both young and old in brief 2-10 minute "spot shows" throughout the event area with exciting and stimulating selections from his Aerial Delights Show. There may be two or three per hour, or as many as one every five minutes --- it completely depends on the crowd.
Everyone is happy and everyone is entertained by TREVOR's Stilwalking "Walk-Around" performances!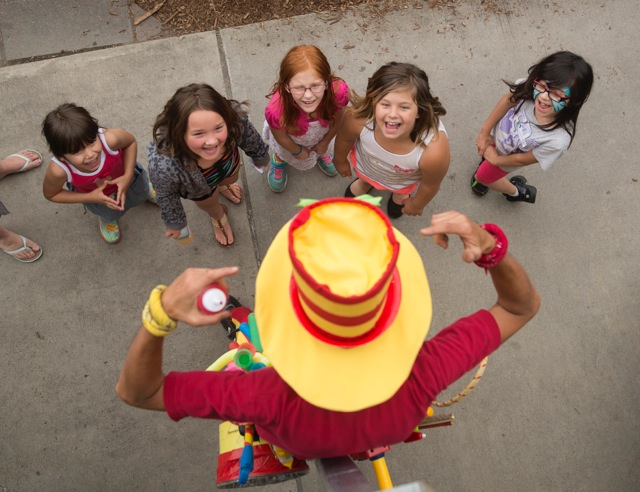 Read what others say about TREVOR's Stiltwalking
Past Stiltwalking "Walk-Around" performances

TREVOR'S GUARANTEE:


YOU WILL BE 100% SATISFIED AND
YOUR GROUP WILL HAVE A WHOLE LOT OF FUN...
OR IT'S FREE!
413-247-3322
trevor@trevorthegamesman.com
PO Box 463, Haydenville, MA 01039