"Thanks so much for training our young actress
to walk on stilts for our school production of
The Lion, the Witch, and the Wardrobe. Your
easy yet professional manner really took the
pressure off what could have been a very
scary experience. She spoke highly of you,
and in fact, the entire cast enjoyed your visit."
David Nields, director, Williston-Northampton School Drama Dept. Easthampton MA
CONSULTING ON:
COOPERATIVE GAMES
STILTS & STILT TRAINING
EVENT PLANNING
ENTERTAINMENT MARKETING
expert advice on cooperative games, stilt design & training, etc


As a certified New Games Leader & Cooperative Play Specialist with more than 4 decades of experience in the field working with pre-schoolers, children, teens, adults, and elders, TREVOR "The Games Man" can give you appropriate game suggestions for your group, ideas on how to make your activities fit a theme, or steer you to resources you may not be aware of.
He has been called on by p.e. teachers, day care providers, school staff, activity directors, and many other professionals for advice on cooperative games for all sorts of different situations including indoor cooperative games for pre-schoolers, active teen games that everybody wins, and even games for adults to play on the phone!
As a professional stiltwalker since 1987, TREVOR can show you how to construct professional stilts and train you to walk on them either for a specific purpose or just for the FUN of it!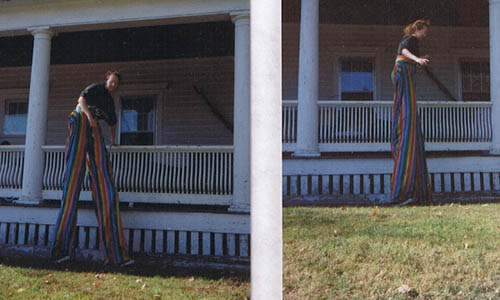 "One of TREVOR's Stiltwalking Students"


As a seasoned professional considered the 'marketing guru' in his performers guild, TREVOR also does business and marketing consultations for fellow entertainers of all types. Whether you're wondering how to promote yourself, how to improve your act and/or presentation, or if you just want advice on how to get started, TREVOR can help you with the voice of experience.
TREVOR is also called on for event consulting for business functions. How long should my event last? How much time should I allow for the meal? What's the best way to set up the room? Should the entertainment be before or after the speeches? And so on. TREVOR has appeared at over 6,000 events to date — chances are, he's done quite a few just like yours. He'd be happy to share his experience with you to make your event more successful.

TREVOR has done Cooperative Games consulting with The Hartsbrook School in Hadley MA, the Early Childhood Program in Greenfield MA, and Jewish Geriatrics in Longmeadow MA among others. He has done stilt consulting with the Smith College Drama Department Costume Shop in Northampton MA, the Williston-Northampton School Drama Dept. in Easthampton MA, the Monadnock Waldorf School in Keene NH, as well as with several individuals. He has done business consulting with Henry the Juggler in Amherst MA, Happy Dan the Music Man in Shutesbury MA, and Baby Castle at Serv-U hardware store in Enfield CT.
TREVOR'S GUARANTEE: YOU WILL BE 100% SATISFIED
AND YOUR GROUP WILL HAVE A WHOLE LOT OF FUN...
OR IT'S FREE!
413-247-3322
trevor@trevorthegamesman.com
PO Box 463, Haydenville, MA 01039