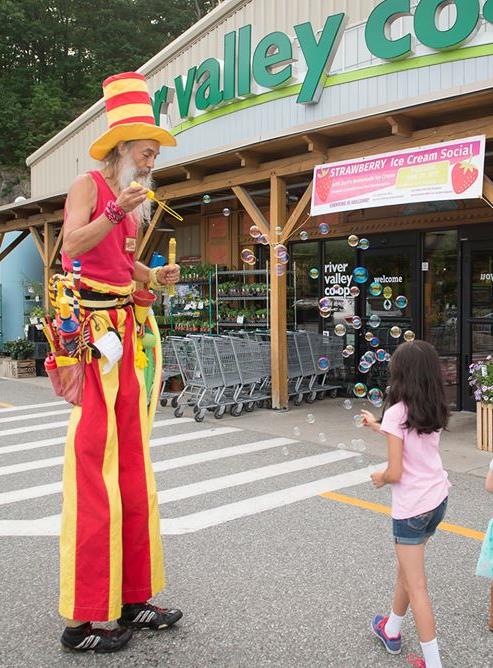 BUBBLES!
River Valley Co-op Strawberry Ice Cream Social
Northampton MA
June 22, 2017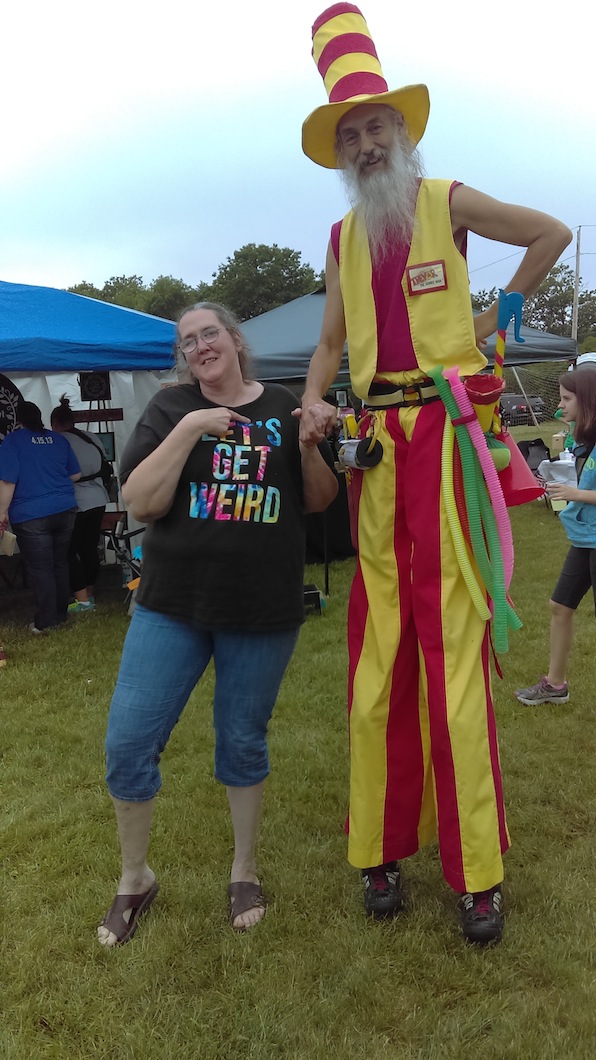 Tina Martin and me. A pair of real weirdo's. The only difference is that I get paid for it!
Hubbardston 250th Celebration
Hubbardston MA
June 17, 2017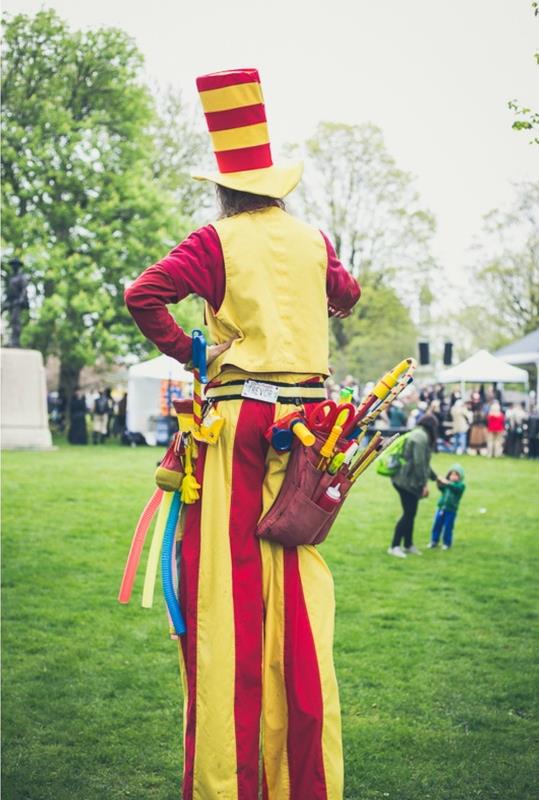 Watch City Steampunk Festival
Waltham MA
May 13, 2017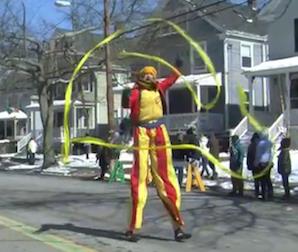 It was so cold that day: 20° with a wind chill factor of -8°! I had to wear my yellow wool beret with a balaclava under it, a scarf, a down vest, two jackets, four shirts, 3 pairs of gloves, three pairs of pants, knee pads, and four pairs of socks including my battery-operated electric socks. It was, indeed, extremely cold outside... but I was toasty! AND, I was voted "Best Crowd Pleaser" in the parade, too! What an honor! What a day!

Newport Irish St. Patrick's Day Parade
Newport RI
March 11, 2017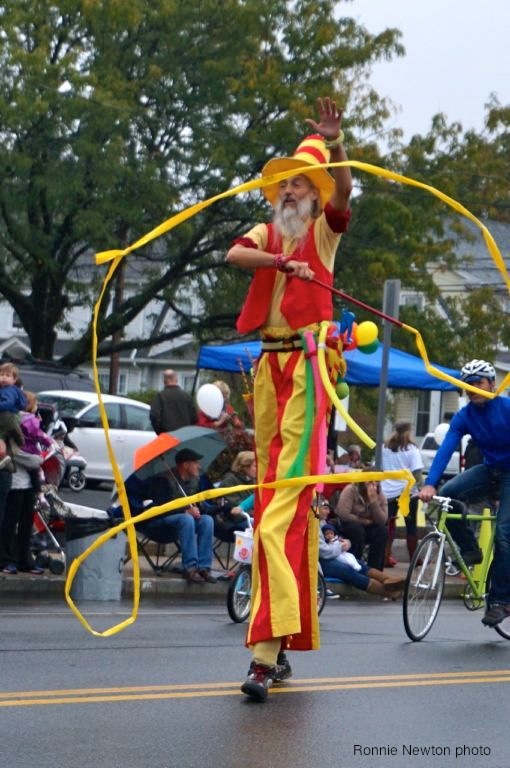 A rather wet day for a parade, but those who braved the weather were very enthusiastic!

Park Road Business Association's annual Park Road Parade
West Hartford CT
October 1, 2016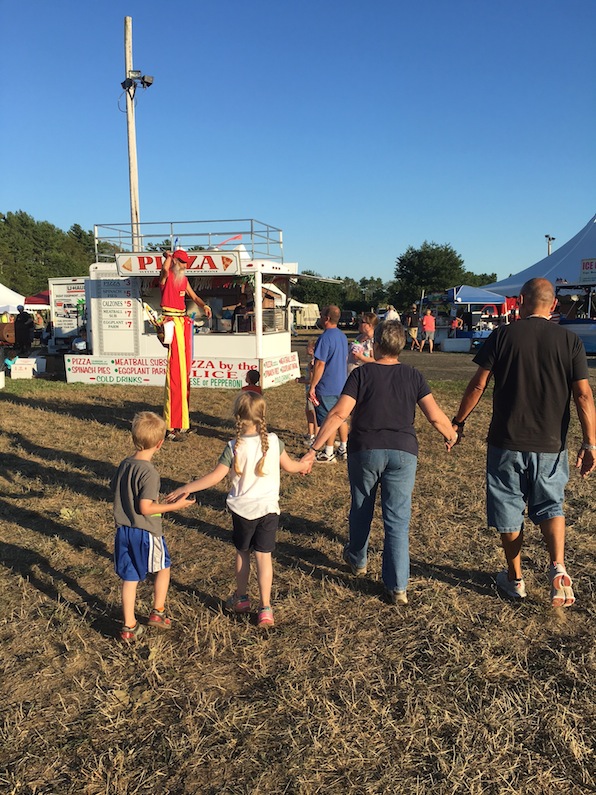 "Going to See TREVOR!"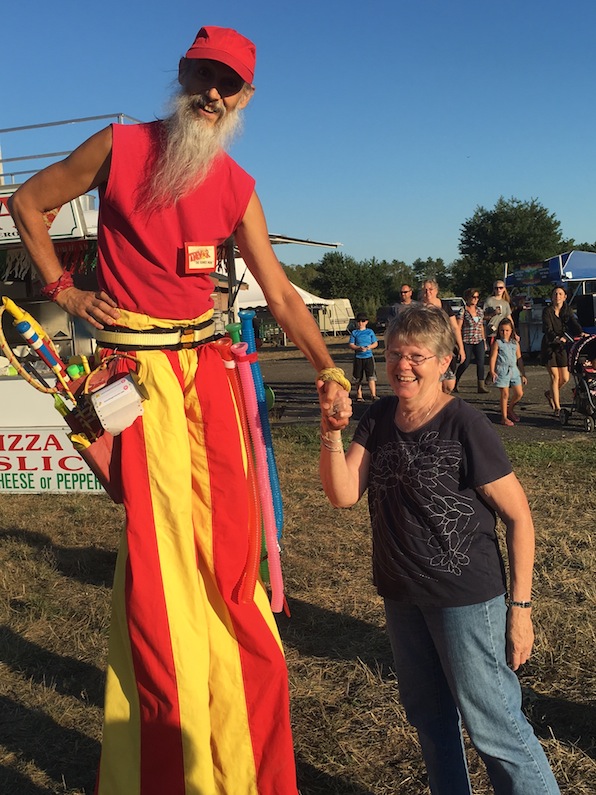 She's know me since I was born and has doted on me my whole life. It was great to see her and her local family members at the fair!
Both the above photos were taken at
Rochester Country Fair
Rochester MA
August 18, 2016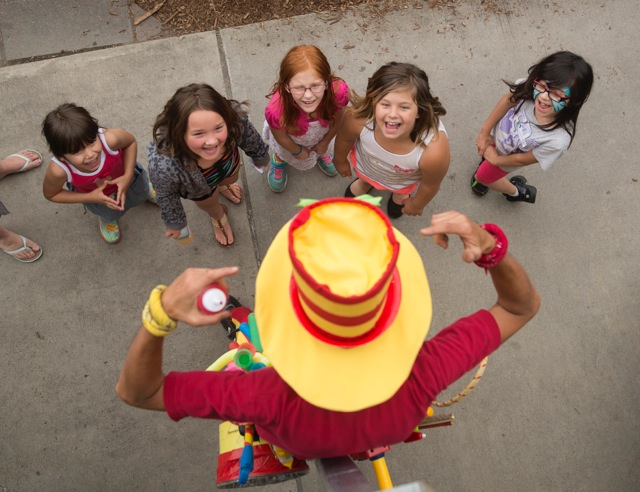 And a small crowd gathers! The view from the top!
River Valley Co-op's annual Strawberry Ice Cream Social
June 18, 2015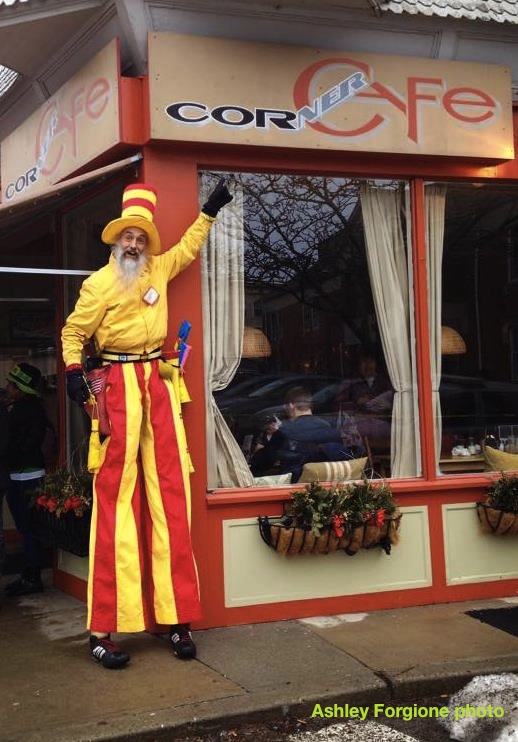 It was a rainy, drizzly day, so before the parade started, I was waiting under this shop's awning (it's the slanty thing viewed end on, just above my hat). One of the staff came rushing out to take a photo of me in front of their cafe. I ducked out from under the awning for the photo, and the photographer was kind enough to send it to me.
Newport Irish St. Patrick's Day Parade
Newport RI
March 14, 2015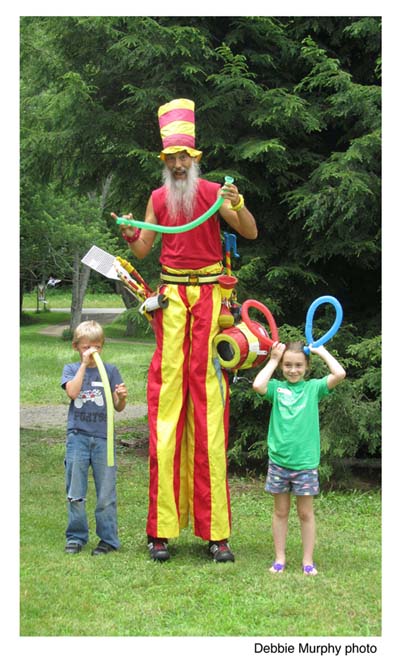 An elephant, a bunny, and me!
Joseph L. Popp Butterfly Conservatory's annual Irish Festival
Oneonta NY
July 13, 2013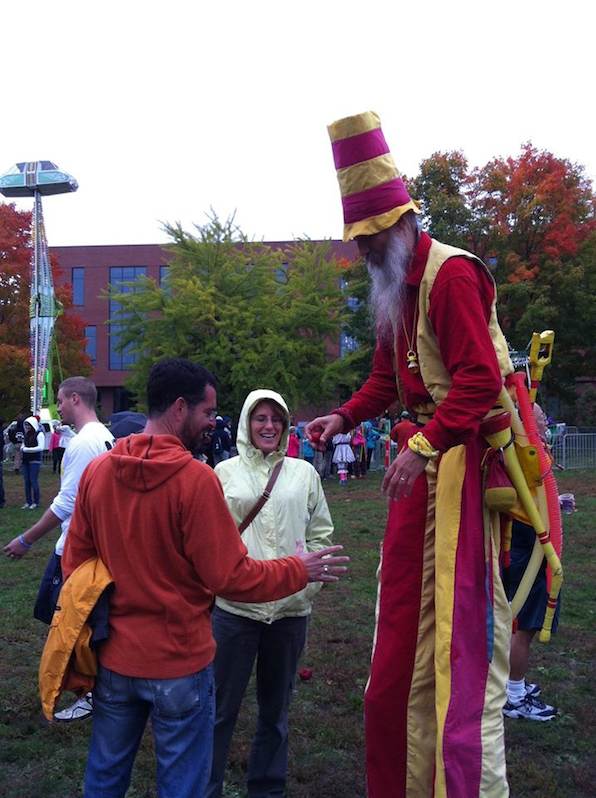 Stiltwalking "walk-around" entertainment for adults. They love me, too!
UConn-Storrs Homecoming
Storrs CT
October 7, 2012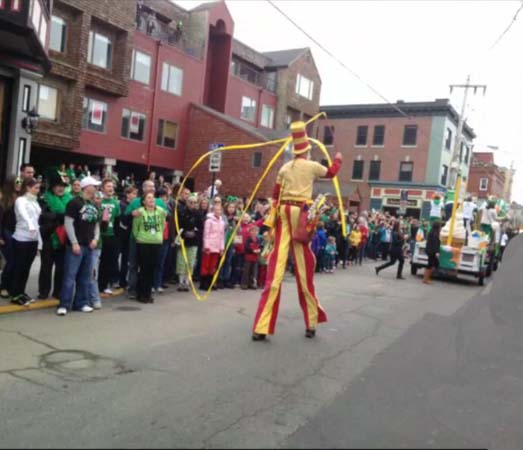 A great parade, a delightfully varied parade route, and a mighty lot of green!
Newport Irish St Patrick's Day Parade
Newport RI
3/17/12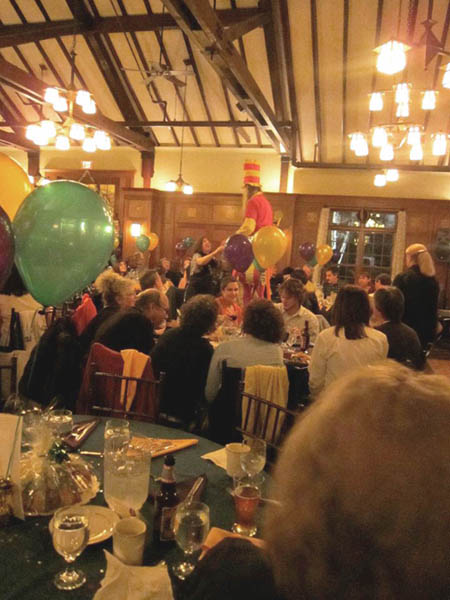 A wonderful time stiltwalking the crowd in the Look Park Garden House at River Valley Market's 2nd annual Mardi Gras celebration! A fabulous Big Easy meal by RVM's Quarry Cafe, plus music by Lil Orphans Cajun Express and New Orleans native Samirah Evans & Her Handsome Devils.
River Valley Market's Mardi Gras party
Northampton MA
2/25/12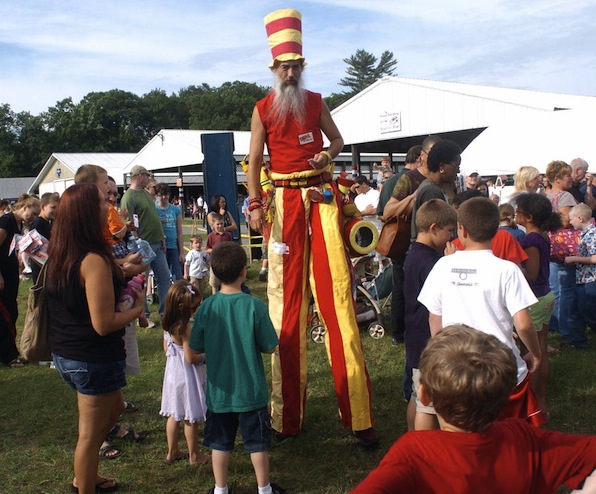 June 26, 2011
Ballston Spa Fun Day
Ballston Spa NY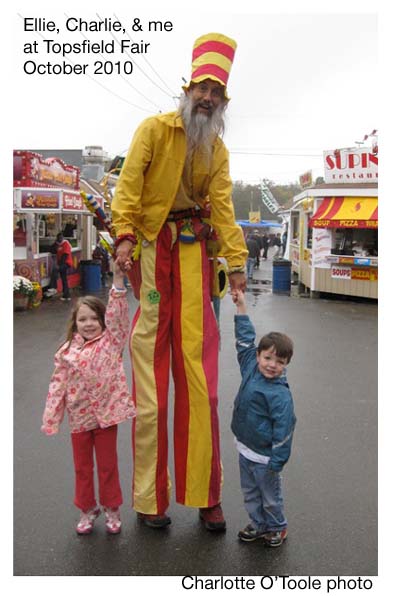 It was a very rainy day at the fair, but there were still smiles all around!
Ellie(6) and Charlie(4) were there with their Grammy who took this picture.
Topsfield Fair
Topsfield MA
October 6, 2010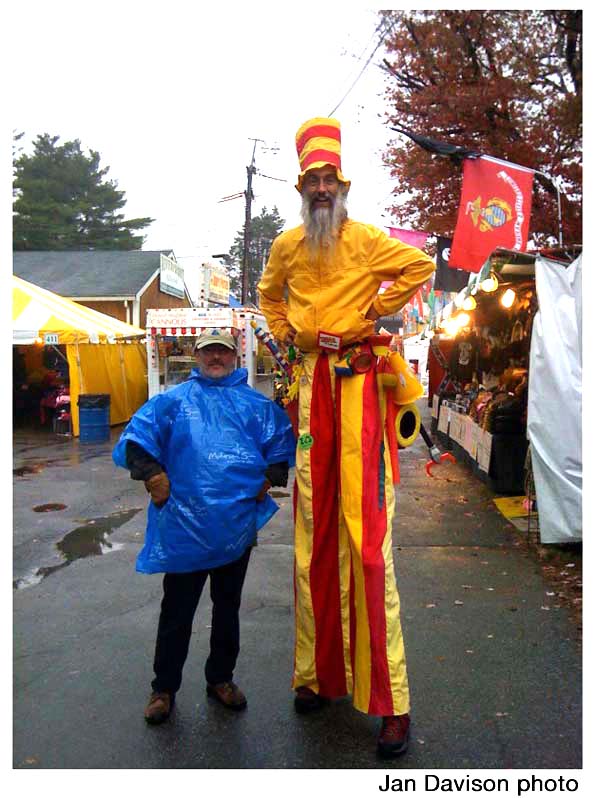 The same rainy day as the photo above this one, this guy, Bill Davison, really wanted his wife to take a picture of us together. He was
imitating
me, too, so I told him to Grow UP!
Topsfield Fair

Topsfield MA

October 6, 2010
The Autism Resource Center of Central MA has booked me several times for their annual Spring Walk-a-thon at Lake Park in Worcester. At this event, caring adults gather a team of walkers around a specific loved one who has autism. Towards the end of the walk this particular year, I just happened to be walking by as Conner's Team was gathering for their photo when they beckoned me over to be in the photo. Team member Erica Ploof was kind enough to send me a copy.
Autism Center of Central MA
"Community Walk for Autism Awareness"
Worcester MA
April 25, 2010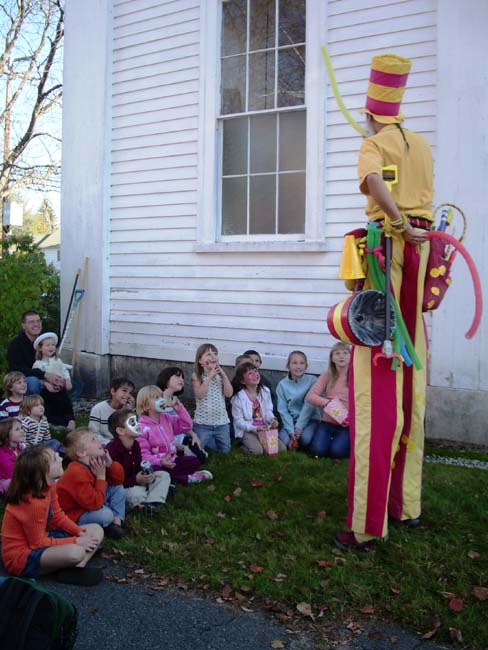 Look! An elephant!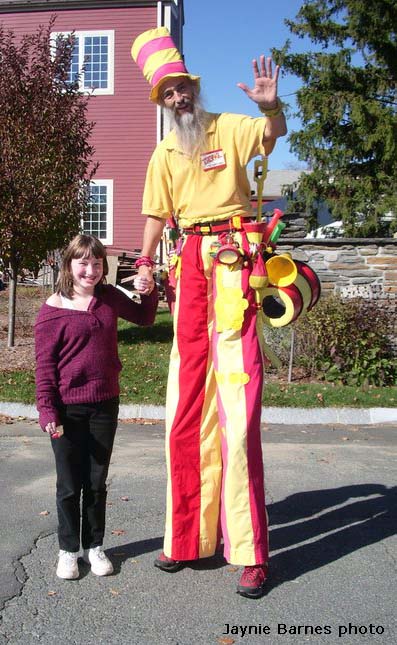 The above two photos were taken at the Burgy Fall Festival, a great local small town event.
Burgy Fall Festival
Williamsburg MA
October 26, 2008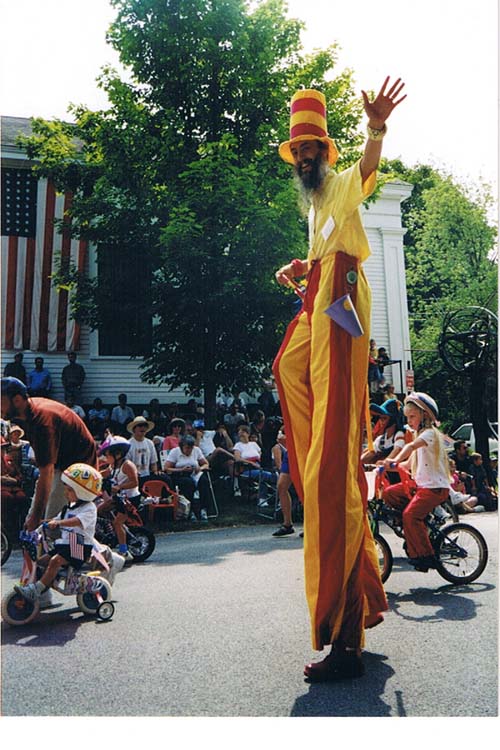 Stiltwalking in the Chesterfield Independence Day Parade.
Chesterfield MA
July 4, 2001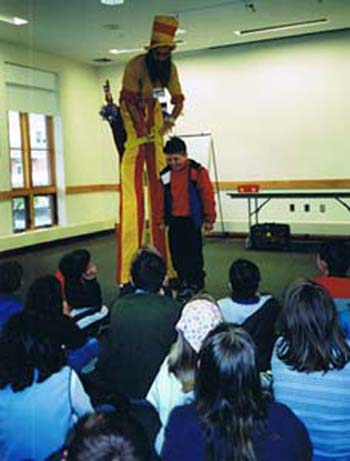 Giving a haircut at the Abington Library.
Abington MA
April 2001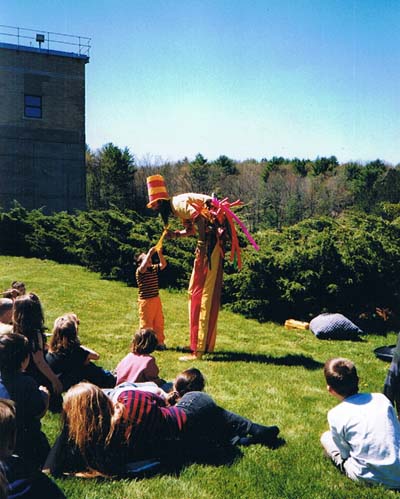 Getting a haircut at Hubbardston Earth Day.
Barre Falls Dam
Barre MA
May 2002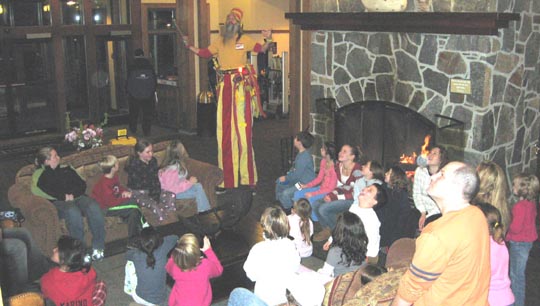 Looks like I'm directing the heavenly choir, but actually they're watching my helicopter fly during a show by the fireside in the lobby of the Grand Summit Hotel at Mount Snow.
This was my 43rd gig at the Grand Summit Hotel at Mount Snow! Awesome!
West Dover VT
January 27, 2007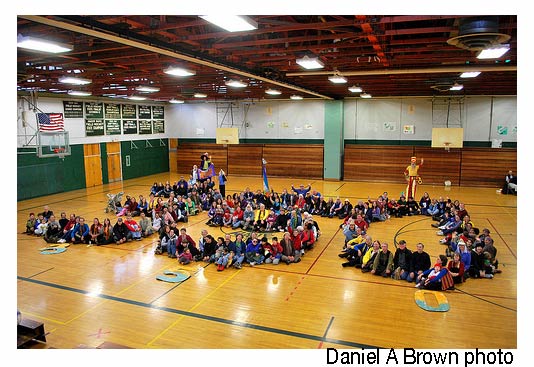 "350 Climate Action Carnival" at Greenfield High School
Greenfield MA
October 24, 2009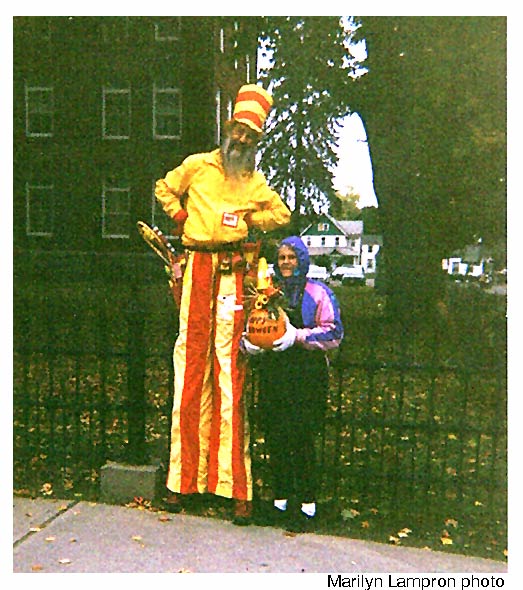 "Third Thursday" trick or treating
Pittsfield MA
October 15, 2009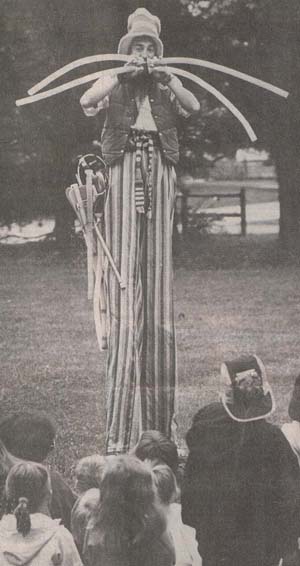 My impression of a cat!
Wonder Day Care Group at Buttery Brook Park
South Hadley MA
June 1991.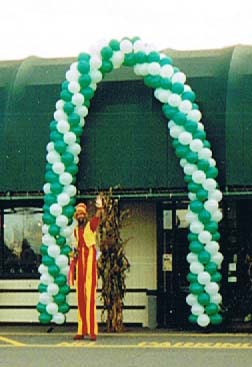 Bread & Circus's 17th anniversary
Hadley MA
November 2000.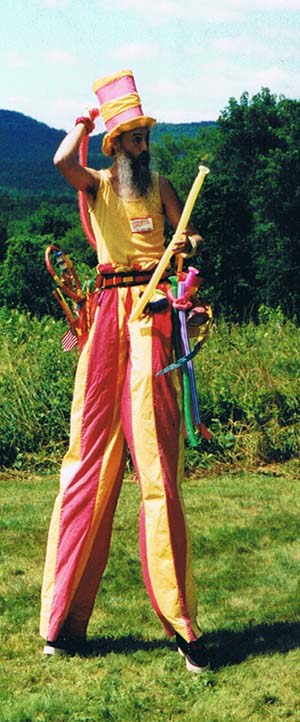 Sarah "Sally" Montgomery & Priscilla "Chips" Wahlen's wedding
South Hadley MA
July 23, 2005.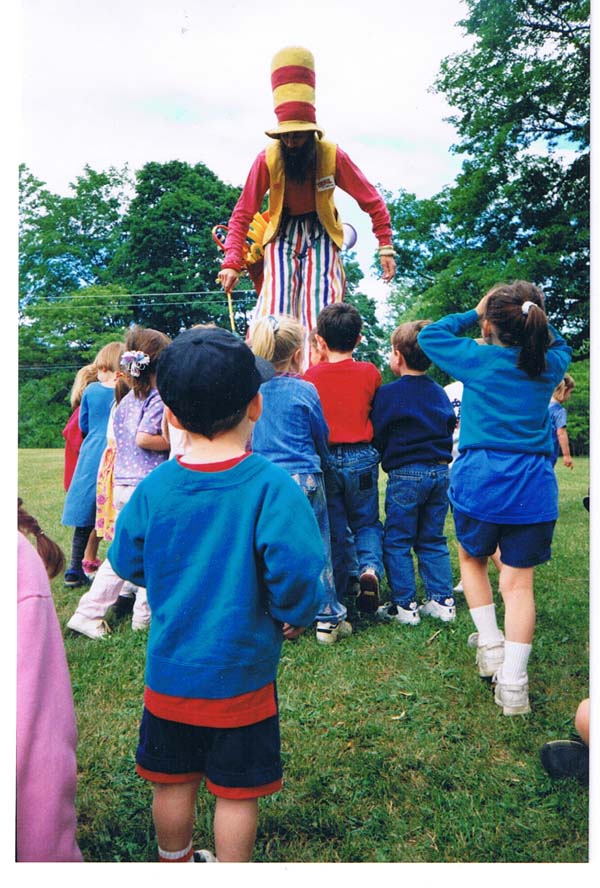 Mountain Road Schoolhouse picnic
Gill Elementary School
Gill MA
June 6, 1998

The Mountain Road School day care center in Gill MA booked me every year for their end of the year picnic from 1990 until the owner retired in 2005. Above, I'm holding an alligator toy that when you squeeze the red trigger, the jaws of the alligator open and close. I pulled it out and said, "Does anyone need a little trim?" and was instantly mobbed with kids wanting haircuts! So, I'm giving free trims in this photo.
Below, at the same event the same year is the amazing color-changing Chameleon Stick doing tricks for the same crowd. (You may have noticed that in the upper photo at the very left is the right arm of the pink sweat-shirted girl with braids in the photo below. Everyone else who was sitting in front of her is in the mob scene in the upper one!)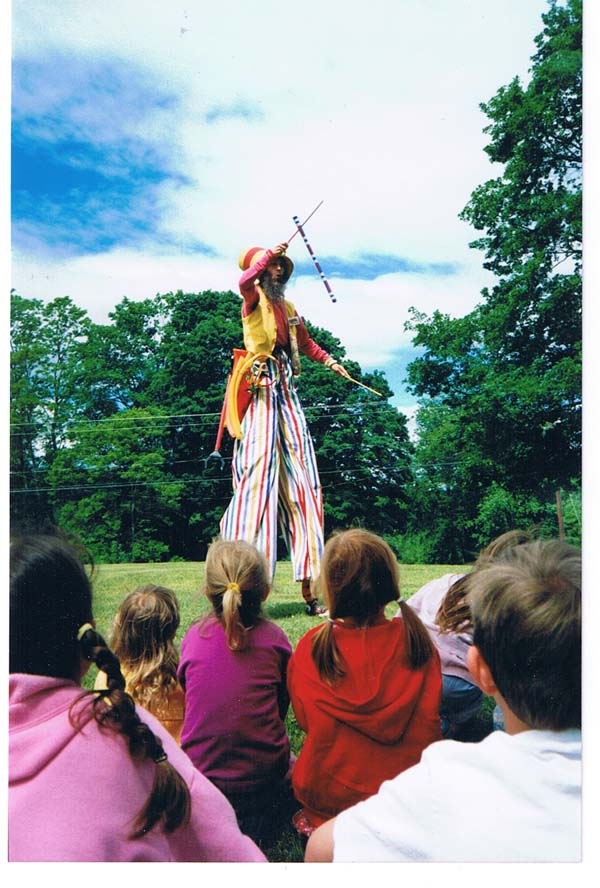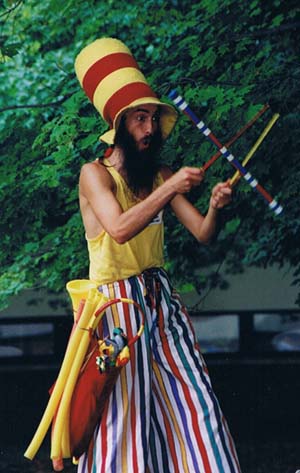 Springfield Day Nursery
East Longmeadow MA
June 1998