"For a whole hour, you kept 70 children ages 6-16
smiling and active and doing games together.
Everyone had a great time, and you introduced
some games that the counselors used later on."
Tina M. Bennett, director, Summer Rec. Program, Bernardston Rec. dept, Bernardston MA
THE ON-THE-GO
HI-OCTANE SPECIAL

an energetic event for teens, young adults, & other active people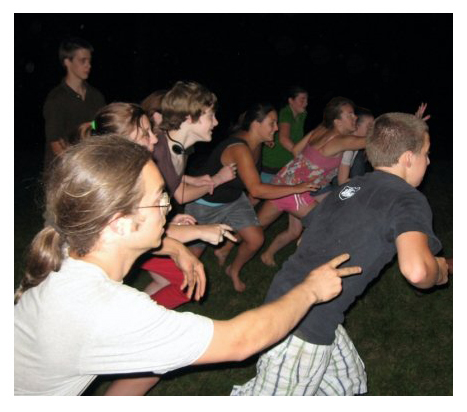 Although we won't be running all the time, and although those who prefer to be more sedentary can also enjoy it, too, this is a very active event especially popular with college students, teens, and older elementary-age children with lots of energy to spare. It's an hour of active, non-sport, everybody-wins, strategy field games that challenge everyone in the group no matter what their skill levels.

And, if breathers are needed, we'll sit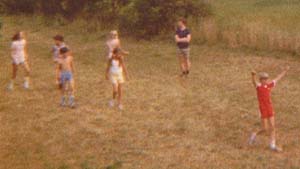 down for a few
Minute Mysteries
: brain games that test your powers of deduction and reasoning, and force you to question your assumptions! But most of the time, it's just go, go, go, go go, go, GO!
It takes team work for everyone to catch the runner in Line Cross, and it certainly takes full attention for one lone individual to hold everyone at bay in Smaug's Jewels. It's 1-on-1, competitive running in Elbow Tag, and everybody working together to get untangled in Knots.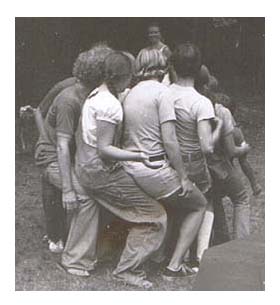 They'll enjoy a wide variety of tag games, too: from Cross Tag where you actually force It to chase you, to the ever-growing Blob, to the sheer chaos of Everybody's It and Rock/Paper/Scissors Tag.
There's also quite a number of unusual team strategy games: British Bulldog and the ever popular Go! are physical contact games. Believe it or not, breathe control is paramount in Piña and Dho-Dho-Dho. The skill to move quietly is rewarded in Indian Stick, and to move without drawing attention to yourself in the fan favorite May I Borrow Your Cat? Both acting and a split second of panic are featured in both Lemonade and in Elves, Giants, & Wizards.
All in all, it's a solid hour of sheer excitement, a total blast, and loads of FUN!
The On-the-Go Hi-Octane Special has been enjoyed by such diverse groups as Teen Connection (Harleysville PA), Loomis Chaffee School (Windsor CT), Pioneer Valley Regional High School (Northfield MA), Clark School for the Deaf (Northampton MA), Hampshire College (Amherst MA), Vermont Youth Conservation Corps (Montpelier VT), the Flames (teen group) at the Fryeburg New Church Assembly family camp (Fryeburg ME), as well as at hundreds and hundreds of special events for college students, teens, older young adults, as well as school-age kids.
TREVOR'S GUARANTEE: YOU WILL BE 100% SATISFIED
AND YOUR GROUP WILL HAVE A WHOLE LOT OF FUN...
OR IT'S FREE!
Click
here
to see comments about this event.
Click
here
to see a list of TREVOR's Appearances for Teens where he did this show.
413-247-3322
trevor@trevorthegamesman.com
PO Box 463, Haydenville, MA 01039