"Very Good."
"Unusual entertainment."
"Thank you. It was terrific!
We all had a good time."
Worcester County Shriners Club members
THE PARTY GAME SHOW
an hour of good clean fun for adults
(teens and kids like it, too!)
available in person or online
This unique, 100% participatory show is d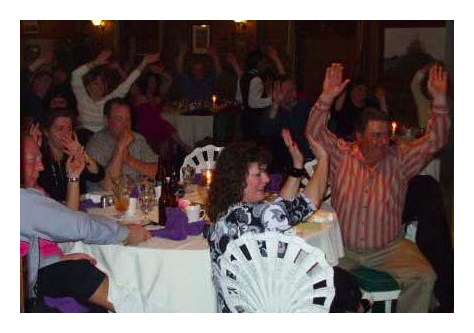 esigned for a seated audience in a banquet hall, meeting room, hall, auditorium restaurant, meeting room, living room or online. It is for people of all physical abilities, as well as all group sizes. It features interactive, non-strenuous, everybody-wins, party games for adults (but suitable for all ages). If you're looking for something just a little bit different, this is the show for you! In fact, your group will love it or the show is free!
Since TREVOR always gears his material to the audience, often on the spot, here's an idea of just one way this show may go:

We'll start off with a terrific ice breaker game, a real rouser called
Who's the Leader?
TREVOR selects a volunteer to come up front and be the Detective — if it's a celebration of or for a specific individual, this is
their
brief time in the limelight! He asks that person to close their eyes briefly while he picks a second volunteer seated in the audience to be the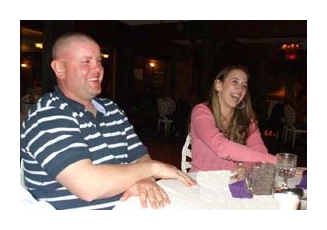 Leader. Whatever the Leader does,
everyone else imitates, and the Detective has to figure out Who's the Leader? It's a
great
ice breaker game! Everyone's all doing the same thing together, so it's easy to play; the Leader is one of their peers, so even if s/he does something a little unusual, everyone will do it; it's fun; it's funny;
and
it's a real challenge for the Detective... it's
not
easy! It often takes several minutes.
Next everyone gets to be a detective with some Minute Mysteries. After hearing the clues, you'll have to do some sleuthing to solve the case 20 Questions-style by asking simple yes-or-no questions.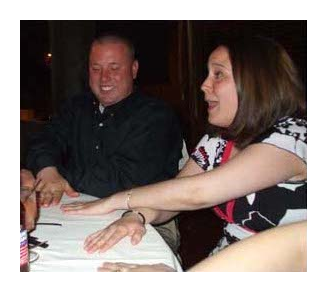 Small group games are next. In groups of 5-10, you'll recall your math skill with
Buzz Fizz,
your geography skills in
Geography
, guess the celebrities with
Famous Characters
, and stay on the ball with the rather tricky
Hand Uno
. ----------------------------------->
After that, it's time for a loud, noisy game called Shouting Proverbs... a guessing game that requires very attentive listening.
Now we'll all stand up for the seventh inning stretch: several quick partner games specifically designed to be mixers. Everyone will be face-to-face, toe-to-toe, 1-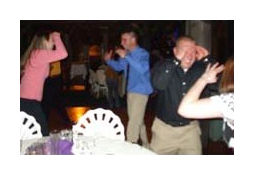 on-1 with several different people in the space of five minutes with various low-key games like
Quick Draw
,
Switcheroo,
How To Start an Argument,
and either the rather physical
Sit Down Stand Up
for a younger crowd or the somewhat more ethereal
Back-to-Back Dancing
for an older group
,
plus that all-time crowd pleaser:
People to People
.
Sitting back down again, it's time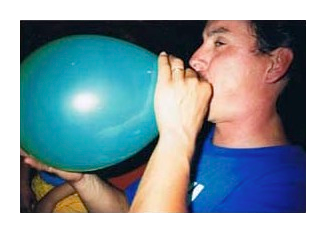 for something completely different! Perhaps it might be the playful
Imaginary Ball Toss
, the simply auditory
Thunder Storm
, the crazy, zany
 Pushpin Soccer-->
or even the very exacting
B.F. Skinner Behavior Modification Game.
It completely depends on what the crowd is ready for.
And finally, for our crowd-stopping closer, TREVOR pulls everyone back together with a very brief, funny game known far and wide as: The Fastest Game in the World! It's 1 second long. (Try not to laugh!)

All told, it's a full hour of unique, social, interactive, FUN party games guaranteed to please your group and get the crowd revved up, laughing, and in good spirits.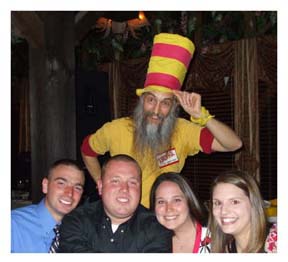 TREVOR'S QUALITY GUARANTEE:


YOU WILL BE 100% SATISFIED AND
YOUR GROUP WILL HAVE A WHOLE LOT OF FUN...
OR IT'S FREE!
413-247-3322
trevor@trevorthegamesman.com
PO Box 463, Haydenville, MA 01039