"TREVOR is entertainment for all ages. He has a great sense of humor and comedic timing, knows how to connect to all ages. He got us off our chairs interacting with each other without feeling corny or awkward in any way. Genuine belly laughs all around the room. TREVOR is a man of his word and won't even accept payment until after he performs and we are 100% satisfied. A real class act and talented, FUN guy!"
~Kate Lynch, Catherine Bey's 50th birthday party, West Springfield MA
Comments on
The Party Game Show: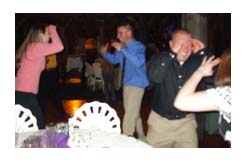 "Thank you so much for literally being the life of the party!! Catherine had a great surprise party and we all had FUN thanks to you and your interactive games. You are a natural and I'll be happy to recommend you to all my friends and acquaintances. You are EXCELLENT, TREVOR. You entered the room and within minutes, you fit right in with the rest of us, and you had us all laughing with your games. Who else could connect to every age from 2 up to 80, and leave us wanting more? You won everyone over! The number of performances you've done over the years is really staggering, and it's so inspiring to see that it really can be possible to create a business doing what you love! You're obviously very talented and are truly a creative genius who's great with people! Thanks again for a FUN TIME!! Everyone loved you!!!!!!!"
~Kate Lynch, Catherine Bey's 50th birthday party, West Springfield MA
"A good way to get the group engaged with each other. FUN and entertaining, but also useful in feeling part of the group. TREVOR is a great facilitator for groups who need to trust each other and work closely together. He is laid-back and comfortable with everyone, putting everyone at ease."
"Positive attitude, energy, FUN, group vision, teamwork, enthusiasm. TREVOR has the enthusiasm of a child and the cooperation of a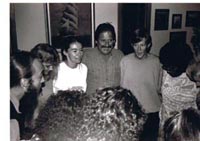 wise old man to make FUN, FUN, FUN!"
"TREVOR lets adults be a kid again."
"More FUN than I've had since I was younger."
"Variety, fast pace, enthusiasm!"
"Great FUN --- much better than my elementary school gym class!"
"It was all wonderful. You have a great ability to create enthusiasm and FUN."
~Womancraft Midwifery, birthing class closing party, Amherst MA

"Thanks for last night. I don't know if anyone ever said this to you or you realize it in this light, but you are a healer! What you bring through your games is so important; full of laughter, touch, and happiness!!! Our brains get exercise, too! Wow! Thanks, TREVOR. Everyone was fizzin' and buzzin' around after our time with you."
~Amar Fuller, host of Amar's Live Foods Potluck, Leverett MA
"Thank you. This sure was a different party. You got everybody involved (who wanted to be). A lot of positive feedback. You were great!"
~Becky Wood, wife, Larry Wood's 60th birthday party, Gardner MA
"We all enjoyed it very much."
~Tammy Chancellor, MicroCal employee picnic, Westhampton MA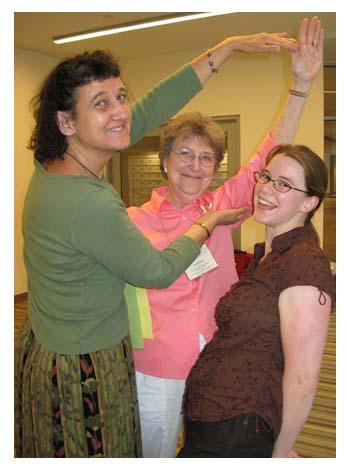 "I wanted our convention attendees to have a chance to play together. I'm all warm and fuzzy about the work you did. I appreciated your flexibility --- even with a small group. They LOVED it! Your work helps us all transcend age and play! Thanks, TREVOR!"
~Katie Brown (in brown in photo at left), 2008 annual convention mini-course coordinator, General Convention of Swedenborgian Churches, Bridgewater MA


"We liked it very much, especially the ability of all to participate. We enjoyed having TREVOR and would gladly recommend him to anyone."
~Chris Fenton, activities director, Sunshine Village, Chicopee MA


Email received in 2012 about Liz Anderson's "Sweet 16" party way back in 1997!:
"Just want to express that you have been an 'event' in our family's life that we will not forget. We have talked about your appearance many times and has made us laugh. Good times!!! Keep up your important work with making people smile, we need it :) Thanks again."
~Lynne Anderson, mother of the birthday girl, Monson MA

"Thanks for your performance at our picnic last month. Since our picnic is a 'FUN day' for all employees who attend, your type of performance just fit in perfectly for starting off the day on the right note --- a day of FUN! I think you did a fantastic job of getting all who attended to loosen up and have some FUN! Exactly what we were looking for. You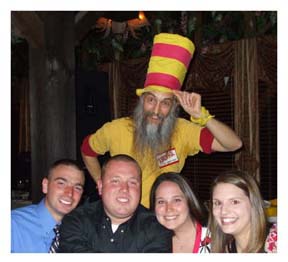 did a great job! I was very happy to see our staff head out to their 'sessions' in a happy, laughing mood ready to enjoy the rest of their 'FUN day' on campus. You really set the tone for the day. All comments I heard from our staff were very positive. They all enjoyed being able to joke around and have FUN during work time. You did a great job! We may be able to use you here again on campus in the future for other types of events. I'm sure you would also be a hit at other colleges. You were great! You really added that extra note of FUN and enthusiasm we were looking for at our event. Your unique way of interacting with our staff really helped set the tone for a FUN-filled day! Thanks, TREVOR!"
~Ann Warwick, Human Resources director, Springfield College, Springfield MA

"Our group enjoyed the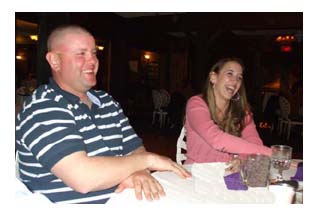 whole thing. We had a strictly family get-together the following evening, and the younger adult generation were re-playing the games with great glee --- which says a lot for your choice and direction."
~Pat Duilbault, Mary Sherman's 90th birthday party, Erving MA


"Definitely use TREVOR for your next function! You will love it!!"
~Susan Wyckoff, Vice President Colleges of Worcester Consortium, Worcester MA



What all this cheering is about!
TREVOR'S QUALITY GUARANTEE:
YOU WILL BE 100% SATISFIED AND
YOUR GROUP WILL HAVE A WHOLE LOT OF FUN...
OR IT'S FREE!

413-247-3322
trevor@trevorthegamesman.com
PO Box 463, Haydenville, MA 01039