Photos © Nancy F. Little 2009 unless otherwise noted.
Monday, June 1, 2009


Well! I was just named "Entertainer of the Month" on the
Countyfairgrounds, USA
website! This is just so exciting! And pretty cool, too, don't you think? Nuff said.


Thursday, June 4, 2009

There were about 75-100 people at each show, spread out on the lawn near this little piece of shade I set up in. The kids were terrific and the parents were appreciative. Afterwards, a mighty lot of parents took my flyer, too, so hopefully something more will come of that.
There was also a bubble station with some very fancy artistically made bubble wands. They had fancy handles, and the business ends were shaped like butterflies, fairies, and the like. Not just the children, but lots of adults took a few minutes to blow bubbles throughout the evening.
And then there I was on stilts to entertain the crowds and amuse the children. I got there a little early in order to be sure to get a parking spot near in. As soon as I had my stilts on and walked over, the first thing I noticed was a woman from a local non-profit social action group having trouble stringing her banner up over their information table. So the first thing I did was help with the tall stuff!
Now all I have to do is paint the wall so it doesn't look so hodge podge. (Which it is.)



Friday, Jun 5, 2009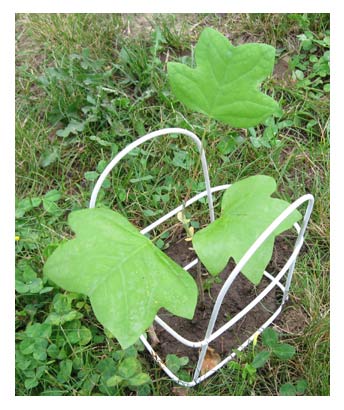 Through the wonders of our new local plant sharing network, ChlorophyllPV, I was delighted to receive 5 baby tulip tree shoots today. These things are so little that I think they're still called "seedlings". They're sure not big enough to be called "saplings", I can tell you that!
Tulip trees are definitely on my Top Ten Favorite Trees list. [There's a topic for a new web page!] They are one of the very few trees whose leaves don't have a central point or lobe. They flower gorgeously, and leave behind a rather unique seed pod structure. And their leaves turn yellow in the fall.
Our backyard used to be surrounded by trees, and I want that back. So I planted these five seedlings evenly spaced along the top of the hill on the road side. There used to be a row of hemlock trees there when I moved in over 20 years ago. And 10-20 years from now, these five tulip trees will effectively block the view of our backyard from the road. YAY!



Saturday, June 6, 2009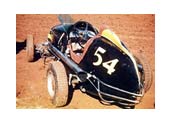 For my best buddy Don's birthday today, I brought his wife a present from my wife. I thought it was kinda funny in a weird sort of way. I mean, we also did manual labor and deliveries that required a truck. And I also dug up a few bushes from their borders. What's not to like about that?
When I learned that my lovely wife was going to be away this weekend, I made arrangements to go up to Vermont and visit Don on his birthday. We hung out together all day from when I got there early afternoon until I left around 9:00pm.
On the way, I stopped at a tag sale near their house and bought some great cd's for his birthday. I just picked out 6 or 7 cd's that I thought were excellent. My idea was to let him pick out the ones he liked. But when I got to his house, he liked them all! In fact, he liked them so much that he pretty much made me drive him to the tag sale immediately so he could buy some more! He picked out at least another dozen! (It was a good tag sale!)

I learned today that I LOVE dark purple lupine. Barbara has them growing in the wild garden in front of her house. They are just soooo gorgeous. And since it's on a steep hill, they really stand out and you can tell how tall they really are!
While I was outside poking around the garden, she got me to dig up some little baby bushes she didn't want out of her borders. (I don't know what they're called, but it will magically just suddenly appear here one day as soon as I find out.) The bushes I dug up were just little babies of the big bush she has right next to their front door. I'm going to plant these little babies in between the tulip trees I planted yesterday. Give it a few years or so and it's going to look pretty good; And give it a decade or so and it's going to look awesome!



Monday, June 8, 2009

Tuesday, June 9, 2009
The trail is quite steep in places and right on the edge of steep drop offs in others, so it's not a very good trip for young children (or when it's wet!), but the main waterfall at the end and all the smaller drops before it make this hike well worth it to those of us who like that sort of thing.
Since it's now very late Spring --- a low time for waterflow --- there wasn't nearly as much volume of water today as in this photo, but it was still really cool because the bulk of the water was flowing slantwise from right to left in a narrow channel across the rock face in the upper half of the photo before plunging over the main course on the far left here. That wider thinner fall just to the right of it in the photo was barely there today... just a bunch of wispy trickles like the ones at the far right.
Sunday, June 14, 2009


Unlike last year, when the event was held in the Pre-School playyard, this time we were in the BPC Blake Student Commons dining room where I've performed there three times before. It has a very tall ceiling and a thick indoor-outdoor carpeted floor, both of which are excellent for stiltwalking.
Then we drove from there about a half mile west on Bay Rd. to the Sweet Alice Conservation Area where we walked a new trail we've never done before.
Nicholas Cage --- as Dr Stanley Goodspeed --- has just announced to his girlfriend that because of all the bad stuff in the world he basically would never want to bring any babies into the world. She has an announcement to make as well: she's pregnant. A few lines later she (understandably) asks if he meant what he said.
Dr. G: "I meant it at the time."
Girlfriend: "At the time?? You said it 7-1/2 seconds ago!
My lovely wife shot this brief (1:11) video of me trying it out. It's called:
7) My lovely wife also told me that she took some pictures of my new raspberry patch and the new forsythia hedge I'm working on in our back yard.(Read all about the forsythia hedge at the June 12 entry just above.)
9) Asparagus picked this morning along with an entree of seitan, orange pepper, and select herbs and spices (+ other ingredients I don't know) cooked up in a big iron skillet, eaten on corn tostada shells along with brown rice, cut up yellow pepper, avocado, and tomatoes, plus fresh cucumber sticks on the side for dinner. YUMMMMM! My lovely with makes delicious and nutritious meals every time!
12) Oh yes, and I put in about an hour of practice time on my new beat-up old accordion in three 20-minute sessions throughout the day today! I'm getting better already! YAY!
So I had a little over 2 dozen 18-25-year-olds in a field at the Simsbury Farms Apple Barn in West Simsbury. As usual, I started with some ice breakers and name games, then did some circle games followed by games you can play while waiting in line. And then, just as we were about to get to the active running games, it started raining. And not just a little.
So we had to go inside where there were six(6!) posts all over the middle of the room. NOT good for running games. But we dealt with it. The group was surprisingly careful: nobody even came close to a post collision and, in fact, nobody even bumped into someone a little too hard during any of the more active games. I'm impressed!
RCHF does a pretty good job of advertising this delightful event, too. Not only did they have PSA's, posters, and other promotional stuff, but they also got every single elementary school in the northern Berkshires to send home an announcement flyer about it that strongly emphasizes all the FUN stuff that was going to happen: the freebies, the activity booths, the live entertainment, and that it was FREE! Consequently, lots and lots of families showed up and had FUN at the fair.
This was a small town fair held on only a very small portion of a huge fairgrounds. In the map at right, this event only used the circled portion. The long white pavilion on the right with the arrow pointing to it is where they had a little stage and bleachers set up for performances.
In his newest show, Henry doesn't talk at all, but communicates to the audience and his volunteers by means of arrows and other street signs. It's both very clever as well as hilarious!
I was on right after him, so I only got to watch the beginning of his show before I had to go put my stilts on and prepare for my Ballston Spa debut.
There was a full house for my 4:00 show; lots of laughs; good response from the audience; and pretty good acoustics, too, for an open-air pavilion.
My second performance was originally scheduled for 6:30 but it said "6:00" in the program so I decided it would be best if I did it the way it was listed. I wouldn't want people to show up expecting a show and not have one there for them!
And then after a slower and therefore longer drive back and only about 20 minutes at home, I climbed back into my vehicle shortly after 10pm and drove 45 minutes south to Bradley Airport to pick up my lovely wife who was returning from her 5-day trip to Seattle.
It was really good to see her again and be able to actually talk together in person all the way home and (because she was still on West Coast time) well into the night before she finally was too tired to stay awake.
413-247-3322
trevor@trevorthegamesman.com
PO Box 463, Haydenville, MA 01039