"Excellent show!"
Deputy Sheriff Charley DeAngelus, chairman, Mass. Lions Club Council of Governors


Comments on
Giant & Giraffes * Dragons & Detectives: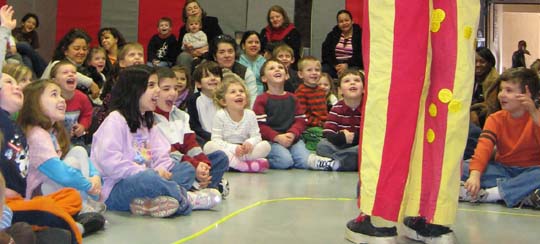 "TREVOR filled the hour with engaging games that kept our Cub Scouts laughing the entire time! The cadence was perfect — not an easy task with a room full of scouts on Zoom! Everyone enjoyed it. TREVOR is a pro!"
~Bill Githens, Cub Scouts Pack 511, Mountain House CA
"Thank you for a truly professional performance. It was obvious by the comments I received from parents and children that they liked this entertaining and FUN program. I was really amazed at your ability to interact with such a wide range of age levels without neglecting anyone. It was a great program for the library, everyone had a great time."
~Martha Richards, children's librarian, Storrs Library, Longmeadow MA
"Thanks so much for the great show. The compliments have been endless. One of our parents, who is the head of many theatre groups as well as our local community college theatre arts program, said your show was the best he had ever seen!"
~Gwen Connolly, Berkshire Country Day School, Stockbridge MA
"The program was centered around participation, which the kids always love. TREVOR did an excellent job allowing the kids to participate, get excited --- but kept it in control and FUN --- and managed to appeal to kids from 1st through 5th grade in the same program. Other parents commented on how much FUN the program was for their child. TREVOR... was able to appeal to a wide range of ages and everyone had FUN."
~mother of a Cub Scout, Holliston Cub Scouts, Blue & Gold Banquet, Holliston MA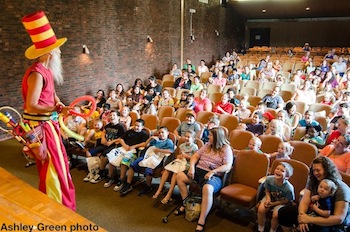 "We enjoyed your show, and you were very responsive and easy to work with. We enjoyed your extreme silliness and banter with the kids. You related really well with them. The kids loved it. They talked about it the next day. Kids always seem to love participatory shows. TREVOR gave us a spectacularly silly show that had all the kids giggling and wiggling! He was a pleasure to work with."
~Vicky Linoti, librarian, Perrot Library, Greenwich CT

"Even just a 1 minute clip on a friend's little iPhone screen - I was laughing! You are fantastic! I own a bookshop and I think you'd draw a big crowd outside on a sunny day."
~Peter Reynolds, owner, Blue Bunny Books & Toys, Dedham MA

"[I booked you because] when I saw you many years ago, I was impressed by your ability to entertain the entire crowd with ages ranging from toddler to teen."
~Kristina C. Kirton, assistant principal, Sullivan Elementary School, Holyoke MA

"TREVOR combines child-hearted fun & games with sophisticated understanding of how children listen & learn and a clear love of children."
~Irena S. Bowie, mother, Springfield MA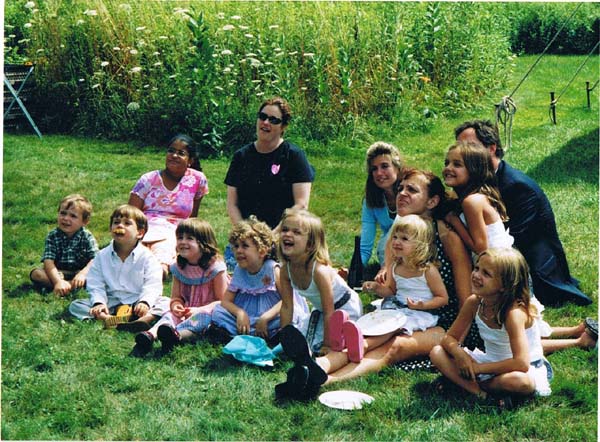 "You're awesome. Everything you do is topnotch! We have had you year after year and your show gets better and better each time you visit. Can't ever get enough of TREVOR's enthusiasm."
~Lucy Baker, director, KinderCare Learning Center, Glastonbury CT
"I loved the way families played together and enjoyed each other. It made me want to be a kid again. Then I realized: You don't have to be a kid to enjoy TREVOR."
~Lauri Rishler, PTO leader, S. Hadley MA
"It was wonderful, the fact that you were able to hold the attention of about 60 children ages 3-10. You were wonderfully creative and helped our children use their imaginations. They had a good hour of fun with a few props and a really enthusiastic guy. Thanks."
~Sister Connie Cawley, principal, St. Patrick's School, Chicopee MA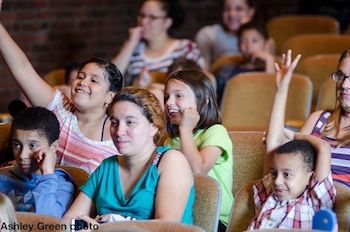 "TREVOR's command of an audience is skillful. Lots of great giggling."
~Sunny Banwar, children's librarian, Russell Library, Middletown CT
"Children had fun; parents were happy/pleased/enjoyed the program; positive interaction with the children. You did a super funny job!"
~Jeff Udall, principal, Breor Elementary School, Hatfield MA
"I enjoyed watching your use of space. You were able to turn the space limitations into creative assets. I also enjoyed watching the faces of the children: such joy and humor! Indeed, my friend, you are a consummate artist and inspired performer."
~Ijod Schroeder, Parent Committee, Hartsbrook School, Hadley MA
"...and other forms of merry madness devised by TREVOR "the Games Man"".
~Ed Barna, reporter, Rutland Herald, Rutland VT
"What a wonderful time everyone had at our recent carnival. You were awesome. Folks are still talking about the great experience. Thanks again for everything!"
~Rev. Jeffrey Galbraith, St Paul's Lutheran Church, Greenfield MA

"[I especially liked] the humor, the props, but I think mostly the interaction with the kids. They felt involved and really connected with you. Everyone who attended said they had a really fun time. We always enjoy you as an entertainer. Your show is a great opportunity to feel happy and silly. The smiles on the audiences faces are priceless. From young children to adults, everyone laughs and has a good time."
~Maureen Delude, Hubbard Elementary School PTO chair, E. Berlin CT

"TREVOR is the most experienced & FUN entertainer I have seen. He is a true professional. I knew I could count on him, and he came through."
~Michelle Burke, Special Education Teacher, Gateway Regional H.S., Huntington MA

What all this hand clapping is about!
TREVOR'S QUALITY GUARANTEE:
YOU WILL BE 100% SATISFIED AND
YOUR GROUP WILL HAVE A WHOLE LOT OF FUN...
OR IT'S FREE!

413-247-3322
trevor@trevorthegamesman.com
PO Box 463, Haydenville, MA 01039