"I subtly influence people
towards cooperation both
at play and at work."
~TREVOR "The Games Man"
Cooperation is the keystone of my work. When the word is spelled "co-operation" with a hyphen, it as a bit more obvious that the word means working together in a group — as opposed to competing with or working against each other. When students do cooperative learning, everyone in the group learns the material. When businesses adapt cooperative business models, productivity soars.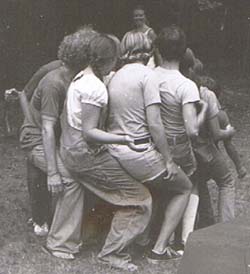 In fact, a lifetime of work (as well as quite a number of professional studies) have clearly shown that
when people cooperate, pretty much everything goes better
including: personal interactions, the project itself, the results, the attached feelings, productivity, the bottom line, the efficiency, the follow-through, the relationships... that is to say, pretty much everything.
In my work, I use cooperative games as a tool to subtly promote cooperation among children, teens, adults, and elders. Taking what began so obviously as a recreational style and elevating it to the realm of public entertainment has empowered me to bring the joys of cooperation to a significantly wider audience than just the school playground. As a trained and certified New Games Leader & Cooperative Play Specialist, I've performed at more than 7,400 events and entertained over 2.9 million people so far. And since moving back to Massachusetts in 1982, I make professional appearances at hundreds of public and private events throughout the Northeast each year.
To be right up front about it, I don't have anything against sports or competition per se. For the record, I competed in volleyball and track & field in grade school and am a three-time collegiate letterman in lacrosse (one of the most violent sports ever). No brag, just fact. However, my current interest in sports is not in the game, or the score, or the statistics. No, my only real interest in professional athletes is this: I just plain love watching people who are just plain excellent at what they do. So let's leave sports to the professionals.
For the rest of us, cooperation is a better way on so many levels, and it is my life's work to bring this to the people. So exactly how do I influence people towards cooperation? Three ways: by FUN, by education, and by example.
1. By FUN

Basically, cooperation is simply more FUN than winners and losers.


Sports requires everyone to hone specific skills, measure them up against others, and keep track of who's better than whom... you know, winners and losers. Absolutely nobody likes being a loser, but it's an inherent part of all sports that after the game is over, at least half of the participants will simply not feel very good about it.
Cooperative games, on the other hand, have no losers. Everybody wins. They are played strictly for the recreational and enjoyment factors. Most players can enjoy themselves specifically because they are not vying with others to see who's the best... they are simply interacting for the sheer FUN of it. This is particularly empowering to those who do not excel at sports (nearly all of us). Even when I work with athletes, I find that after their initial distrust of something different, absolutely everyone has such a good time that even the most hard-core jocks have to admit the games were really FUN and want to play them again.
FUN is a powerful motivator and ever so subtle. People like to participate in activities that are FUN. If the average person enjoys participating in a particular recreational style, that person tends to favor that particular recreational style — so just the fact that cooperative games are purposely designed to be FUN for everyone makes them the obvious choice for people of all ages who have experienced them.
And that's what I do: help people experience cooperative recreation so that they have a high quality alternative to competitive recreation. And because cooperative games are indeed such FUN, when given the choice thereafter, most people tend to choose cooperation.
2. By Education
Part of my work involves
Cooperative Play Staff Development Trainings
and
Cooperative Play Team-Building Workshops
. I get called in to schools, day cares, summer camps, and businesses of all types to teach the staff appropriate cooperative games and/or to work on team-building (using cooperative games, of course!) These workshops are all "hands-on", meaning that the participants actually play the games together. There's nothing like seeing a room full of teachers shrieking with glee during a game of
Lemonade
, or a group of people in business suits struggling together to extricate themselves from each other in a game of
Knots!

A small but vital part of these trainings is very specifically about educating the participants in what Cooperative Play is really all about: working together instead of against each other. For many, particularly in the educational fields, this is a real eye-opener. For most, it is their first experience of any alternative to the strictly competitive sports and playground games that they know. And when they've discovered this new, more appropriate recreational style and tried it out on the job with their young charges and/or co-workers, they discover that cooperation fits their objectives far, far better than anything else.
And for those who will be taking more of the content, as opposed to the attitude, back to work with them, the message of cooperation nevertheless remains instilled into their consciousness and tends to pop up at appropriate moments.
3. By Example
In the first sentence of this article, I said that cooperation is the keystone of my work. Actually, cooperation is the keystone of my entire life.
I first learned about cooperative games at age 16 in 1972 and, beginning that very year, have been leading them professionally ever since. I've been deeply involved with food cooperatives since 1975. Began training in leading New Games (a play movement based on FUN over competition) in 1977. Became a certified New Games Leader in 1980. Began training others in cooperative play in 1981. Got a regular Monday through Friday part-time job leading cooperative games in 1982. Got my picture in the newspaper for the first time leading cooperative games in 1985. Was using cooperative games on a weekly basis in after-school programs in six different elementary schools in 1986. Moved into my first cooperative household in 1987. Moved into my second (and still current) cooperative household and performed my first cooperative games stage show in 1989. Started a cooperative games newsletter and was interviewed on the radio as a "cooperation expert" for the first time in 1990. Began studying cooperative communication methods in 1991. Wrote a regular Cooperative Games column for the Child Care Resources Quarterly for four years starting in 1991. Began a cooperatively-run professional performers guild in 1993 that still meets every month. Lead cooperative games on tv for the first time in 1994. Began earning my living full-time from cooperative games in 1995. Discovered that several cooperative playground games I'd been presenting for the past fifteen years had become schoolyard favorites throughout my stomping grounds in southern New England by 1997. Began doing a regular weekly cooperative games gym class for homeschoolers in 2003 that is still running weekly today. Did my 200th
Cooperative Play Staff Development Training
in 2010. Did my 500th performance using cooperative games with teens in 2013. Was awarded the
Austin Miller Co-op Hero Award
(For an Individual) by River Valley Co-op in Northampton MA in 2016 for my extensive cooperative games work in the Pioneer Valley of Western Massachusetts. Did my 3,000 Recreation Facility and Event appearance in 2019: the Whole Life Learners homeschoolers group weekly gym class which exclusively features very active cooperative games, brain games that require working together (co-operating) for breathers, and the like.
To date, I done more than 7,400 professional appearances, pretty much all of them including cooperative games or some other form of cooperative activity; and have entertained and/or educated more than 2.9 million people of all ages across North America --- again, primarily through cooperative games and other cooperative activities.
Basically, I live and breathe cooperation, so when I'm on stage, I do it automatically without even thinking about it. I was thrilled to realize that the message actually gets through when I started consistently getting after-show comments along the lines of: "It's wonderful how you got everyone to cooperate together," and "I love how you got the teens to help out the younger children," and "It's so good to see everybody working together instead of against each other."
TREVOR'S QUALITY GUARANTEE:


YOU WILL BE 100% SATISFIED AND
YOUR GROUP WILL HAVE A WHOLE LOT OF FUN...
OR IT'S FREE!
413-247-3322
trevor@trevorthegamesman.com
PO Box 463, Haydenville, MA 01039