"Thank you for coming to the Kids Karnival. The children loved you! (And so did Melissa, one of our staff, who played all your games.) Everything you did was wonderful."
Helene Plosky, VIBES program, UMass, Amherst MA


Comments on TREVOR's
A TON OF FUN!

"There was a comment from the evaluation that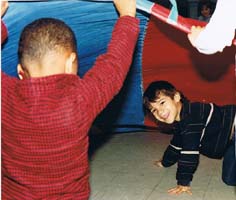 one child had so much FUN with you that he didn't want to leave!"
Suzette Snow-Cobb, publicity director, Green Fields Market, Greenfield MA


"Thank you for your fantastic entertainment at the Northwest Park Country Fair. You are a real highlight and bring smiles to young and old. So nice to have you each year!!!"
Libby Taylor, director Northwest Park Country Fair, Northwest Park, Windsor CT

"You received rave reviews. You were excellent (as usual). Everyone had a wonderful time and our event was very successful."
Jeannie Chenier, coordinator, S Hadley Community Supper, S Hadley MA


"Fantastic job. I think everyone enjoyed having you at the event. Heard good things and thought you looked cool. Great attitude. Fantastic energy. Great sense of humor. Funny guy. Kids loved him."
Nicki Jesairian, program director, YMCA, New Canaan CT


"Just a quic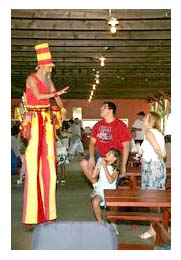 k note of thanks for getting me out of a really tight situation. Not only did you manage to get me out, you made it better than it might have been. You worked with me until you had me settled into a wonderful happy place. Between you and Ed [Popielarczyk], I consider myself very blessed for finding such wonderful people. Know that I will use you again as soon as the chance arrives. Hope that will be soon."
Carol A. Boles, owner/operator, Carol's Main Events, S Windsor CT
"I really enjoyed having you at my Bar Mitzvah, and you were definitely a highlight of the party! Yes! Totally! It was fantastic!"
Nick Gold, teenager, Pelham MA
"Thank you so much for performing at our chidren's Christmas party. I was amazed at your ability to hold the attention of such a big and chaotic crowd. You were fantastic! On behalf of all of as at Salvation Army, I wish you the best happiness, success, and — let's not forget — FUN!"
Susan Leach, Social Services Assistant, Salvation Army, Northampton MA


"That was excellent! Far above and beyond our expectations."
Marya LaRoche, Community Impact Director, Berkshire United Way, Pittsfield MA
TREVOR'S QUALITY GUARANTEE:


YOU WILL BE 100% SATISFIED AND
YOUR GROUP WILL HAVE A WHOLE LOT OF FUN...
OR IT'S FREE!
413-247-3322
trevor@trevorthegamesman.com
PO Box 463, Haydenville, MA 01039