"GRAND POP!"
Green River Festival
Greenfield MA

Listen to TREVOR's
Fair & Festival Clients
:
"TREVOR did a wonderful job engaging with the children at our outdoor Arts & Crafts fair. It worked out very well to have TREVOR walking through the fair to get to the Children's Tent at the back on his stilts. Kids followed him through the fair and were so excited about the show! [There was] very positive feedback about the performance. They loved his Stiltwalking and the Parachute Games. TREVOR also stayed after his show and engaged personally with several attendees. We were very happy with his performance!"
~ Rebecca Hammond, Friends of Sherborn Library Arts & Crafts Fair, Sherborn MA
"I know you love what you do. And you are VERY GOOD at what you do!"
~ Anna Bagnolo, Greenfield Winter Carnival, Greenfield MA

"It is a true delight to have you at our fair!! You bring such joy to all who see you!! Libby (my mom) always said we could not have a Country Fair without you!! She was right!!"
~Nancy Taylor, entertainment chair, Northwest Park Country Fair, Windsor CT (yearly since 1992)
"Let me just say that we truly enjoyed having you at the GetDown on Friday! You brought a level of liveliness and humor to the event that was unmatched."
~Jack Benjamin, director, Chicopee Downtown GetDown, Chicopee MA

"It was GREAT to have you there! Everyone enjoyed your towering presence. [I saw] faces lighting up when they saw you, and families really enjoyed your show! You're such a great entertainer and a real asset to our festival. You spread a lot of happiness and joy (and meet a lot of needs and challenges of parents and festival organizers!!)"
~Bob Perry, director, Watch City Steampunk Festival, Waltham MA
"Thank you for braving the rain and performing. Without you and your support, Watch City [Steampunk Festival] would be a quiet, desolate place, punctuated only by Von Arkham's jokes. I had a lot of positive feedback about all the performances."
~Shay Andrews-Shiffler, Entertainment Coordinator, Watch City Steampunk Festival, Waltham MA

"TREVOR did his usual superb job of keeping Chester Fair attendees entertained and educated. Children are amazed when they see what makes TREVOR so TALL! And Ribbon Dancers... Wahoo!"
~Judy Kells, children's entertainment director, Chester Fair, Chester CT (yearly since 2009)
"Great job!! Thank you so much for working the Whipple City Festival & Parade this year. Your cheerfulness and flexibility and focus on FUN in the face of some chaos and lots of rainstorms was very much appreciated. My family loved you, too!"
~Suzanne Seay, parade director, Whipple City Festival, Greenwich Chamber of Commerce, Greenwich NY
"It was wonderful having you here."
"Your performance was terrific. You have such patience with the children."
"Everything you did kept the kids attention."
~volunteers, Lakeville Arts & Music Festival, Lakeville MA

"TREVOR was funny and entertaining. He kept the audience laughing and wanting more."
~Lori Souza, children's events & entertainment director, Rochester Country Fair, Rochester MA

"Congratulations on the outstanding [stiltwalking] job you did at the Taste of UMass at the Mullins Center. Your colorful presence helped to create a festive mood that was enjoyed by our customers. You helped make it a great success. Thank you for a job well done."
~Richard N. Rossi, director of UMass Food Services, Taste of UMass, Amherst MA
"You definitely added a major part to our festival last year, and we hope you can come again this year."
~Doug James, director, Westfield River Fest, Westfield MA (3x)

"Thank you for sharing your extraordinary stilts and many games with the Holyoke community at Holyoke Hospital's KidKare event at the Holyoke Mall. We hope that you enjoyed performing as much as we did watching you! Your games certainly delighted the audience, as was evidenced by the faces of those watching from all levels of the mall. You work very well with children and your performance certainly added a special touch to our event. Thank you again!"
~Sharon M. Casey, BSN, RN, Holyoke Hospital, Holyoke MA (2x)

"How can we ever thank you enough for helping us out at the Cerebral Palsy Telethon! As expected, the strolling stiltwalking performance at the Holyoke Mall were wonderful! You absolutely delighted our mall audience and added lots of excitement and fun to Telethon Day!"
~Barbara Griffin, Past President, Cerebral Palsy & Development Services, Springfield MA
"Thanks so much for your time and energy. Your presence was so enjoyable by all at the Holiday Fair. You have a remarkable gift and it's wonderful to see you share it."
~Edna Johnson, Holiday Fair Committee, Hartsbrook School, Hadley MA (20x!)

"Thank you for coming to the Orange Arts Festival in the park. Several adults have commented on your wonderful 'playtime' with the kids. And from the kids' reactions, I'm sure they enjoyed you."
~Candy Cross, director, Orange Arts Festival, Orange MA
"You were God-sent! According to all in attendance, your performance on the green was outstanding. I have had several calls to say you were great. Next year, please plan to repeat your performance. Thank you again for a wonderful finale for the children's entertainment area."
~Helene Pickett, director, Wilbraham Peach Festival, Wilbraham MA (2x)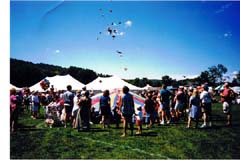 "There was just a magic in the air when you had out your parachute."
~Steve Pascal, Green River Festival, Greenfield MA (5x) --------------------------------------------------->


"On behalf of the Hampden Area Special Olympics, thank you for your part in the Fall Harvest Festival. It was nice to see youngsters spell-bound by human entertainment rather than by television. Again, our thanks for making it such a delightful event!"
~Alice J. Zuvers, Area Manager, Special Olympics, W Springfield MA

"The public was offered entertainment and educational opportunities and the children were amused by "The Games Man"... who organized a wide variety of games for the youngsters."
~Westfield News, Westfield MA

Click here to see TREVOR's Fair & Festival packages.
Click here to see a list of TREVOR's fair & festival appearances.
TREVOR'S QUALITY GUARANTEE:
YOU WILL BE 100% SATISFIED AND
YOUR GROUP WILL HAVE A WHOLE LOT OF FUN...
OR IT'S FREE!