"The fans are still talking about
the West Hartford [Peoples Bank branch] Opening Day Stilt Man
and how fabulous you were,
and clearly still are."

~Chrissy Kiddy, Vice President, Corporate Responsibility and Social Media,
Peoples Bank, Holyoke MA

Comments on TREVOR's
Stiltwalking "Walk-Around" entertainment:

"Thank you so much for being part of our event! I could see the kids and their families excited faces as I walked around! You really added to the FUN at this year's Johnny's Jog for Charity!!! It was FUN when I saw my own kid jumping up to high five TREVOR at the event with a big smile on his face."
~Kelly Clark, co-founder, Johnny's Jog for Charity, West Hartford CT

"Good to see you again, TREVOR. I've recommended you at least 30 times. You always add SO much!"
~Sean Davey, President, New England Area, iHeart Media


"It was GREAT to have you there! Everyone enjoyed your towering presence. [I saw] faces lighting up when they saw you, and families really enjoyed your show!"
~Bob Perry, director, Watch City Steampunk Festival, Waltham MA


"It's great what you do with the kids! I'm so glad you were here!"
~participant, Johnny's Jog for Charity, West Hartford CT

"I am thankful for all the delight you bring."
~Rochelle Prunty, general manager, River Valley Co-op, Northampton MA (photo below)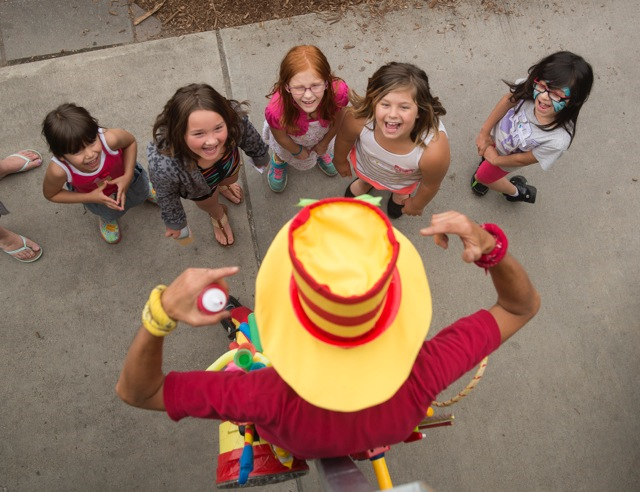 "Great job. Liked your ability to be flexible, your diversity with activities. Professionally, you were great to work with --- dependable, easy to book, easy to contact. In terms of performance, our families tell us they want you back every year: 'Great with our special needs kids!' 'Bring him back!' That speaks volumes!"
~Sue Loring, director, Central MA Autism Resource Center, Worcester MA

"Congratulations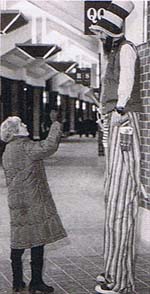 on the outstanding job you did stiltwalking at the Taste of UMass at the Mullins Center. Your colorful presence helped to create a festive mood that was enjoyed by our customers. You helped make it a great success. Thank you for a job well done."
~Richard N. Rossi, director, UMass Food Services, Amherst MA (photo right)
"You are a genuinely likable person. Thank you so much for continuing to support the Walkathon. Everyone loves your stiltwalking abilities. Our new manager could not believe that you actually walked to the park. People are amazed that you can walk nearly a mile on stilts. They also love to reach your High Five! We very much appreciate you coming to entertain our walkers."
~Lee Roberts, Marketing & Communications, Shriners Hospital, Springfield MA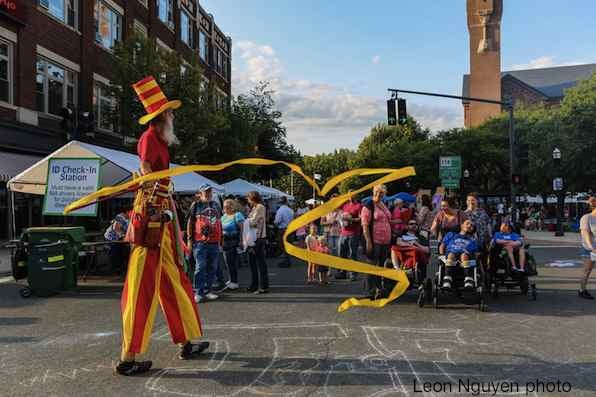 "They have this guy on stilts who throws stuff in the air, and he has this crazy beard!"
~cashier at Big Y talking about the Chicopee Downtown GetDown (photo above)
"TREVOR "The Games Man" was a big hit at Homecoming '96"
~The Alumni Communicator, Western New England College alumni magazine,
Springfield MA

"Thanks so much for coming. We LOVE having you."
~Kathi Brown & the Brown Family, Brown's Harvest Pumpkin Festival, Windsor CT

"How can we ever
thank you
enough for helping us out at the Cerebral Palsy Telethon. As expected, the strolling [stiltwalking] performances you gave at the Holyoke Mall were
wonderful!
You
absolutely delighted
our mall audience and
added lots of excitement and FUN
to Telethon Day!"
~Barbara Griffin, President, Cerebral Palsy & Developmental Services, Springfield MA
We liked TREVOR's [stiltwalking] performance. He spent time with everyone, talked to everyone, liked everyone. He was excellent and entertaining. He was liked by everyone and very personable. It couldn't have been better."
~Holly Herman, activities coordinator, Hillcrest Commons, Pittsfield MA

What all this jubilation is about!
TREVOR'S QUALITY GUARANTEE:
YOU WILL BE 100% SATISFIED AND
YOUR GROUP WILL HAVE A WHOLE LOT OF FUN...
OR IT'S FREE!

413-247-3322
trevor@trevorthegamesman.com
PO Box 463, Haydenville, MA 01039