"Basically, I play games, walk on
stilts, and goof around with toys.
I can't believe they pay me for this!"
~~~TREVOR "The Games Man"

How I Got This Really Cool Job!
TREVOR "The Games Man" biographical info: the early years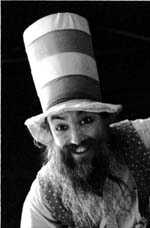 TREVOR was born in New York City on March 22, 1956, the fourth of eight children. His father's work had them moving roughly every five years, so TREVOR grew up in suburbia of several major cities: Detroit, Chicago, St. Louis, and Boston, graduating from high school in Sharon MA as the president of the Sharon Alternative High School student body. (It figures.)
Two years earlier, though, is where we find the beginnings of TREVOR's life work. One of his older sisters shared with him stuff she'd learned at a week-end New Games Training (run by the New Games Foundation out of San Francisco) that she'd attended at UMass-Amherst. Never being the competitive sports type and really liking inclusive activities, the "everybody wins" philosophy of the New Games movement really appealed to the teenage TREVOR. So in the summer of 1972, at age 16, he took what he had learned from his older sister as well as from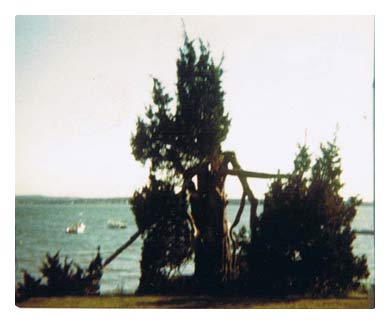 studying The New Games Book, and began using the material every day at his summer job as Recreation Director at Camp Blairhaven, an over-night children's summer camp on Kingston Bay in S Duxbury MA (TREVOR worked there several summers and eventually became the Camp Director).
The above photo is of the famous tree at Camp Blairhaven. The trunk of this amazing tree on the camp's front lawn was completely hollow on the side facing the ocean. You could stand inside the tree and watch the ocean!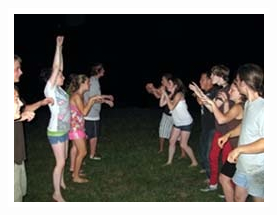 The following summer, besides working at Camp Blairhaven, TREVOR became the Youth Director at his church's summer family camp in Fryeburg ME, using New Games & Cooperative Play with the children and teens there on a daily basis. He has worked at this camp every year since, and now is the Activities Director for the entire camp. Part of TREVOR's job there still includes "Sparks Games", a daily hour-long play time with the "Sparks" — the children ages 4-12 — and "Flames Games" (pictured above left) for an hour three times a week with the "Flames" — the teens through college age people. (Actually, the Flames want to have "Flame Games" every night, but as much as TREVOR loves playing games with teens, he thinks they should have other activities as well.)
After graduating from high school, TREVOR moved to the suburbs of Philadelphia, went to college, got married, and had two kids. His first year in college, TREVOR attended his first of many New Games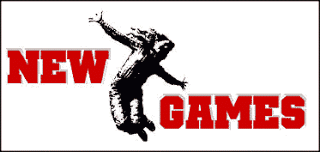 Trainings in Philadelphia, and then another in Albany NY, and then another, and then another, and then another, and then another, and then another. In fact, in a four year period, he went to nearly every single New Games Training offered in the Northeast, culminating with a week-long New Games Summer Camp where he completed the requirements and received his official "New Games Leader" certification. He continued with this training, intent on achieving the next level — "New Games Trainer" — and joining the New Games Foundation's staff at trainings and New Games Festivals across the continent. But alas, this was not to be. Just four months shy of his completion, the New Games Foundation suddenly shut down without any warning.
In the meantime, TREVOR drove a school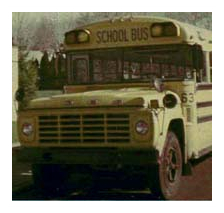 bus during the school year and continued his summer camp job in Maine as well as working a wide variety of positions at a host of other summer camps, including two years as Director of Camp Blairhaven on Kingston Bay in Duxbury MA, and later a year as Assistant Director in charge of programming at 4-H Camp Howe in Goshen MA.
When he moved his young family to Western Massachusetts in 1982, TREVOR's New Games experience quickly landed him a job with the town of Amherst's Leisure Services Department doing the after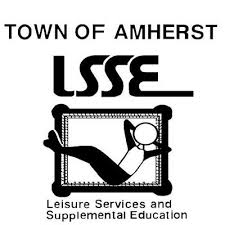 school recreation programs in all four Amherst elementary schools nearly 1,500 times, as well as running the town's aquatics programs and helping out on all Leisure Services field trips. As a certified lifeguard and Water Safety Instructor, TREVOR taught literally thousands of children, adults, and even babies how to swim, as well as training hundreds of young adults to be lifeguards. (He was also the janitor for the Amherst Police Department for several years, but that's completely irrelevant to this article, so we won't mention that.)
Five years later, in 1987, a friend nagged him — incessantly! — into learning to use professional stilts. And the following summer, TREVOR's partner encouraged him to pursue self-employment both in running a family day care in their home as well as as an entertainer. Neither of these professions had ever occurred to him before, but they sure sounded ideal... and in fact, they were. He pursued both with vigor.

Only three years after beginning to actively pursue a career as an entertainer, TREVOR was voted "THE BEST CHILDREN'S ENTERTAINER" in the Valley Advocate weekly arts & leisure newspaper's annual readers' poll for Western Massachusetts in 1991 despite the fact that he has always strenuously resisted being pigeon-holed as a "children's entertainer". (In reality, only about 30% of his work is just for kids, about 10% with just teens, about 10% with just adults, leaving the bulk of his work — a good 50% — with mixed-age groups.) By 1995 his entertainment schedule was consistently full. In August of that year, he closed his day care and has been entertaining full time ever since.
And the rest, as they say, is history.
*** *** *** *** *** *** *** *** *** *** *** ***

Here's just a few highlights since then: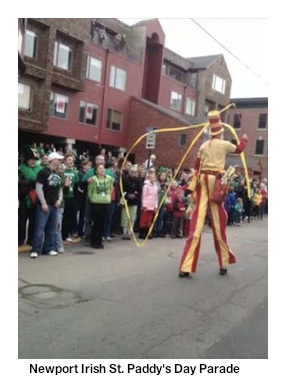 After nearly 400 fair and festival appearances, TREVOR was named "ENTERTAINER OF THE MONTH" by County Fairgrounds USA in June 2009. TREVOR was awarded the Austin Miller "CO-OP HERO AWARD" For an Individual in 2016 by River Valley Co-op in Northampton MA for his extensive Co-operative Games work in the Pioneer Valley of Western Mass. And in 2017, after stiltwalking in more than 100 parades, TREVOR was voted "BEST CROWD PLEASER" in the Newport Irish St. Patrick's Day Parade in Newport RI.

In 2018, TREVOR hit two huge career milestones:
1) in March, passing 2,000,000 people entertained (yes, I keep track),
2) in August, his 7,000th professional appearance!
So it's been most of a lifetime (so far) of unique shows, professional stiltwalking, and staff development trainings to entertain/educate millions of people across the U.S. and Canada at more than 7,000 events, primarily using New Games & Cooperative Play, his trusty homemade stilts, and a belt full of toys, er, well, actually, um, that is to say, a belt full of professional equipment!
Now that's a Really Cool Job!
TREVOR'S QUALITY GUARANTEE:
YOU WILL BE 100% SATISFIED AND
YOUR GROUP WILL HAVE A WHOLE LOT OF FUN...
OR IT'S FREE!

413-247-3322
trevor@trevorthegamesman.com
PO Box 463, Haydenville, MA 01039