WEEKLY
GAMES CLASS
a special continuing cooperative play event
that can be more or less often than weekly
IN PERSON IN THE PIONEER VALLEY.
ONLINE EVERYWHERE!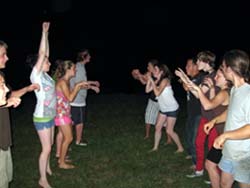 Weekly Games Classes are basically a residency consisting of series of short visits. (Although they are usually weekly, they can be scheduled more or less often.) It is an opportunity to bring TREVOR to your facility for 30-60 minute programs for 6 or more visits at a significantly lower cost per visit than TREVOR's formal shows.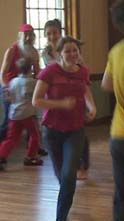 Each week, in his unique, inimitable, laid back style, TREVOR will lead your group through a wide variety of age-appropriate, everybody-wins, cooperative games that require little or no equipment. As a certified New Games Leader & Cooperative Play Specialist with over 4.5 decades of experience in the field, TREVOR specializes in games with no losers, no elimination, and thus no hurt feelings. Plus, no special skills or abilities of any kind are ever required: these games are for absolutely anyone and everyone to have FUN together!
TREVOR's Weekly Games Classes are a very flexible program, and are easily adaptable to any group, space, age range, or ability level. It has been very popular with children, teens, and adults throughout the Pioneer Valley since TREVOR's first weekly cooperative games classes for the Amherst Leisure Services Department's year-long after school recreation programs in all four Amherst elementary schools from 1982-1989. Other groups have been enjoyed his online classes starting in 2020.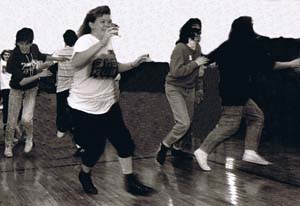 In person groups will enjoy a wide variety of running games and active strategy games including unexpected variations on Tag, team games, small group games, and several just plain unusual and different games... all without losers or elimination, everyone plays and everyone has FUN! When breathers are needed, we'll throw in some brain games, minute mysteries, and other more sedentary games as a break in the action.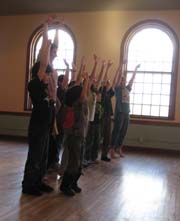 Groups that require or desire a less strenuous activity level will delight to low energy activities including brain games, table games, math and geography games, and all sorts of parlor and party games.
Online groups of all ages will also experience all the FUN together with interactive games like 1-Word Story, Alien Translator, Quick Draw!, Amateur Detective, Buzz Fizz, 3-Headed Rabbi, Imaginary Ball Toss, the B.F. Skinner Behavior Modification Game, and even Group Twister (yes, Twister!),
On request, TREVOR can also include a wide variety of card games, board games, and other more traditional activities for your group to enjoy.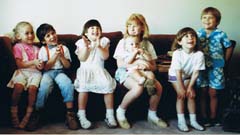 For very young children, TREVOR has had decades of experience providing age-appropriate cooperative games and other FUN activities that pre-schoolers love, too.
The cooperative games in TREVOR's Weekly Games Classes can always be adapted to fit any theme or subject, or your group can simply enjoy them as is. And the very last "class" is always made up of the participants' favorites from the entire class!
This program has been presented at pre-schools; elementary, middle, and high schools; colleges; homeschoolers groups; summer camps; various youth organizations; religious groups; and as an on-going monthly program for adults.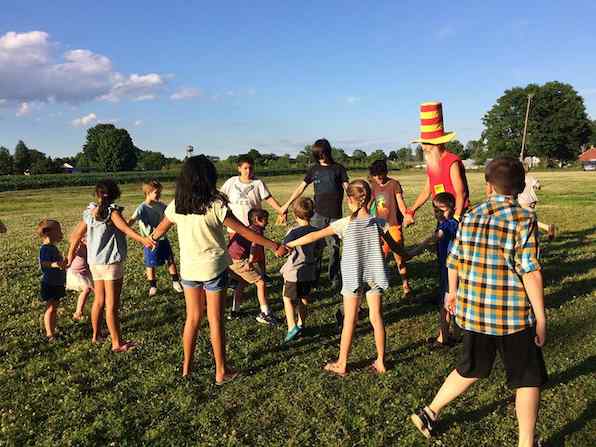 TREVOR's Weekly Games Classes have been presented in person in: Amherst MA: Munson Library, Crocker Farms Elementary School, Fort River Elementary School, Marks Meadow Elementary School, Wildwood Elementary School, Yurt School homeschoolers group, Kinderheart homeschoolers group, Whole Life Learners Homeschoolers Consortium, Community Home School Group, UMass-Amherst; Buckland MA Mohawk Trail High School; Easthampton , Whole Life Learners Homeschoolers Consortium; Goshen MA: Goshen Elementary School; Greenfield MA: Four Corners Elementary School, Greenfield Little Middle School; Hadley MA: The Hartsbrook School, Whole Life Learners Homeschoolers Consortium; Hatfield MA: Adult Play Group and Monday Fundays at Little Moon Studio; Northampton MA: Smith College Campus School; Shelburne MA YMCA Camp Apex; Sunderland MA P.A.C.E. (Partners in Alternative Cooperative Education) homeschoolers collective; Williamsburg MA: Ann T Dunphy Elementary School; and more.
In has been presented online to: Whole Life Learners Homeschoolers Consortium and vFNCA family camp's Sparks Games for the Homebound.
What others say about TREVOR's Weekly Games Classes

TREVOR also offers classes on String Figures.


TREVOR'S QUALITY GUARANTEE:
YOU WILL BE 100% SATISFIED AND
YOUR GROUP WILL HAVE A WHOLE LOT OF FUN...
OR IT'S FREE!