TREVOR's School-Age Events include:
After School Programs
Assembly Shows
Awards Ceremonies
Banquets
Barbecues
Benefits
Breakfasts
Celebrations
Clinics
Day-Long Residencies
End of School Events
Family Nights
Field Days
Four-Square Clinics
Fundraisers
Graduations
Grand Openings
Gym Classes
Holiday Parties
In-House Field Trips
Luncheons
Open Houses
Peer Team-Building Events
Picnics
Playground Programs
Potlucks
PTO Functions
Quick Visits
Recreation Programs
Reunions
School Fairs
SPED Programs
Summer Camps
Suppers
TV-Free Week
Unusual Events
Weekly Games Clinics
eXtra Curricular Activities
Young Child Festivals
& a
kaZoo parade!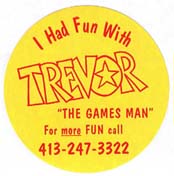 And have been performed at
and for:
Arts Councils
Associations
Boy Scouts
Businesses
Camps
Campgrounds
Casinos
Churches
Cities
Clubs
Community Partnerships
Cub Scouts
Day Care Centers
District Events
Educational Collaboratives
Extended Day Programs
Farms
Fraternal Organizations
Girl Scouts
Homeschoolers
Hospitals
Housing Groups
In-service Days
Junior League
Libraries
Museums
Parks
Play Groups
Quality Control Programs
Recreation Departments
Recreation Facilities
Resorts
Schools
Service Groups
Synagogues
Theater Groups
Towns
Unions
Utilities
Water Festivals
eXtraordinary Events
Youth Centers
Youth Organizations
& a Zoo!
Plus a ton of private parties for kids, teens, adults, and elders!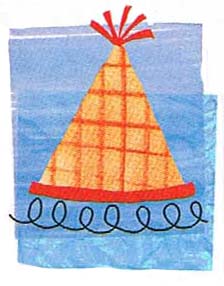 TREVOR'S QUALITY GUARANTEE:
YOU WILL BE 100% SATISFIED AND
YOUR GROUP WILL HAVE A WHOLE LOT OF FUN...
OR IT'S FREE!

413-247-3322
trevor@trevorthegamesman.com
PO Box 463, Haydenville, MA 01039