A TON OF FUN!
when you just plain want a lot!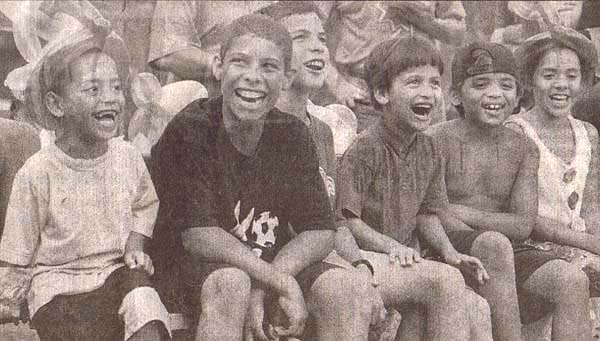 For an extended children or teen event, A Ton of FUN! offers a wide variety of activities from TREVOR's repertoire geared to the age, ability, group size, and space available. You can choose yourself or you can allow the professional to pick what's most appropriate for your group at the time.
Options include:
STILTWALKING Strolling around at nearly 9' tall, TREVOR's stiltwalking is very festive and colorful. His Cat in the Hat hat and extra, extra, extra long red and yellow striped pants — not to mention the sheer size of the guy — draws attention from near and far! Whether he's doing 'walk-around' or a show, everyone smiles when they catch sight of him. 'Walk-around' includes brief "spot shows" throughout the event area and lots and lots and lots of really High Fives!
SHOWS One of TREVOR's inter-active shows is always a hit! No matter what age range, TREVOR has a show that will delight your group. For the very young, it's The Pre-School Special. At kid and family events, try Giants & Giraffes * Dragons & Detectives or The Outdoor Special. And teens get all excited about The High-Octane On-the-Go Special and are enthralled with The Mystery Detective Brainteaser Show. Aults love The Party Game Show.
BAG OF TRICKS Everyone has a blast trying out TREVOR's equipment. They will experience the thrill of Ribbon Dancers, Giant Plastic Scissors, and the Toothsome Alligator. They'll get noisy whirling Wind Whistlers and using them to transform themselves into athletes, musicians, carpenters, animals, and more. Older ones may be interested in a juggling lesson. Teens definitely love learning to manipulate the amazing, color-changing Chameleon Stick. And everyone gets a charge out of the Martian Tri-Ball, Chinese Yo-Yo's, and giant Running Tubes. (For a full list of equipment available, see Stiltwalking & The Aerial Delights Show.)
GAME TIME Energetic groups will enjoy a wide variety of running games and active strategy games, including several versions of Tag, team games, small group games, and just plain unusual and different games. We'll throw in some Minute Mysteries and other more sedentary games as breathers when needed. Groups that want or require less active games will delight to low energy activities, including call-and-response games, table games, singing games, math and geography games, and other low-key activities. A third option, space is Parachute Play. When TREVOR unfurls his Rainbow Parachute, all the eyes open wide with delight because everyone knows how much FUN Parachute Play is! For an older group, teens or adults, we'll do some exciting Party Games, including ice breakers, mixers, table games, large group games, and whodunits.

PROJECT: RIBBON DANCER It's that classic looooooong ribbon-on-a-stick toy. ↑ Kids of all ages are fascinated when TREVOR opens up the Big Red Ribbon Suitcase and sets up the Ribbon Dancer Factory. Oohs and ahhs go through the crowd as they catch sight of all the different colors and sizes of ribbons. They pick their favorite and it's attached to a wooden handle. Next, they decorate their handle with a wide variety of colored tapes. Then they exuberantly play with them before taking their new creation home for more FUN later! It's a craft project, a FUN souvenir, and a really cool toy all twirled up into one!
A Ton of FUN! gets rave reviews every time. Kids and teens (and staff) have been thrilled with this program at a wide variety of functions, including Bar/Bat Mitzvahs, community suppers, family reunions, winter carnivals, school and day care adventures, wedding receptions, and all sorts of private parties.
TREVOR'S GUARANTEE: YOU WILL BE 100% SATISFIED
AND YOUR GROUP WILL HAVE A WHOLE LOT OF FUN...
OR IT'S FREE!
Click
here
to see what people say about this variety program.