Comments on TREVOR's
Children's Birthday Party Shows: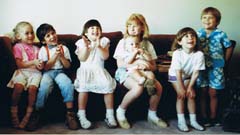 "Thank you for making it the best birthday party we have ever hosted. The parents were thrilled with the happiness their children elicited and they laughed just as heartily at your jokes. You amazed and awed us with your ability to keep the kids interested, interactive, and engaged. And even the parents were excited when the parachute came out, expressing very fond memories of childhood. We had a school play a few days after the party and parents were still commenting about how much their kids liked TREVOR. The parents who were unable to attend got glowing reviews from their child. Home based birthday parties can be daunting. TREVOR will make it work out splendidly. No head cap of 8 or birthday factory play place required. Pure healthy FUN. TREVOR is an amazing entertainer. I wouldn't hesitate to hire TREVOR. Oh, and he travels far and wide to get to the party destination!"
~Wendy Harris, mother, Killingworth CT
"Everyone loved TREVOR! TREVOR is amazing at engaging the kids in his performances. I have such fond memories of The Games Man from when I was a child! I am so happy my son and his friends had the opportunity to experience the delight of his performances!
~Nicole O. Maher, mother, Dedham MA

"Thank you so much for making Genevieve's birthday party the best time ever! What a good thing it is [that you have] such a way with children. We will be talking about this party for a long time!"
~Dr. Andrew Dole, father, Amherst MA
[1 year later] "You are just the best. We are so lucky to have you. Genevieve absolutely wanted to celebrate her birthday with you again. Thank you Thank you Thank you!
~Dr. Andrew Dole, father, Amherst MA
"TREVOR arrived at our son's winter birthday party, and was an instant kid magnet. The group of about 35 had been literally running in circles before he arrived, but they all gathered around him to shake his hand, say hello, and even voluntarily sit quietly in a group to watch him put on his stilts! [photo below]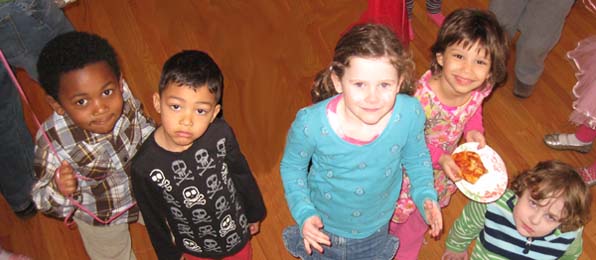 TREVOR started his show and instantly had adults and kids alike cracking up! As one guest said "It's amazing how many jokes this guy can make with just two plastic tubes, and they are actually funny jokes!" My son is usually more on the shy side of things, but he happily participated in TREVOR 's show. It was such a joy for me to see my little boy feeling like the star of the day in the center of the parachute, laughing, moving and playing with all his friends. TREVOR seriously made his fifth birthday unforgettable and fabulously FUN. As I said to my closest girlfriend during the party: not only are all these kids entertained and having a blast, but I'm not the one responsible for it!! Thank you TREVOR!"
~Chelsea Kline, mother, Northampton MA
"Dear Trevor,
You had good activities for kids and you had good toys that could do cool stuff. I really appreciated that you came to my birthday party and did lots of FUN activities with me. I think all the kids at my birthday party had a FUN time with you, too. I also liked when you were twirling the sticks around, the Chameleon Stick, and the tubey things. Thank you for coming to my birthday party and inspiring me.
Love,
Forest"
~Forest Riddington (age 8), Deerfield MA
"We wanted to do something really special for Forest this year. Last year he was sick on his birthday. [We especially liked] the interaction with Forest. Seeing him next to you on stilts was FUN, as well as the kids doing High Fives. Popcorn parachute was great. The parachute games were really FUN. I also just like the idea of games, stilts, and colors being at the center of a party... what better way to make people smile!"
~Leif Riddington, Forest's dad, Deerfield MA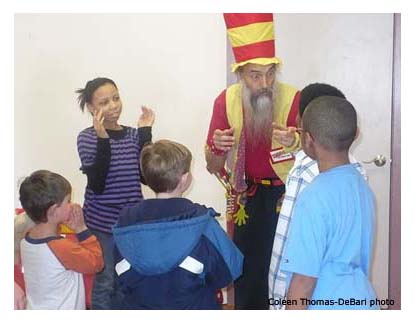 "What a wonderful job you did keeping all the children focused and involved. That was great! The kids just love [the parachute game] Cat & Mouse and are still talking about it. TREVOR was awesome! With 26 kids at a birthday party, to run so smoothly and for every child to participate was wonderful. We will absolutely invite TREVOR again."
~Michelle Perrier, mother, Easthampton MA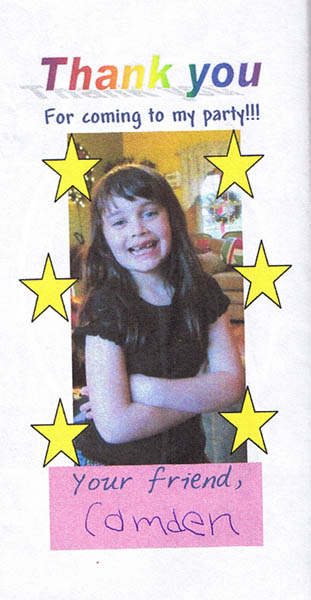 "TREVOR's zany antics tickled the funny bone of everyone at the party --- both kids and adults. I will always treasure the memory of my daughter's smiles and laughter on her 7th birthday thanks to TREVOR's unique act. I am so glad he was able to entertain at Camden's party. -----> TREVOR is a true professional & a wonderful entertainer. He made the birthday girl feel special, and varied the activities to keep the kids' interest. The jokes were funny. The kids felt involved. The kids loved all the activities with the parachute, especially the ones with the stuffed animals. Plus stilts are just plain cool. Everything was smooth and FUN.The whole family still talks about what a great party it was. Thank you again!"
~Maureen DeLude, mother, East Berlin CT

"TREVOR combines child-hearted FUN and games, with sophisticated understanding of how children listen and learn, and a clear love of children."
~Irena S. Bowie, mother, Springfield MA
"Your show is perfect entertainment. Everyone felt included, very group conscious, very therapeutic to laugh a lot. Pure fun, not tainted by commercialism, competitiveness, etc. Thank you."
~Amar Fuller, mother and owner/director of Khalsa Child Care, Leverett MA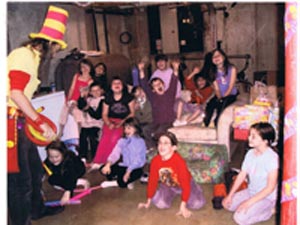 "Just a note to let you know how much we enjoyed you at Cecilia's party. -----> You were the talk of the day. I loved how you kept all the children entertained! It was the first year I've been able to sit back, take pictures, and enjoy everyone. I'd say you were wonderful --- more FUN than you can imagine."
~Paige Keenan, mother, Florida MA
"The outfit and [presentation] were great! The kids loved the jokes and tricks. They also loved the games afterward. It was a great hit. Everything was fantastic! Sam and his friends had a blast. Thank you so much!!"
~Sherri Mittelman, mother, W Hartford CT
"You kept it fast paced for children's attention spans, moving along from one step to another. You dealt with more difficult children very well. After the party, the children told their parents what a great time they had and how funny you were! One girl [said she] 'almost peed her pants' from laughing so hard! I would be interested in an outdoor party. I've heard your parachute is a lot of fun!"
~Donna Barcomb, mother, Southampton MA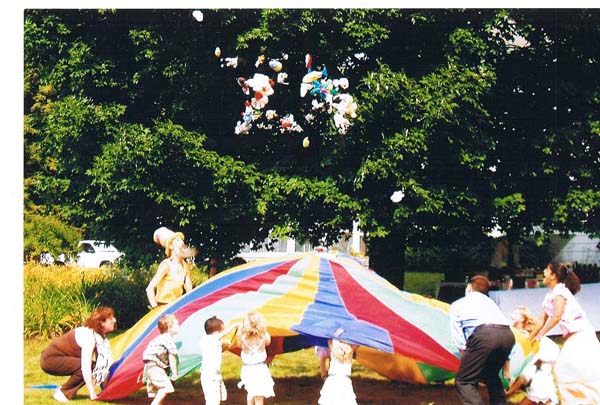 What I liked best: "the games, the Aerial Delights Show, the upbeat, engaging mood. Laughs for all ages!"
~Michele Richard, mother, S Hadley MA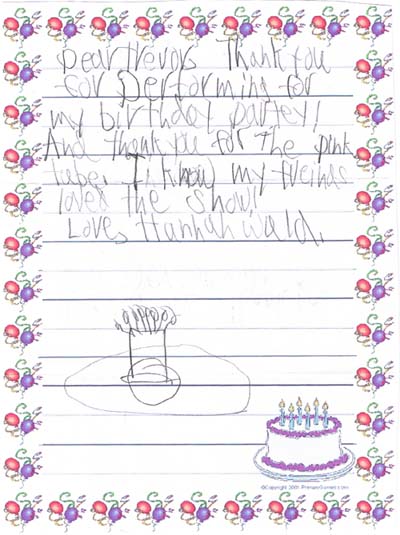 j
"Fast paced. Kept everyone's attention, especially some of our skeptical getting-to-be-know-it-all pre-teens! Great FUN, but it goes by too fast!"
~Joe Pavlovich, father, Florence MA
"The kids were thoroughly entertained. It was a great show. Katie is still talking about you. Thank you for the package of stickers you sent Katie afterwards. She was thrilled. Also, your confirmation postcard [ahead of time] was great, too. She looked at that postcard with all of the wonderful stickers on it dozens of times before her big day. Thank you! Great show! We'll certainly keep you in mind for programs that I am involved with."
~Debora Lusnia, mother, Easthampton MA
"You did a birthday party for me when I was 10, and I always went to your shows at the Odyssey Bookshop. I just want to say thank you. You inspired me to be a comic and a performer. You made me happy... and I just want to say thank you. You're an amazing human being and a person who has inspired me. So thank you, and I hope all is well with you."
~Joey Volkert, age 21

"[I liked] the whole playful atmosphere and how you make everyone (parents) feel like they're just big kids. The closing in your letters sums it all up and captures your whole essence: 'Playful as ever, ---TREVOR!'"
~Floyd Paterson, dad, musician, and band leader, Springfield MA
"You were excellent! The kids loved it! They were absolutely enthralled all the way through."
~Steve Shea, father, Hatfield MA

The Indoor Birthday Special.

The Outdoor Special.
TREVOR'S QUALITY GUARANTEE:
YOU WILL BE 100% SATISFIED AND
YOUR GROUP WILL HAVE A WHOLE LOT OF FUN...
OR IT'S FREE!