THE INDOOR
BIRTHDAY SPECIAL
a special package for that special child
This show is ap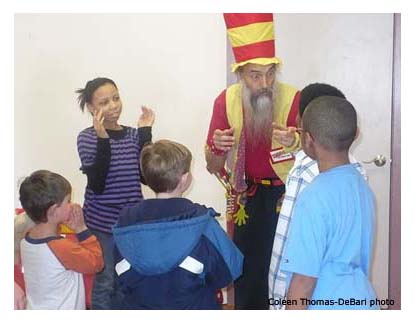 propriate for children's birthday parties in a hall, restaurant, or in your home. It is suitable for children ages 3-12.
It's a 100% participatory program, so the kids are doing something all the way through: volunteers are called up from the audience, we count down to blast off, the children call out things in specific categories for TREVOR to do, the birthday child gets some special attention, and even though TREVOR tells them not to laugh, they all laugh all the way through!
We'll start out with The Aerial Delights Show, an up-in-the-air extravaganza of tricks and skills that involves the group all the way through. It's very much like a juggling show except that there's absolutely no juggling in it! It features animal, music, and sports impressions using wind whistler tubes; Pictures In The Air with ribbon dancers: the color-changing Chameleon Stick; and all sort of other FUN up-in-the-air stuff.
Here's a brief home video of a few minutes of the show: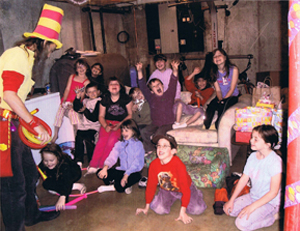 The second half is always the games, that's why TREVOR is called "The Games Man"! As a certified New Games Leader & Cooperative Play Specialist with more than 4 decades of experience working with children of all ages, you can be sure the kids will have FUN! The children will enjoy a wide variety of indoor party games suitable to the age of the children and the space that we're in. One of the great things about New Games & Cooperative Play is that everybody wins! No losers, no elimination, and therefore no hurt feelings. These games are strictly for FUN!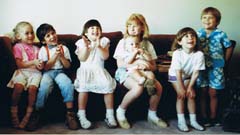 For younger children
, there are singing games, rhyming games, call-and-response games, and even a few just plain silly games that the children love.
For older kids, there are guessing games, partner games, detective stories to figure out, a tricky jumping game, and others that older kids love. (Nothing running around your house, of course. TREVOR skillfully keeps everyone active, yet contained.)
If you'd like a third half, there's an optional add-on craft called Project Ribbon Dancer that really enhances the program. It's a combination craft project, party favor, and really cool toy all mixed up into one! Ribbon Dancers are that classic looooooong ribbon-on-a-stick toy. The children loved seeing TREVOR use them in the first part of the show, so they already know how FUN they are and are excited when they learn that they get to make their own! They are always fascinated when TREVOR opens up his big, red suitcase and sets up the Ribbon Dancer Factory. Oohs and ahhs often go through the crowd as they catch sight of all the different types of ribbons to choose from. Then, one by one they pick their favorite ribbon and it's attached to a bamboo handle for them.
Then comes the artistic part: they get to decorate and customize their handle with a wide variety of colored tapes. Since there's no limits on how much tape they can use, the results are always fantastic! Afterwards, they all get to play with their new creation, keep it, and take it home to enjoy again and again later on! Everyone simply loves it. And when you see them being artistic with the tapes and then joyously all waving their Ribbon Dancers around together, you'll experience the joy yourself!
Comments on TREVOR's Birthday Party Shows

For outdoor children's parties:
The Outdoor Special.

For big kids, teens, and young adults:
The On-the-Go Hi-Octane Special.
For adult and elder birthday parties:
The Party Game Show.
TREVOR'S QUALITY GUARANTEE:
YOU WILL BE 100% SATISFIED AND
YOUR GROUP WILL HAVE A WHOLE LOT OF FUN...
OR IT'S FREE!