"Good energy, very punny, got the kids running around. Folks were glad to see you back performing at the library! We hadn't had you here in a while and it's always so much FUN! It's no tall tale: TREVOR on stilts is the height of
a good time! I'll post a review to MASSYAC to remind folks how great it is to have you at library programs! And thank you! We had a blast!"
~Jocelyn Cozzo, Children's Librarian, Hatfield Public Library, Hatfield MA

"That was WONDERFUL! I just stayed and watched your whole show.
You are very good! The kids had a really good time."
~a grandmother, Sherborn Library Arts and Crafts Fair, Sherborn MA

"He truly was a natural, quick-witted and ready to meet any challenge the children threw at him. It was clear that the kids left feeling happy and with an experience they are not likely to forget."
~Jennifer Russo, journalist, Bellingham Bulletin

Thanks, TREVOR. You always do a
great job!
I have a
deep respec
t
and
admiration
for people who can make a
professional
go out of their
artistic
abilities. It is not an easy thing to do!

~ Steve Saraceno, Publicity Director, Access Bellingham-Mendon Inc., Concerts on the Grass (14x since 1997!), Bellingham MA

"TREVOR "The Games Man" is terrific!! Everyone had a blast this evening!"
~Luna Greenwood, Children's Librarian, Goodwin Memorial Library, Hadley MA


"TREVOR "The Games Man": A Crowd Pleaser. Party Under The Stars, the culminating event for summer reading at Farmington Libraries, was a big hit for families, who were entertained by the TREVOR "The Games Man" with participatory activities and a craft."
~Farmington Libraries blog, Farmington CT


"Just want to say you are wonderful,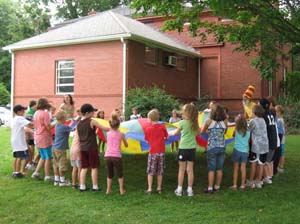 TREVOR. You put on a great show. What I love most are the cooperative games you play with the kids. It's so interesting to watch children whose only experience of play is win/lose open up to a whole new mode of play where it's FUN no matter what. The first time they get tagged, you see disappointment on their face. It's so great to watch them realize that they haven't lost, they've just changed sides or modes of being and can still play. The FUN continues. I wish schools and parents could learn from you, but then I realized I wish the whole world could learn that life doesn't have to be a zero-sum game: we really can all get along and keep playing together if we can let go of the idea that one person needs to be on top. You bring a little bit of heaven into the world everywhere you go."
~Rev. Sarah Buteux, First Congregational Church, Hadley MA

"What a wonderful job you did keeping all the children focused and involved, that was great! The kids just loved it and are still talking about it. You were awesome. With 26 kids at a birthday party to run so smoothly and for every child to participate was wonderful. We will definitely invite TREVOR again."
~Michelle Perrier, mother, Easthampton MA


"For a whole hour, you kept 70 children ages 6-16 smiling and active and doing games together. Everyone had a great time, and you introduced some games that the counselors used later on. I hope you never burn out!"
~Tina M. Bennett, Summer Recreation Program director, Bernardston MA


"You put on such a FUN show!!!"
~ Karen L. Dooley, Evergreen Health Care Center, Stafford Springs CT


"There was just a magic in the air when you had your parachute out!"
~Steve Pascal, Green River Festival, Greenfield MA
"Looked FUN, whacky, zany, Seuss-like. Very entertaining, great with kids. Unique, audience enjoyed thoroughly. I especially liked the level of laughter and excitement the audience displayed during the performance. Feedback has been all positive. TREVOR is a true showman! The audience was delighted with his show."
~Rae Griffiths, Program Coordinator, Springfield Museums & Library Assoc., Springfield MA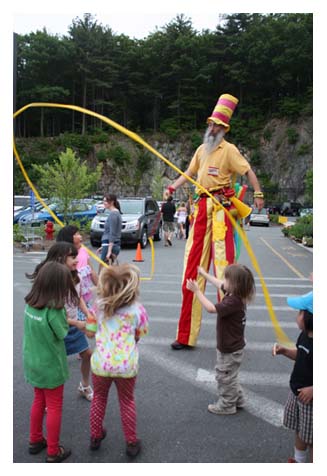 "You were God sent! According to all in attendance, your performance on the green was outstanding. I have had several calls to say you were great. Next year, please plan to repeat your performance. Thank you again for a wonderful finale."
~Helene Pickett, director, Wilbraham Peach Festival, Wilbraham MA

"On behalf of the Hampden County Area Special Olympics, thank you for your part in the Fall Harvest Festival. It was so nice to see youngsters spell-bound by human entertainment rather than by television. Again, our thanks for making it such a delightful event."
~Alice J. Zuvers, area manager, Special Olympics, W Springfield MA

"You definitely added a major part to our festival last year, and we hope you can come again this year."
~Doug James, director, Westfield River Festival, Westfield MA

"Thank you for coming to the Orange Arts Festival in the park. Several adu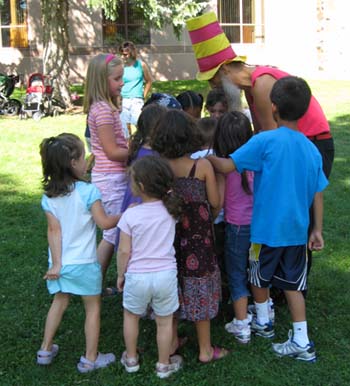 lts have commented on your wonderful "playtime" with the kids. And from the kids' reactions, I'm sure they enjoyed you."
~Candy Cross, coordinator, Orange Arts Festival, Orange MA

"Your presence was so enjoyable by all at the Holiday Fair. Thanks so much for your time and energy. You have a remarkable gift and it's wonderful to see you share it."
~Edna Johnson, chair, Holiday Fair Committee, Hartsbrook School, Hadley MA

"I've seen what TREVOR does. He is very good."
~Edwin Gentzler, father, Amherst MA
"I have fond memories of playing parachute games with you thirty years ago at Hartsbrook Waldorf School."
~Lucas Dreier, Belchertown MA
" TREVOR, the answer to my cooperative games prayers!"
~ Abby Kingsbury, head children's librarian, Harvard Public Library, Harvard MA


"We would not consider celebrating completion of a fun-filled school year without TREVOR. He brings joy to everyone --- teachers, parents, grandparents, and children of all ages! It is a pleasure to see whole families involved in the play that TREVOR brings to our end-of-the-year celebration! Looking forward to seeing you again next spring!"
~Marcia D'Agresto & Lynn Santaro, Mountain Rd. Schoolhouse, Gill MA (yearly 1990-2005 when Marcia retired!)

"I liked the Cat & Mouse game we played with the parachute. Stay longer next time."
~Lisa Caspar (age 6), Wilbraham MA

"TREVOR was on time and needed no direction whatsoever. Children and adults alike were entertained. TREVOR is the most experienced and FUN entertainer I have seen. He is a true professional. I knew I could count on him, and he came through."
~Michelle Burke, Center for Educational Leadership and Technology, Marlborough MA

What this standing ovation is all about!

TREVOR'S QUALITY GUARANTEE:
YOU WILL BE 100% SATISFIED AND
YOUR GROUP WILL HAVE A WHOLE LOT OF FUN...
OR IT'S FREE!