"You're awesome. Everything you do is


topnotch! We have had you year after year

and your show gets
better and better
each
time you visit. Can't ever get enough of TREVOR's enthusiasm.
"
Lucy Baker, director, KinderCare Learning Center, Glastonbury CT

Comments on TREVOR's Cooperative Play Fun Day: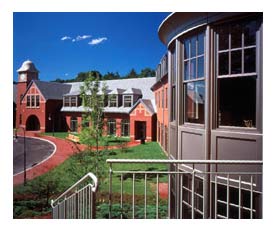 "TREVOR "The Games Man" came to our school to teach us FUN games. He was very funny and nice. We had lots of FUN. His hat looked like the Cat in the Hat's hat. His beard looked like long, gray string. He talked through a megaphone. The megaphone was attached to a chain on his pants. He taught us many FUN games like Lemonade, Everybody's It, Buddy Tag, Triangle Tag, and The Octopus Game. Our favorite was The Octopus Game. It is played with a soft ball with a tail to tag with. The teachers were able to learn the games, too. It was a lot of FUN because everyone got to play with everyone else and no one was left out. The best part was that no one lost! At the very end, he gave us a sticker!"
Mrs. Benham's 2nd grade class, Canaan Elementary School, Canaan NH
"Loved it! We totally enjoyed your last visit with us, and wanted the new staff to experience [it]. I love your energy and ability to get everyone involved --- children who normally avoid the gym as well as staff who do the same. TREVOR is a great motivator, knows how to have FUN, and has energy to burn!"
Dorene Francis, director, Ashburnham-Westminster Extended Day, Ashburnham MA
"Really nice to let the children be so loud and silly. Very appropriate humor and tricks. We appreciated your flexibility and go-with-the-flow performance. Our children still talk about 'That Funny TREVOR Guy!' They really loved you --- I will certainly recommend you for next year's line up. Basically, we loved you!"
Cindy Behrer, teacher, University Childcare, UMass-Amherst, Amherst MA
"Heard great things about your work. LOVED IT!! People young and old loved it!! You were great with the audience and exceeded all my expectations. All the staff and volunteers were very impressed. What a great performance! TREVOR made everyone, young and old, smile!"
Jennifer Civello, REACH Community Health Foundation, N Adams MA
"The kids loved you :D !"
Salvatore Demaio, director, Sheriff Nick Cocchi's Youth Leadership Academy summer
camp, Springfield MA
TREVOR'S QUALITY GUARANTEE:


YOU WILL BE 100% SATISFIED AND
YOUR GROUP WILL HAVE A WHOLE LOT OF FUN...
OR IT'S FREE!
413-247-3322
trevor@trevorthegamesman.com
PO Box 463, Haydenville, MA 01039