"Your participation greatly contributed to the success of the special event. I enjoyed working with you. Thank you for providing excellence in training, helping further the professional development of family child care providers. Provider evaluations collected at the conference were very positive.
"
Nancy Casten, training specialist, Yours For Children, Auburn MA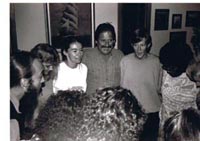 Comments on TREVOR's
Cooperative Play Staff Training Day "Everything was great! You did a very good job! I learned a lot from this training, and now I can teach my children in the classroom and at home. Thanks."
Maria Felix, Holyoke-Chicopee-Springfield Head Start, Springfield MA

"Thank you for a fun and extremely helpful series of workshops."
Ellen Commings, teacher, Cushman Hill Children's Center, Amherst MA

"I had fun and enjoyed this workshop very, very very much! I feel so good. The sessions are very stimulating mentally and physically. I feel better about the people I work with, and I have many great ideas and resources now to improve our group activities."
Donna MacCartney, teacher, Amherst Montessori School, Amherst MA
TREVOR'S QUALITY GUARANTEE:


YOU WILL BE 100% SATISFIED AND
YOUR GROUP WILL HAVE A WHOLE LOT OF FUN...
OR IT'S FREE!
413-247-3322
trevor@trevorthegamesman.com
PO Box 463, Haydenville, MA 01039