"I just loved the
look on her face
when you walked in!"
John Little, Springfield MA
a special little something for someone special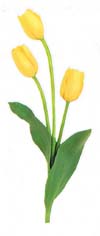 TREVOR's stiltwalking deliveries are indeed a special little something... except that they aren't that little! The recipient will be impressed just by the sheer size of the guy! Dressed head-to-toe in bright red and yellow — including his Cat in the Hat hat and his extra long striped pants — TREVOR appearance on stilts is both colorful and festive. It is always a big surprise (pun intended) and adds a whole new dimension to the traditional delivery!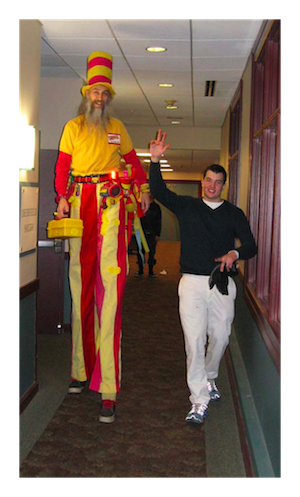 Walking in at over 9' tall, TREVOR will impress even the most difficult to impress groups or individuals. He will deliver the item of your choice: balloons, flowers, candy, toys, cash, whatever you'd like, as long as it can be carried by hand.
But the FUN is not over yet! TREVOR's Stiltwalking Delivery is definitely not one of those walk-in-walk-out affairs. No, not at all. Either before or after delivering your item of choice, TREVOR will entertain the group or individual with one(1) of the following 10-minute entertainments:
1. Highlights from TREVOR's Stiltwalking & the Aerial Delights Show An up-in-the-air extravaganza of tricks and skills using a wide variety of equipment he carries around on his utility belt: Wind Whistlers, Ribbon Dancers, the color-changing Chameleon Stick, the What-a-Racket!, and the Giant Grabber, among others. He will amaze and amuse the audiences with impressions, air pictures, and tricks of skill, plus a little "special time" with the celebrant.
2. Highlights from TREVOR's The Party Game Show Interactive, everybody-wins, "good clean FUN" party games for adults. (Teens & kids will have fun, too, but it's for adults.) First, a quick ice breaker warm-up that gives the celebrant some special attention. Then a few brief, laugh-producing partner game mixers: they'll be switching partners every minute, too! Next, a purposely baffling brainteaser. And to close: The Fastest Game in the World... it's one second long!
3. Highlights from TREVOR's The Indoor Birthday Special Party games for children including an active jumping and ducking game that makes them all really pay attention; a singing game that gets them pumped up and dancing around; a few silly partner games that keep them laughing all the way through; and a rather unusual closer that will, believe it or not, leave them absolutely motionless!
TREVOR'S QUALITY GUARANTEE:


YOU WILL BE 100% SATISFIED AND
YOUR GROUP WILL HAVE A WHOLE LOT OF FUN...
OR IT'S FREE!
413-247-3322
trevor@trevorthegamesman.com
PO Box 463, Haydenville, MA 01039