More than anything else, I get my picture taken
Stiltwalking
, so I have
way
more stiltwalking pictures of me than of everything else I do put together, even though I lead games
way
more often. That's just the way it is. Get used to it. There's so many, in fact, that I have a separate page of my
High Five Gallery
of just the high five stiltwalking photos.
And now, in reverse chronological order, here's 134 pictures of me on stilts, dating from the present all the way back to 1988 shortly after I first started stiltwalking professionally: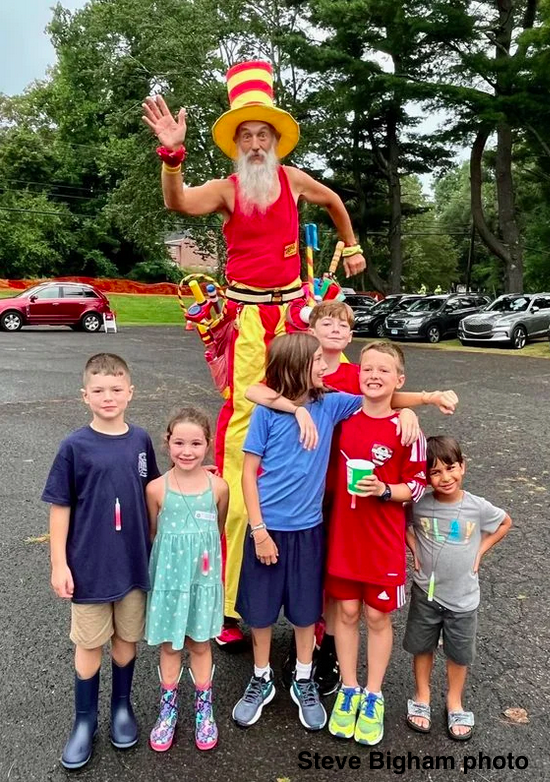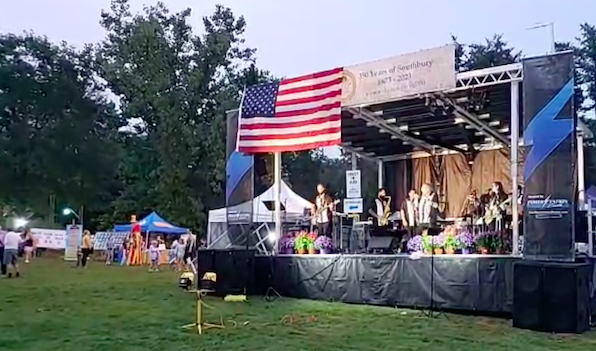 Southbury Celebration!
Southbury CT
September 9, 2023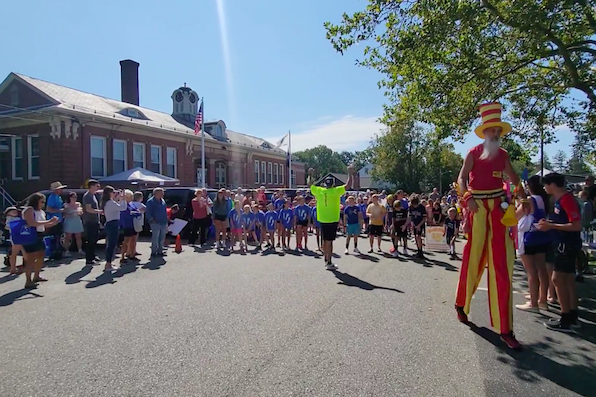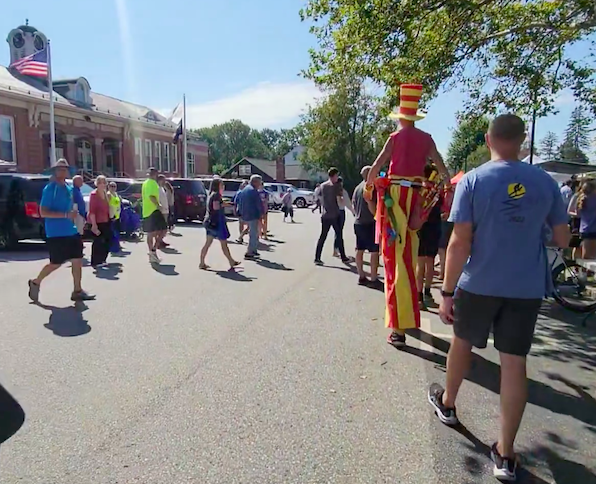 Charlton Old Home Day
Charlton MA
September 3, 2023
At the starting line before and after the start of the Kids Fun Run.

End of the Summer Reading Program
Hatfield Public Library
Hatfield MA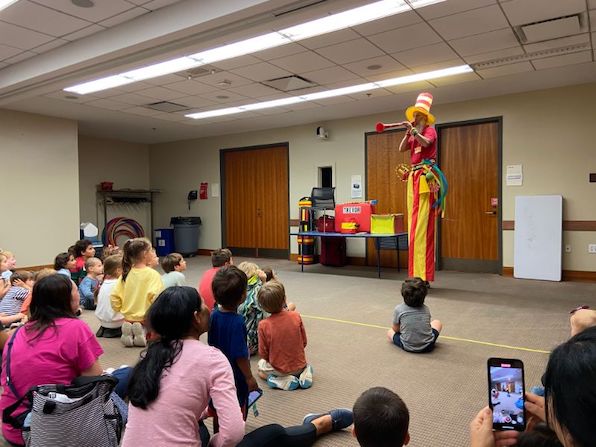 Summer Reading Program Finale
Needham Free Public Library
Needham MA
8/15/23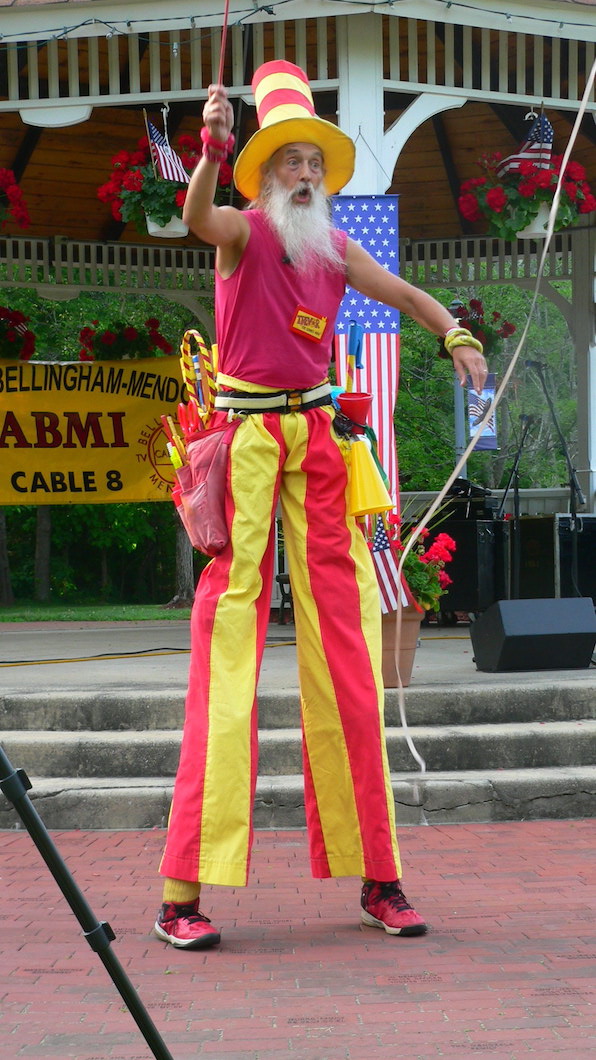 Concerts on the Grass
Bellingham MA
June 28, 2023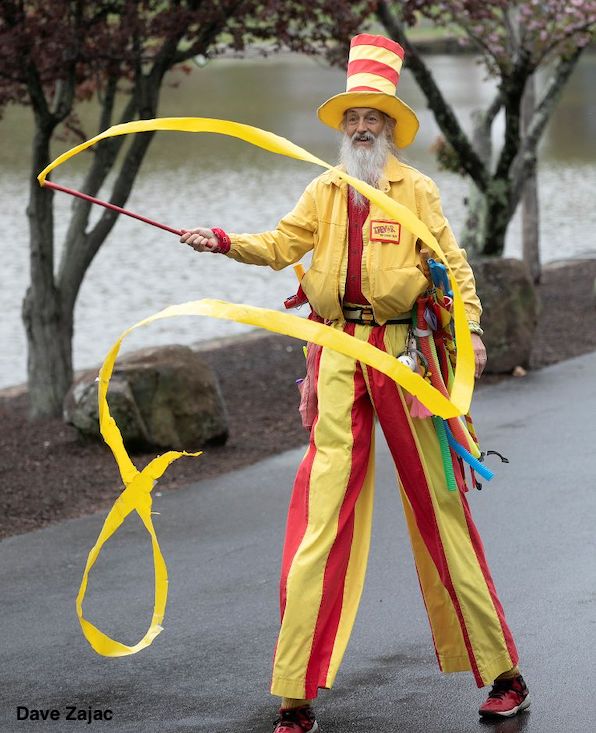 Meriden Daffodil Festival
Meriden CT
April 29, 2023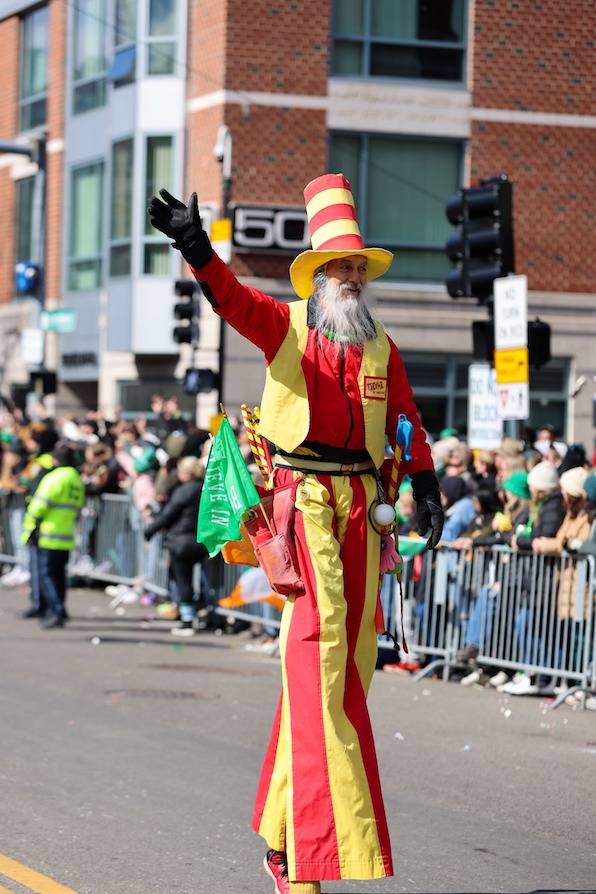 South Boston St. Patrick's Day / Evacuation Day Parade
Boston MA
March 19, 2023
It was chilly and very windy. So windy that in the staging area parking lot before the parade, I wasn't sure if it was going to be safe enough to walk because I was clinging to a light post so I wouldn't get blown over. A few time when I was walking around to stay limber, huge gusts actually moved me forward several steps. But, trooper that I am, I gave it a try. Fortunately, the wind on the street was very much hampered by the buildings on either side. There were a couple of cross streets where it took me by surprise, though. At any rate, it was still rather windy. Too windy, in fact, for me to be waving Big Yellow (my giant yellow ribbon dancer) around like in so many of the parade pictures below. There's no way I was going to try to keep my balance in that wind while waving my arms all around! So instead, in response to a horn in the crowd near the beginning of the parade, I pulled out my own party horn and blasted it every 15-20 steps along most of the parade route. The crowd loved it and constantly egged me on to do it more!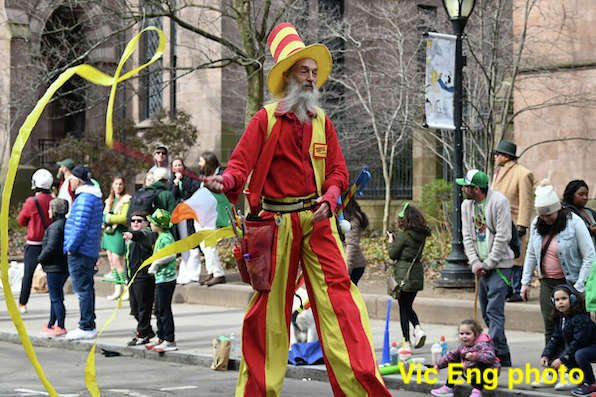 New Haven St. Patrick's Day Parade
New Haven CT
March 12, 2023

Before the parade, I got tired of just standing around in the line-up (it was going to be at least an hour wait), so I stiltwalked up and down the street and did lots of Really High Fives and got my picture taken with lots of people including the upper photo.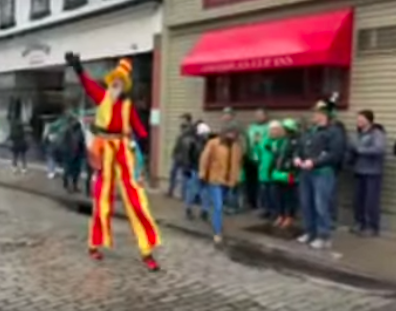 Newport Irish St. Patrick's Day Parade
Newport RI
March 11, 2023
Sorry this is so blurry. It's a screen shot from a video. This historic cobblestone street is pretty cool, with lots of really nice little shops and restaurants on it, but it's a real bear to walk on... especially when it's wet like it was today.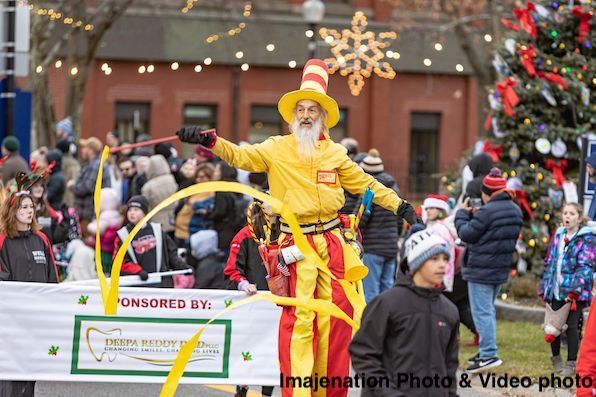 Rochester Christmas Parade
Rochester NH
December 3, 2022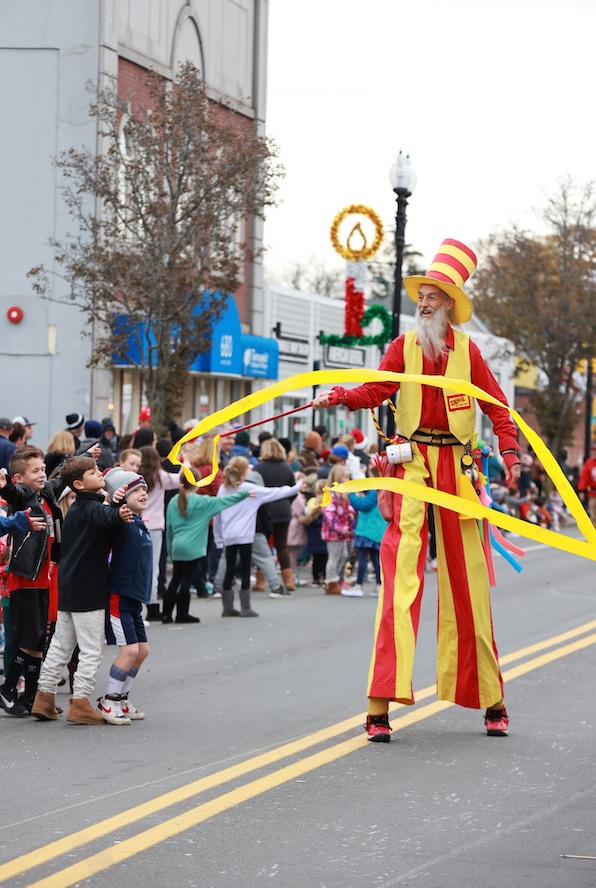 Quincy Christmas Parade
Quincy MA
November 27, 2022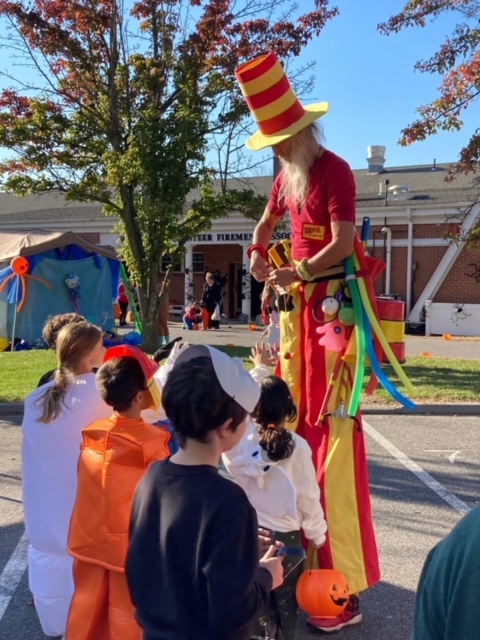 Southbury Halloween Spooktacular
Southbury Fire Department
Southbury CT
October 22, 2022
This is the most organized, well-planned, well-run, large crowd event I've ever seen... and I've seen a LOT! Likely over 2,000 people paraded up a narrow outdoor walking route (no passing!) stopping every little bit at a wide variety of interesting, entertaining, and/or exciting booths where the costumed children and their families were delighted by this, that, or the other and then given some sort of Halloween loot. At the top of the hill, the route meandered through the inside of the Southbury Fire Department's 2nd floor which was completely — and I mean completely — made up as a non-scary "haunted castle" were there were even more booths. And on coming back outside, the route lead everyone back down to the parking area. Ingenious. Flawless. Fabulous.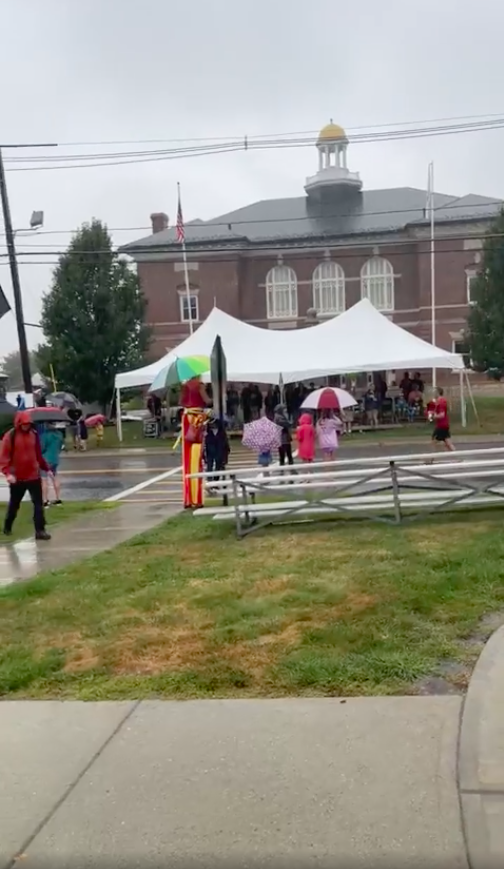 Charlton Old Home Day
Charlton Town Common
Charlton MA
September 5, 2022
It was
pouring
down rain! I am so glad I came extra early to set up my booth because it started raining pretty much when I finished getting my pavilion up. So I finished setting up underneath for doing
Project Ribbon Dancer
for the last several hours of the event, put on my stilts inside my booth, popped open my huge umbrella, and strolled out into the rain at 9:00am. The Old Home Day Road Race had just begun, so by the time I had walked the sidewalk in all directions (wet grass is
extremely
slippery!), the front runners were nearing the finish line, which is just off camera to the left. So, along with a few other hearty souls with umbrellas and everyone else under the huge tent across the street in front of the Charlton Public Library, here I am cheering on a totally drenched runner (in the red shirt and dark shorts on the right) as he nears the end. The event was supposed to run all day with a parade at 3:00 and fireworks after dark, but the rain didn't let up a bit. By 11:00am, most of the attendees had gone home and more than half of the vendors had packed up and left. Someone came around and told everyone who was still there that they were calling the event and we could all go home at noon. It was still
pouring
.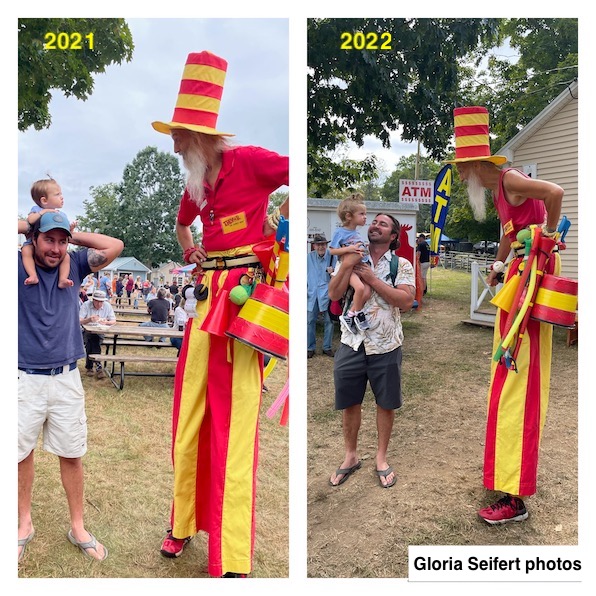 Chester Fair
Chester MA
August 28, 2022

So, Gloria Seifert took the left photo in 2021. Then in 2022, the dad posed as close to the same photo as their daughter was willing. He told me afterwards that they were going to make it a family tradition. (pssst: There's another family that has been doing this for a decade or more now. They keep telling me they'll send me the photos, but I haven't gotten them yet.)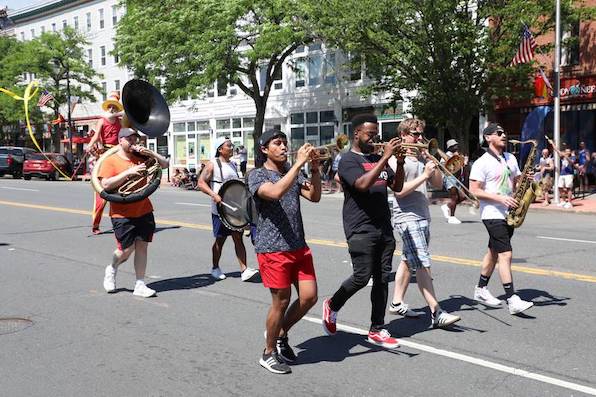 Pride March
Middletown PrideFEST
Middletown CT
June 4, 2022
I was marching behind a Dixieland band (upper photo), so I had wonderfully spirited music all the way!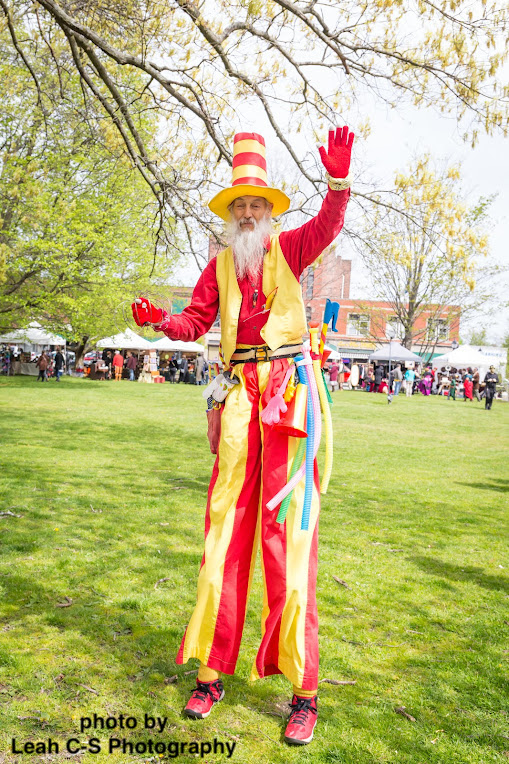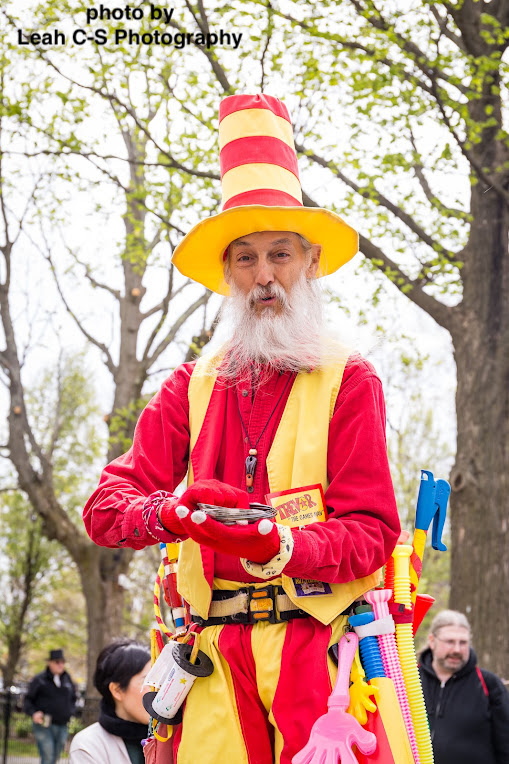 Watch City Steampunk Festival
Waltham Town Common
Waltham MA
May 7, 2022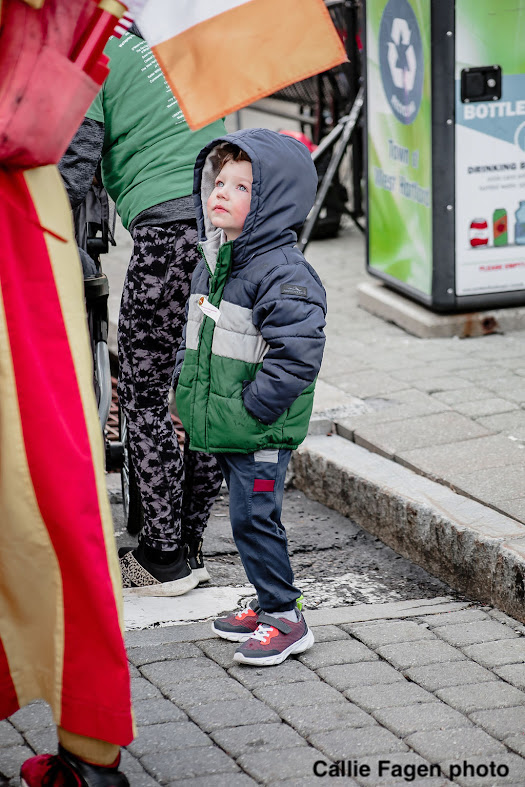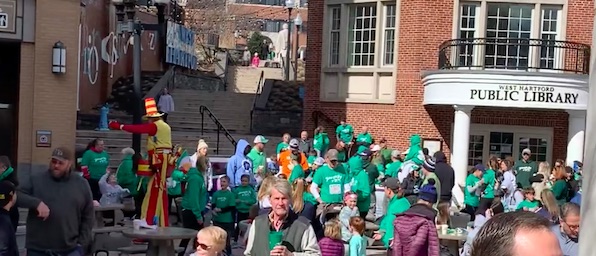 Johnny's Jog for Charity
Blue Back Square
West Hartford CT
March 27, 2022
Here's an extreme close-up and an extreme distance shot of me at this terrific St. Patrick's themed fundraiser. In the upper photo, that's my leg on the left and the boy is very obviously looking up at me. In the lower photo, the little girl in the grey dress is about to jump up and give me a high five. (This photo is, of course, also in my
High Five Gallery
.)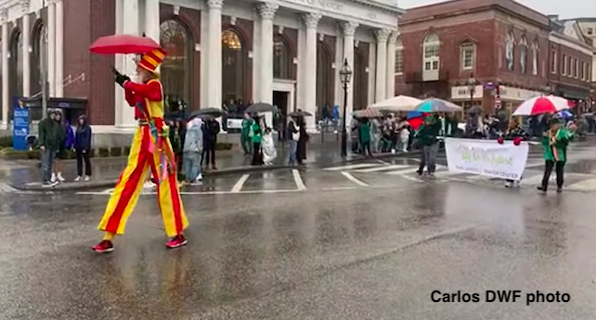 Newport Irish St. Patrick's Day Parade
Newport RI
March 12, 2022
It was pouring rain. All those speckles on the street are raindrops! It started out as a light drizzle, but shortly before the parade began, it started pouring buckets and didn't let up for most of the route. This photo is a still from a video. The guy filming it yelled, "Stilts?! In this weather!? Good luck, buddy!" This was my eighth year in this parade and so many units didn't show up because of the weather that the whole parade — which usually takes most of 2 hours to go by any given point — was less than 45 minutes long. I had a parade marshal near me throughout the entire parade checking on me to make sure I was okay. I suspect they were worried that I might slip and fall, but the road surface wasn't particularly slippery... I was, however, taking smaller steps, especially up the hills!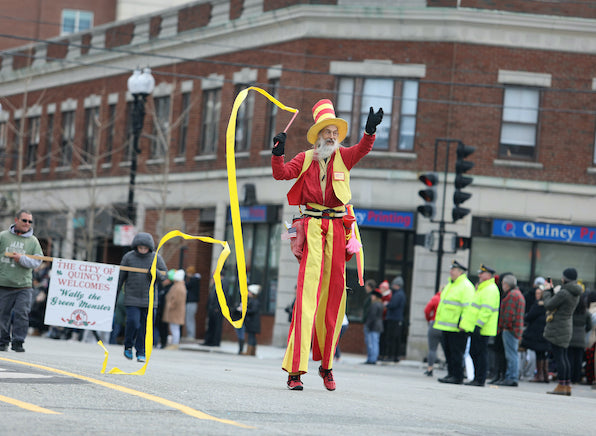 Quincy Christmas Parade
Quincy MA
November 28, 2021
Notice the banner in the parade that's right behind me: I was (unwittingly) a herald for Wally the Green Monster! This was the second time I was directly connected to Wally. The
first
was in 2007 when I entertained the crowds lining up to see the Red Sox World Series Trophy at Holyoke Heritage State Park in Holyoke MA and Wally was there, too. We got our picture taken together there several times.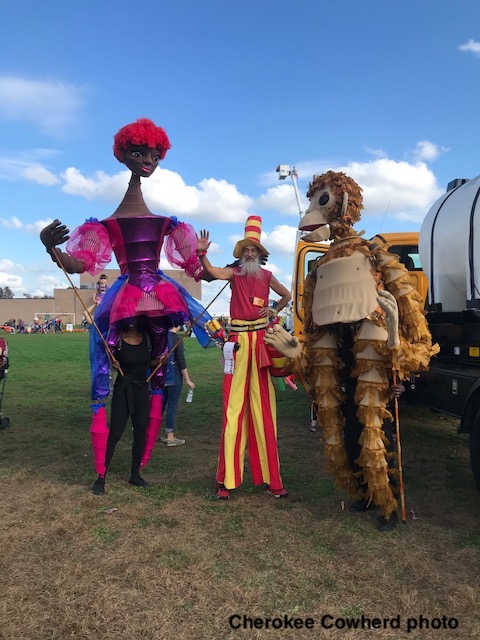 Westfield Pumpkinfest
Westfield MA
October, 16, 2021

It's not often I'm dwarfed at an event! These characters were terrific! The people operating them were very professional and did a wonderful job interacting with the crowd, posing for photos, using their hands and arms expertly in approaching people, and were also very good with both children and adults. Congratulations to NightFallHartford for their excellence!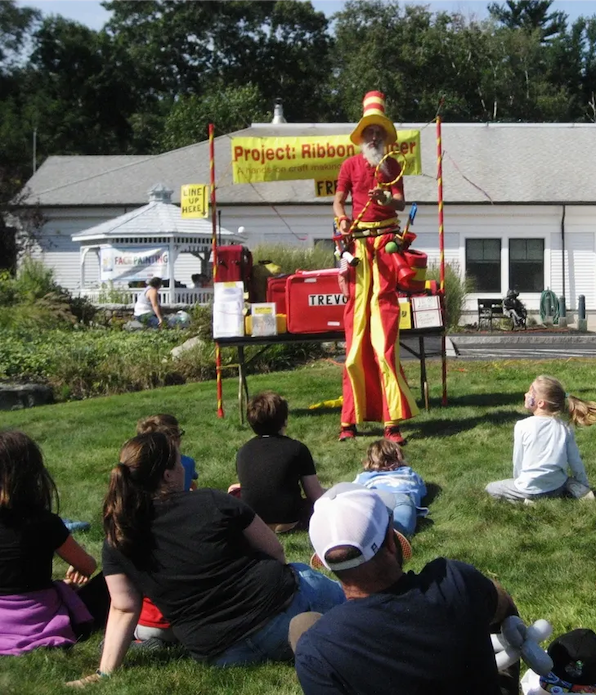 Lakeville Arts & Music Festival
Lakeville MA
October 2, 2021

This was my second time at this delightful home town festival. At my suggestion and after much discussion on their part, they created a Children's Area so that there would be a focused area where activities for kids could happen. Unlike at my previous appearance, this made it SO much easier for families to find me when it was time for my show. And they've continued this ever since.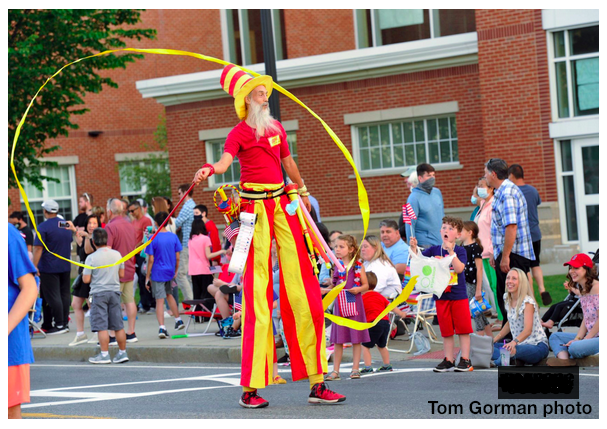 Quincy Flag Day Parade
Quincy MA
June 12, 2021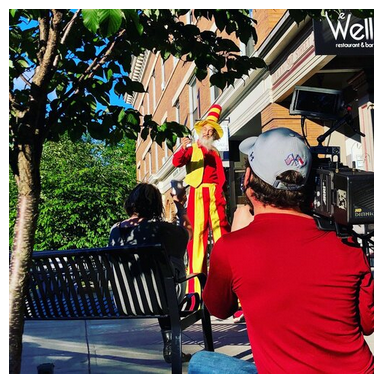 "Sproutland" movie shoot

Great Barrington MA
June 7, 2020

It was really FUN to have a walk-on (pun intended) cameo in this documentary! Special thanks to my housemate, Tom, for getting me the gig with his sister's production company.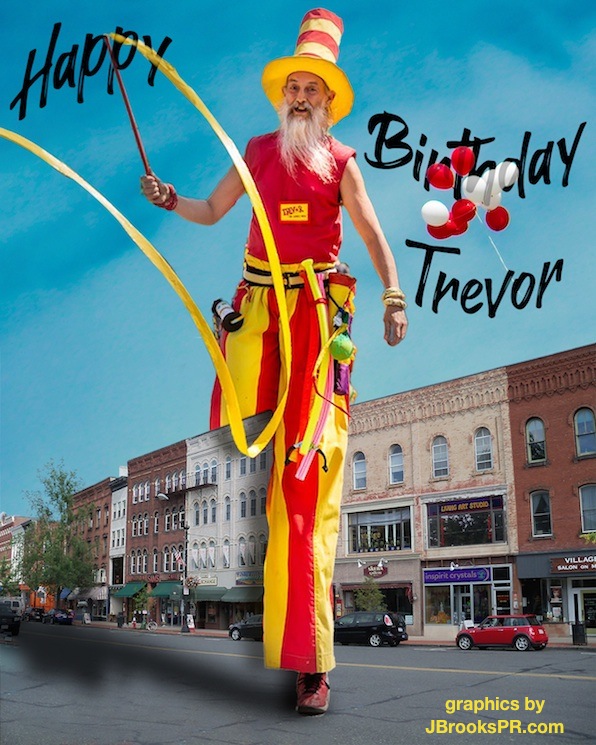 "TREVOR is BIG in Northampton!"
birthday card from my son-in-law
downtown Northampton MA
March 22, 2020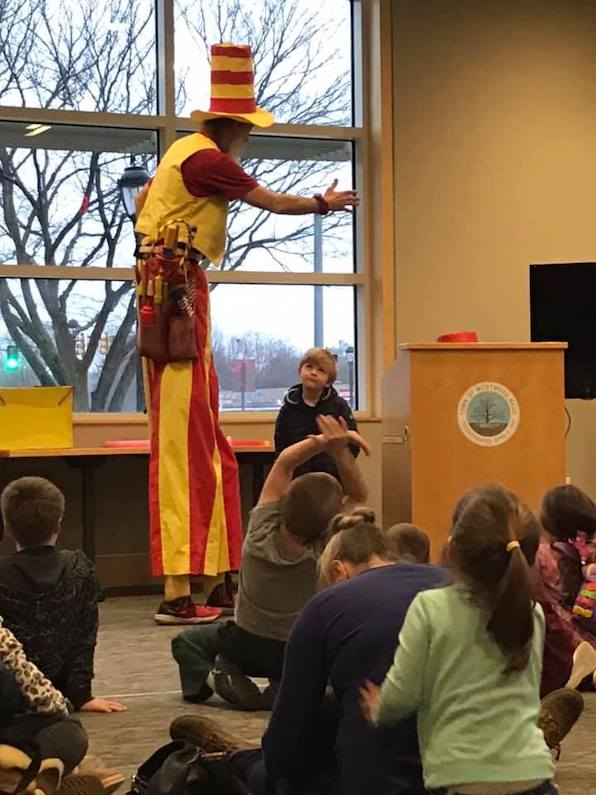 Westwood Public Library
Westwood MA
February 18, 2020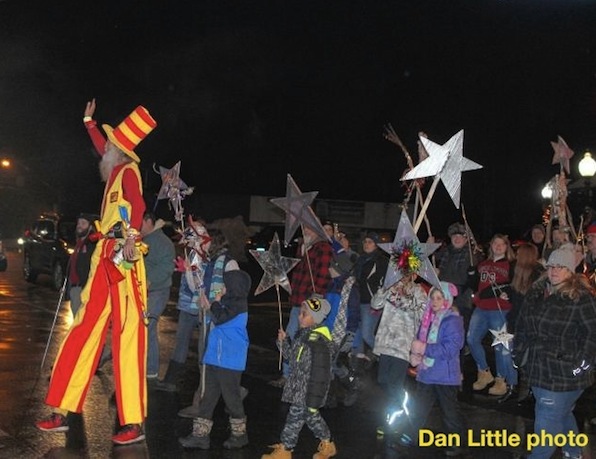 Starry Starry Night Parade of Stars
Orange MA
December 31, 2019
As at my last performance at this event in 2017, after my two indoor shows, I got to lead the annual Parade of Stars from Town Hall down Main St to the town park. As soon as we got there, it started snowing fairly heavily, so it was rather treacherous walking back up the hill to where I was parked. I was very thankful to a local woman who stopped her car and jumped out to help me up the street for the last block because it was scary!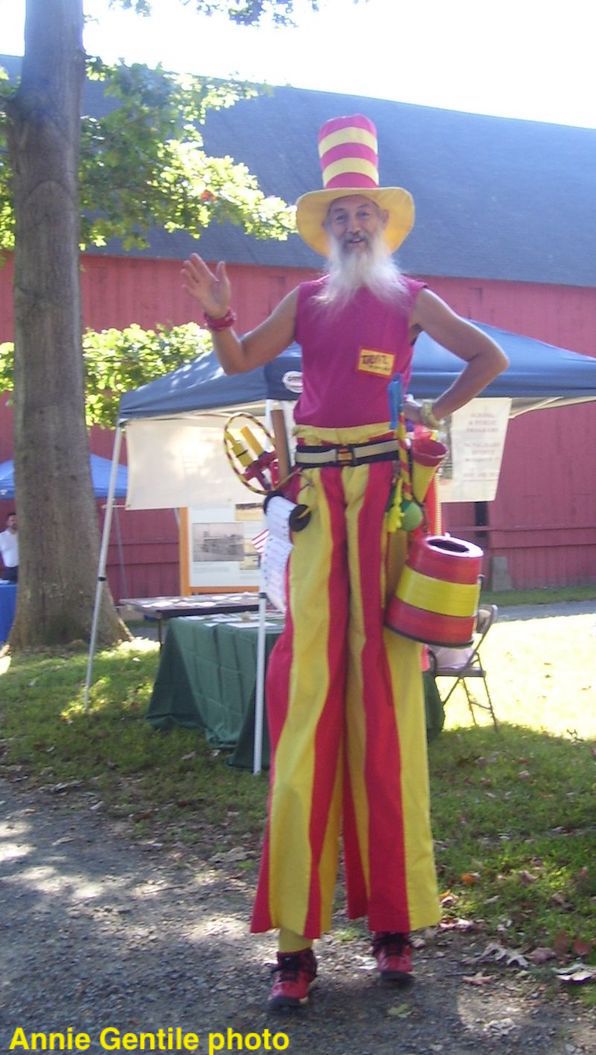 September 21, 2019
Northwest Park Country Fair
Northwest Park
Windsor CT
This is my 27th year at this terrific little country fair since 1992. Libby Taylor, who booked me for at least the first half of those, always raved about my appearances there. When her daughter, Nancy, took over that job, she said, "Libby, (my mom) always said we couldn't have a Country Fair without you!! She was right!!"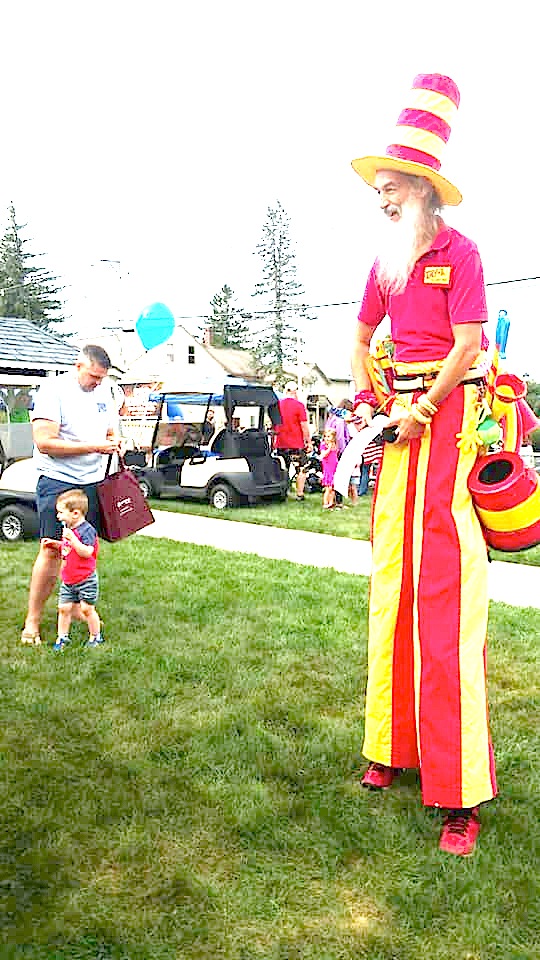 Charlton Old Home Day
Charlton MA
September 2, 2019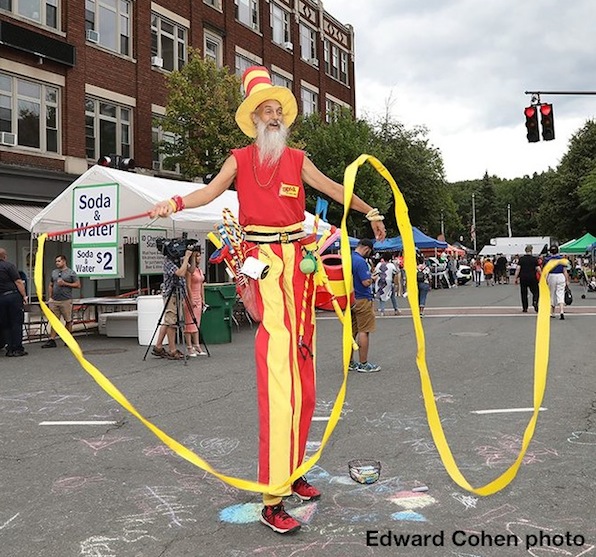 Chicopee Downtown GetDown
Chicopee MA
August 24, 2019

I was performing for a rather large crowd in the very center intersection of this delightful street festival.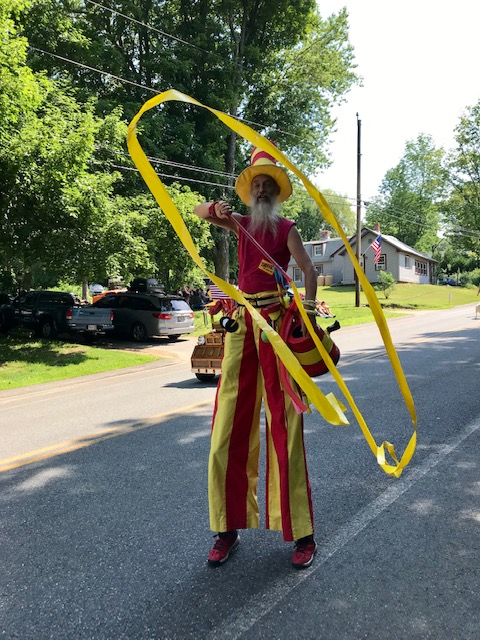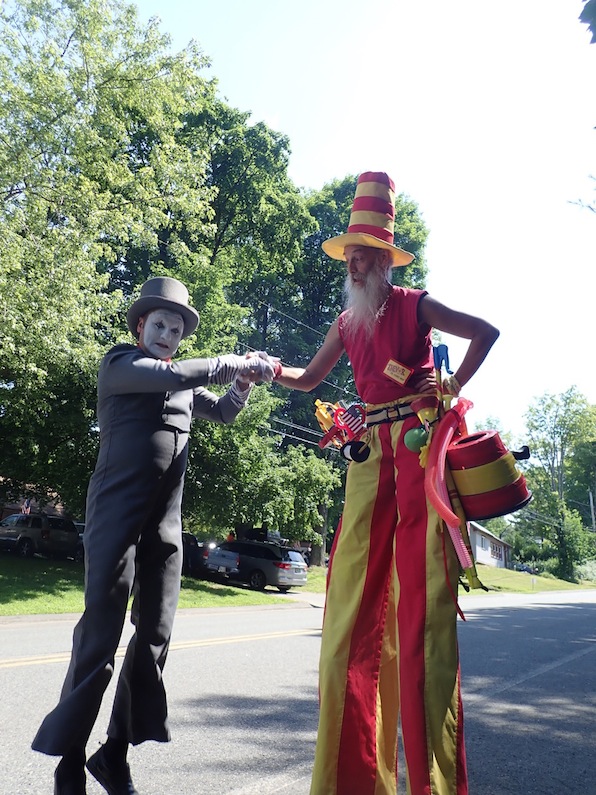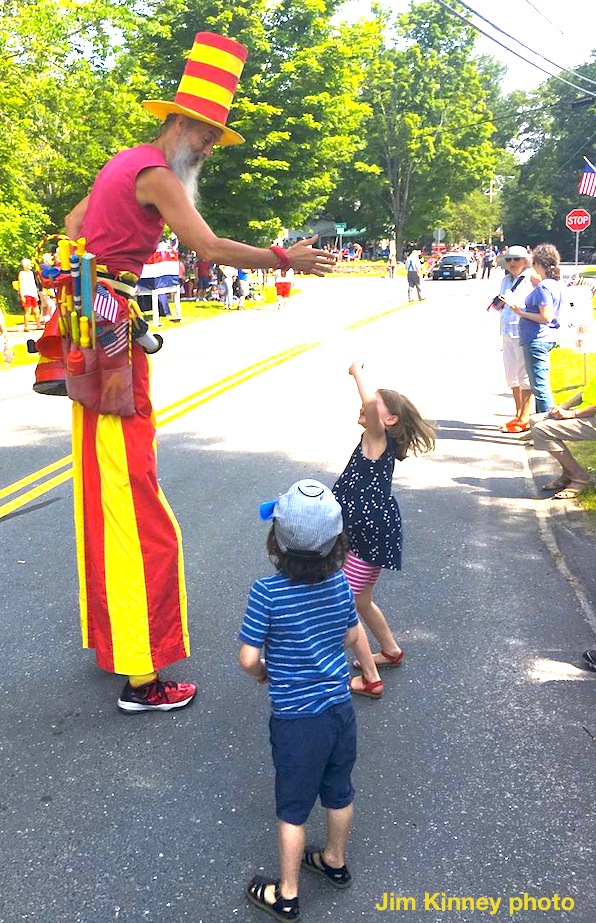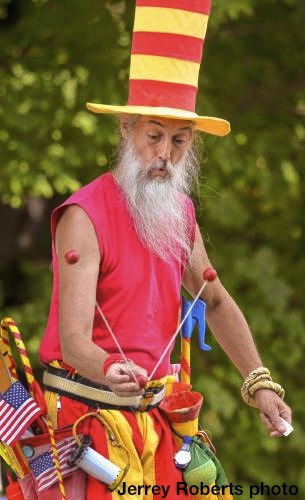 Chesterfield 4th of July Parade & Celebration
Chesterfield MA
July 4, 2019
The four photos above were taken at the Chesterfield Parade by four different people.
Westfield 350th parade
Westfield MA
May 19, 2019
The upper photo is a still from the video of the entire parade. The photographer of the lower picture, Doug James, booked me to entertain at the Westfield River Festival several times back in the 1980s! It was good to meet up with him again.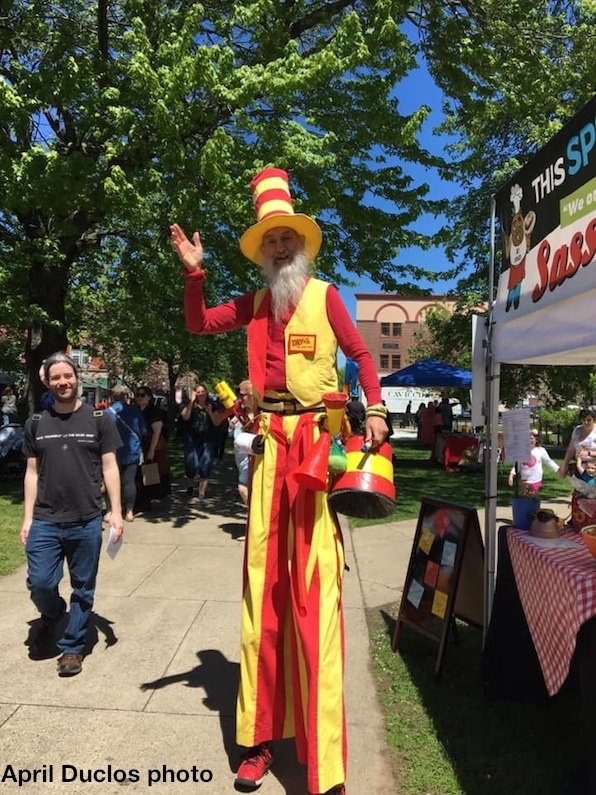 Watch City Steampunk Festival
Waltham MA
May 11, 2019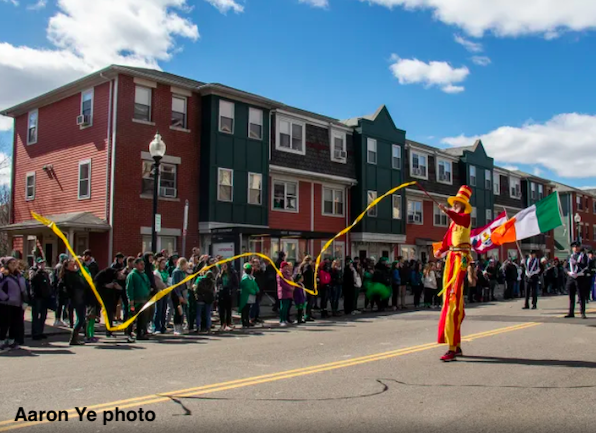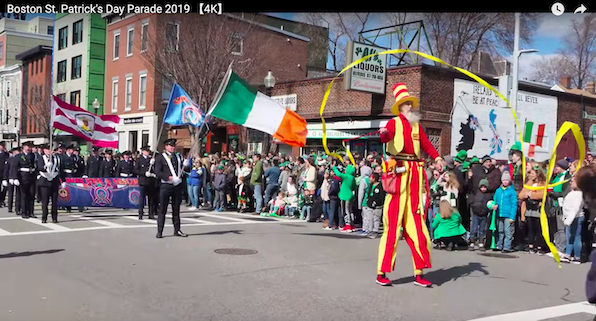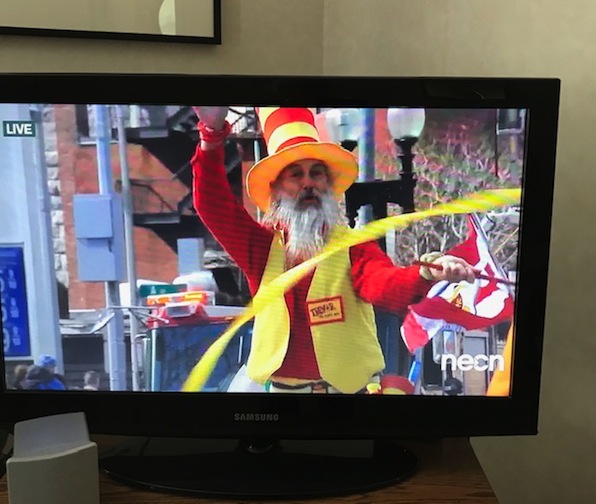 "LOOK, MOM! I'M ON TV!"
South Boston St. Patrick's Day Parade
Boston MA
March 17, 2019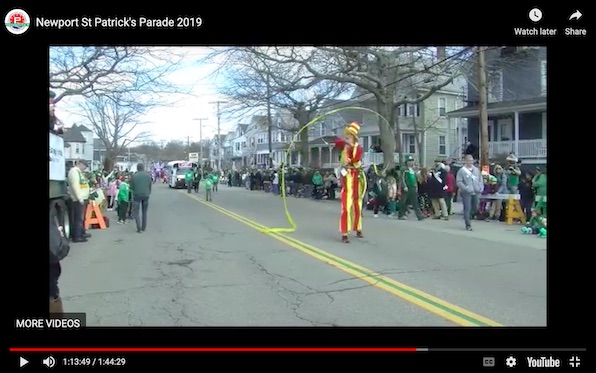 Newport Irish St. Patrick's Day Parade
Newport RI
March 16, 2019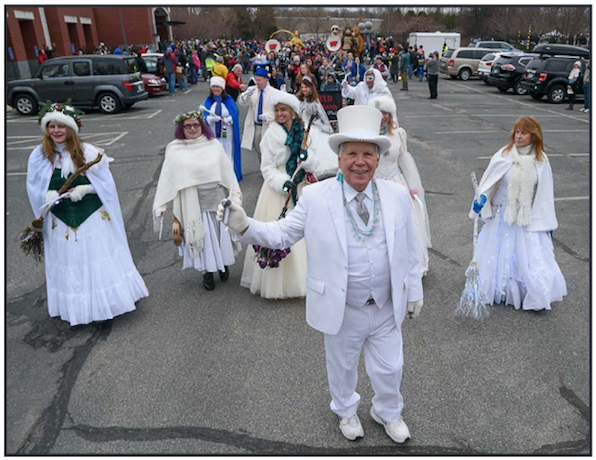 Westfield First Night Parade
Westfield MA
December 31, 2018
Can you see me way back there? I really do stand out in a crowd, now don't I!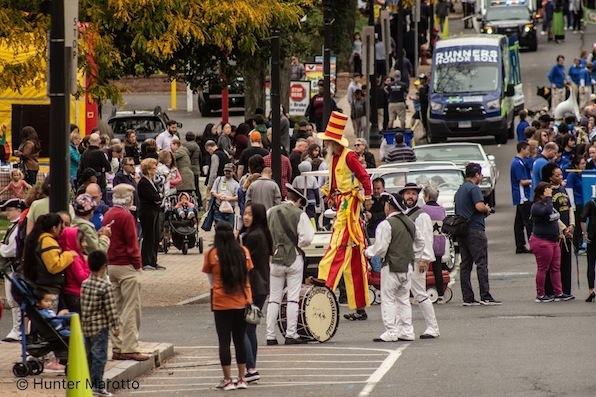 "Before the Parade"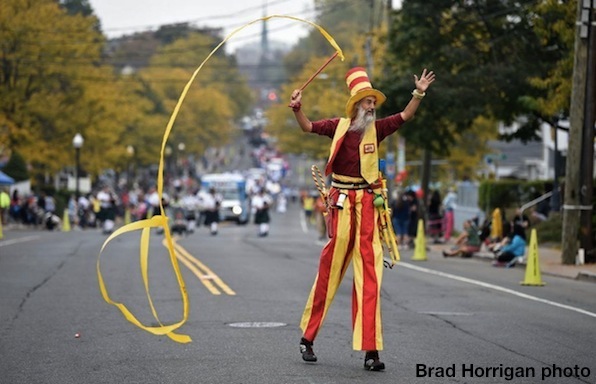 "During the Parade"

Park Road Parade
West Hartford CT
October 10, 2018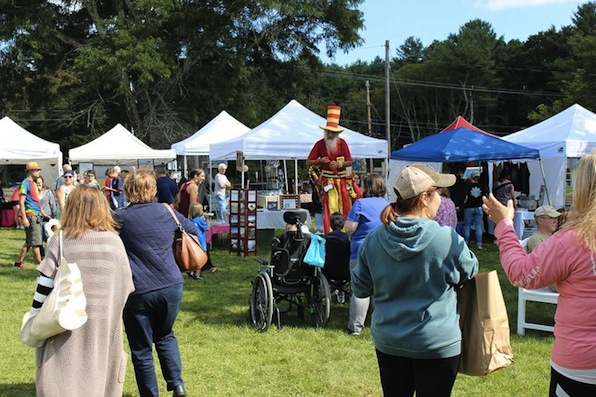 Lakeville Arts & Music Festival
Lakeville MA
September 29, 2018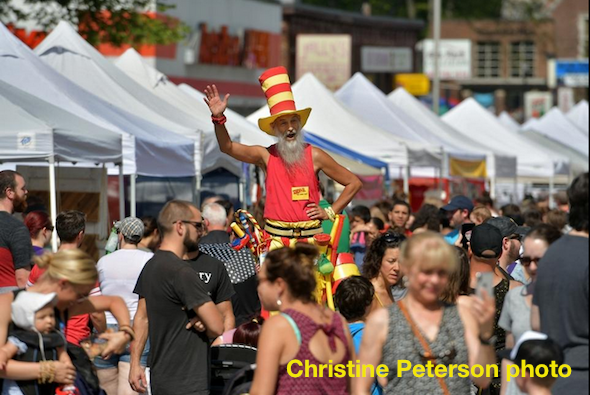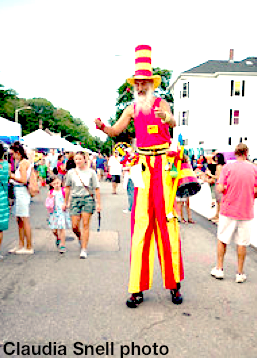 stART on the Street
Worcester MA
September 16, 2018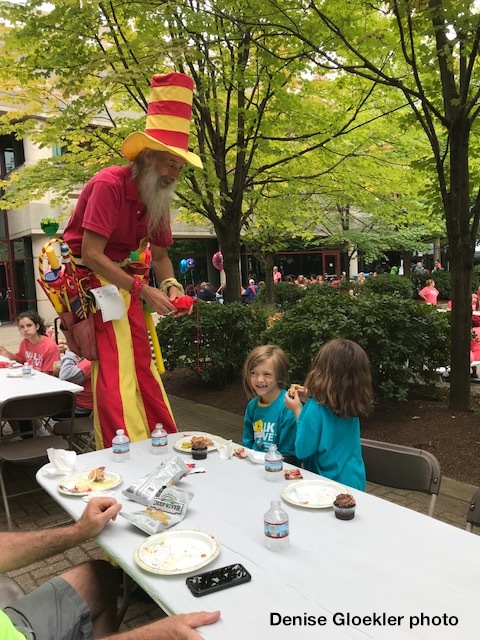 "Would you like a little ketchup with that?"

Walk For LOVE
walk-a-thon & barbecue

Shriners Hospital
Springfield MA
September 8, 2018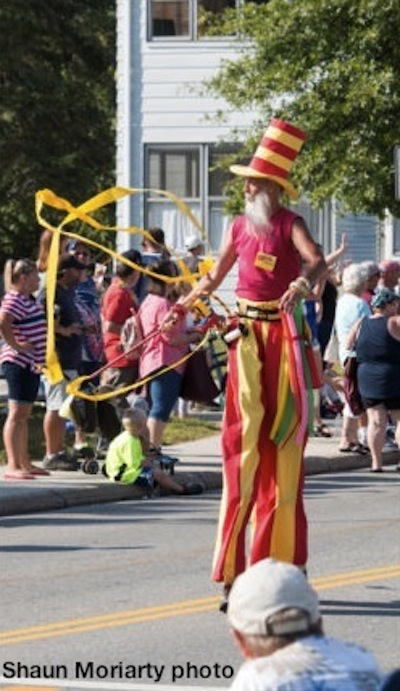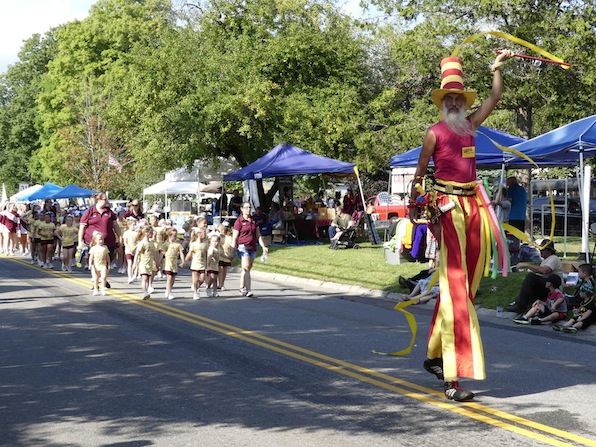 Charlton Old Home Day Parade
Charlton MA
September 3, 2018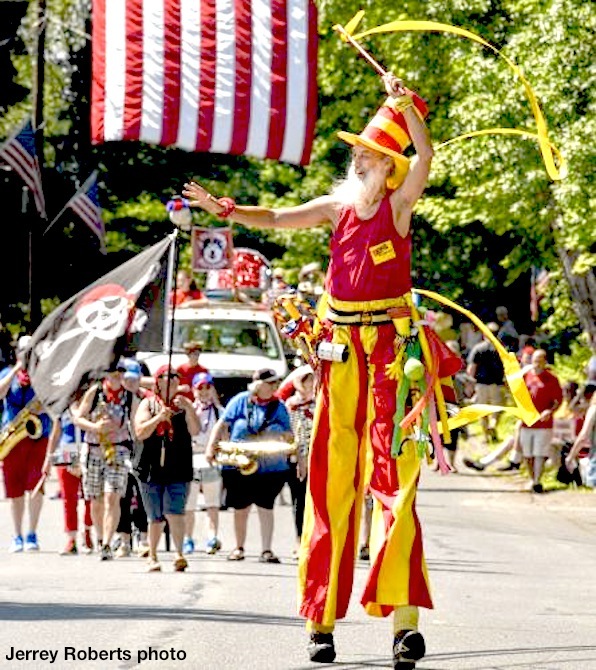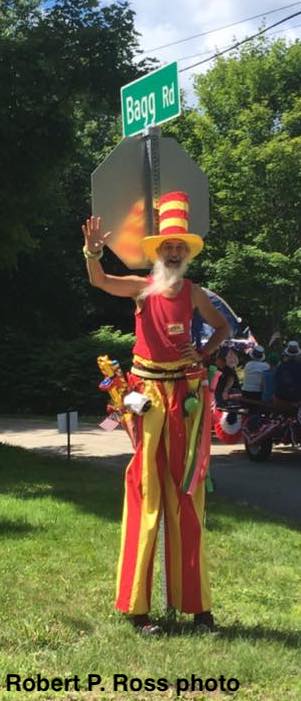 Chesterfield 4th of July Parade & Celebration
Chesterfield MA
July 4, 2018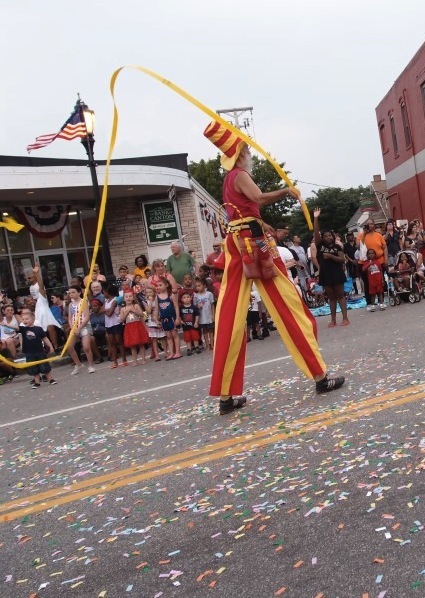 Night Before the 4th Parade
Randolph MA
July 3, 2018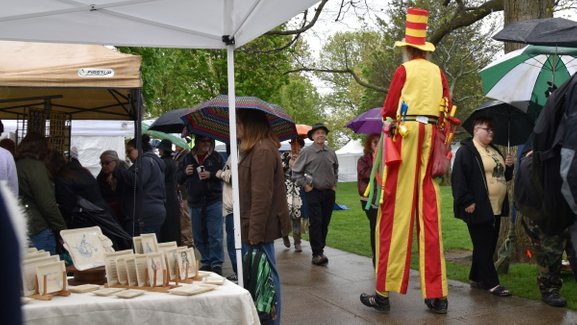 Watch City Steampunk Festival
Waltham MA
May 12, 2018
Despite the wet rainy periods sprinkled throughout the day, there was no dampening of the spirits of the people at this unusual festival.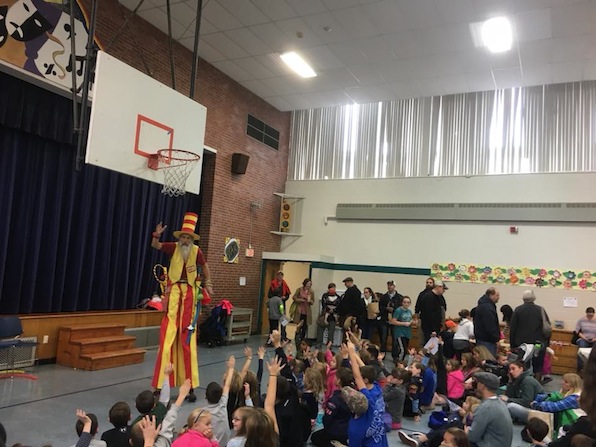 Norris Elementary School Holiday Bazaar
Southampton MA
November 18, 2017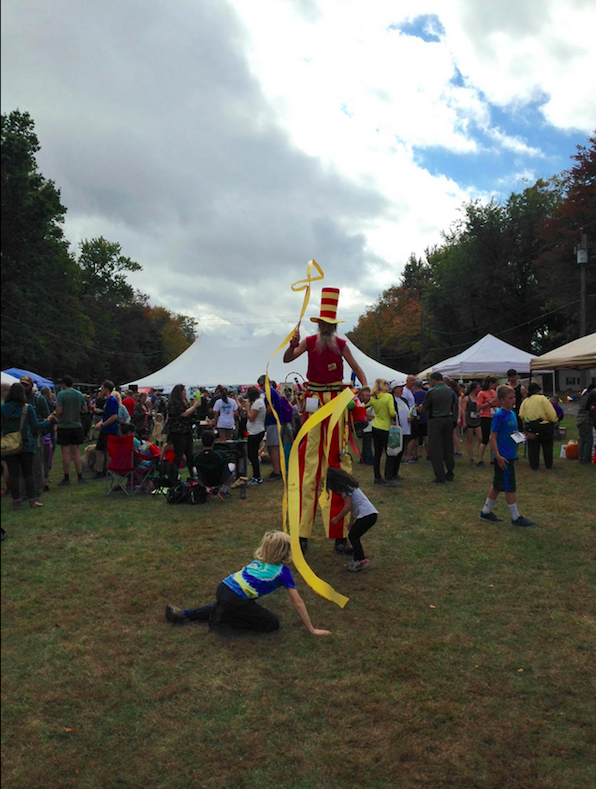 "In and Out the Windows"
Kestrel Land Trust 5K for Farmland and Farmers Market
Hadley MA
October 15, 2017
As I wave the Big Yellow ribbon dancer up and down, the children are trying to go through the opening without getting tagged by it!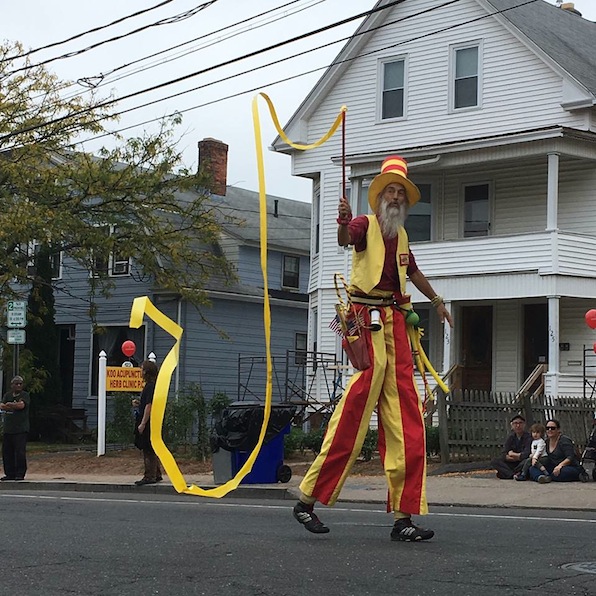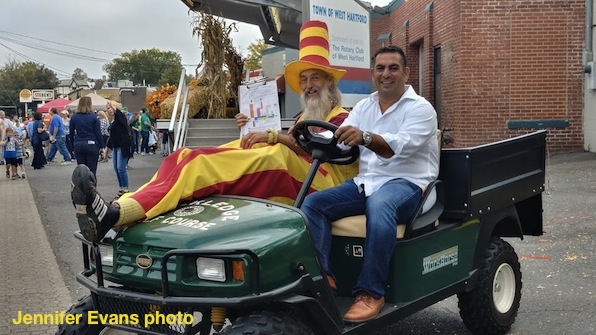 Walking in the parade (upper photo)
Getting a ride back to the beginning from Johnny Paindiris (lower photo)


Park Road Parade
West Hartford CT
October 7, 2017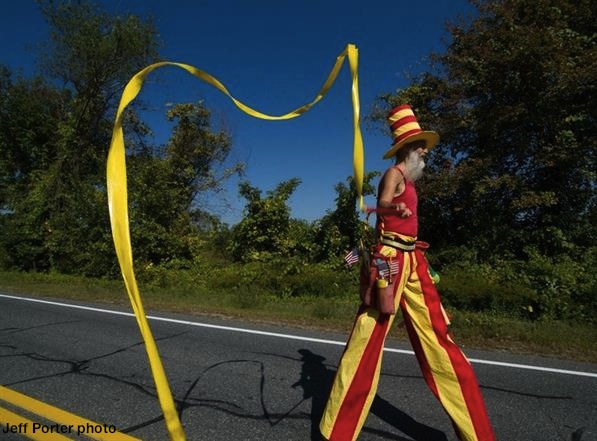 Mendon 350th Anniversary Parade
Mendon MA
September 24, 2017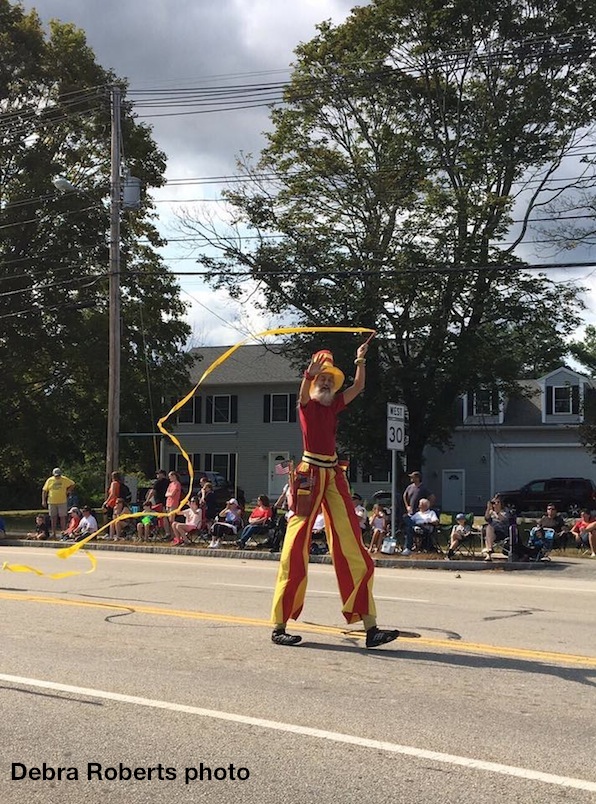 Westborough 300th Anniversary Grand Parade
Westborough MA
September 10, 2017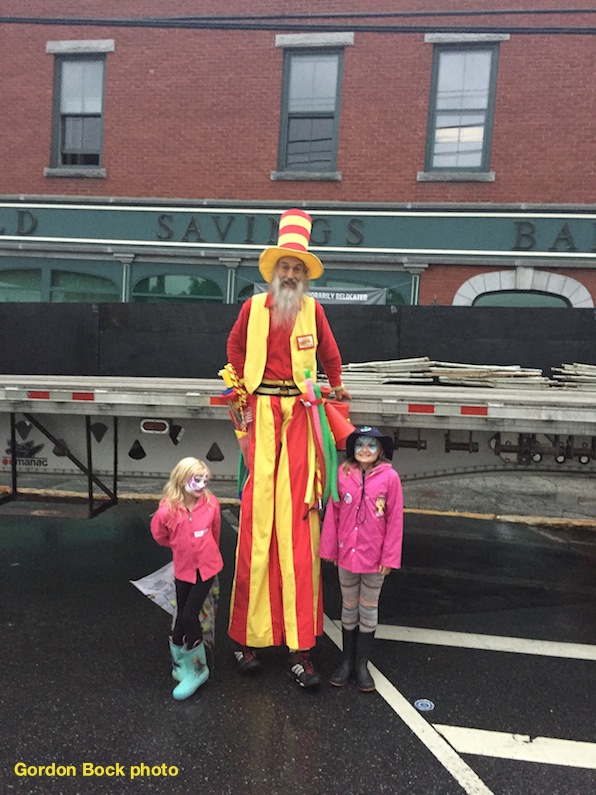 "With Samantha and Gabrielle in Front of the Bank"


Northfield Labor Day Weekend Celebration
Northfield VT
September 3, 2017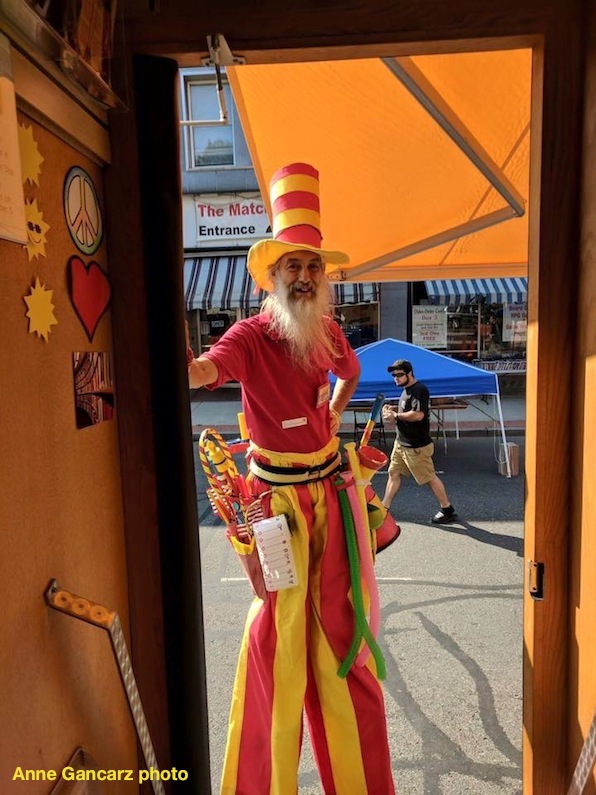 "The View From Inside The Chicopee Library Bookmobile"

Chicopee Downtown Get Down
Chicopee MA
August 25, 2017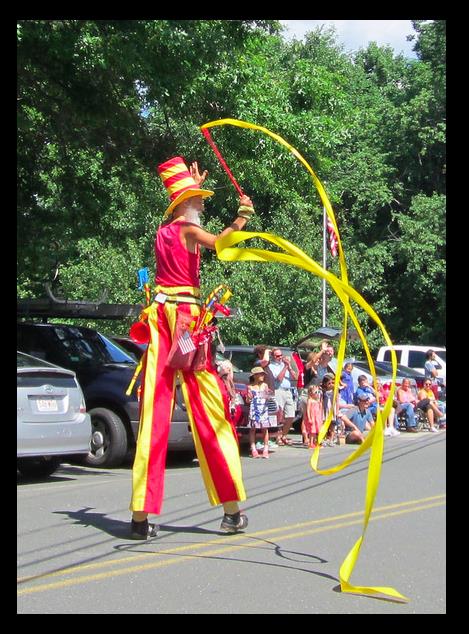 Chesterfield 4th of July Parade
Chesterfield MA
July 4, 2017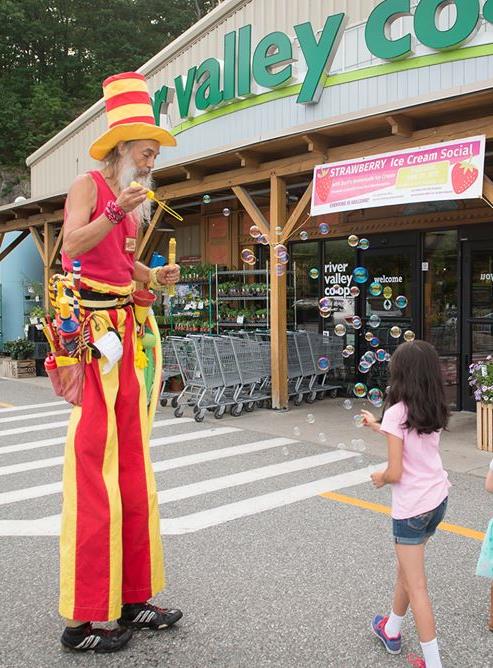 "BUBBLES!"
Strawberry Ice Cream Social
River Valley Co-op
Northampton MA
June 22, 2017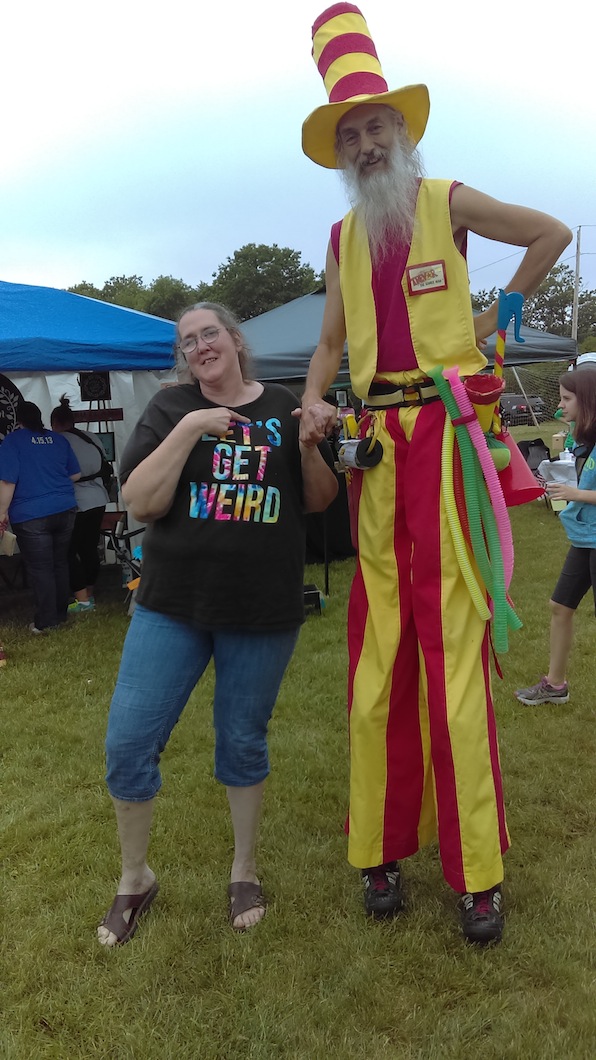 Hubbardston 250th Celebration
Hubbardston MA
June 17, 2017

Tina Martin and me. A pair of real weirdo's. The big difference is that I get paid for it!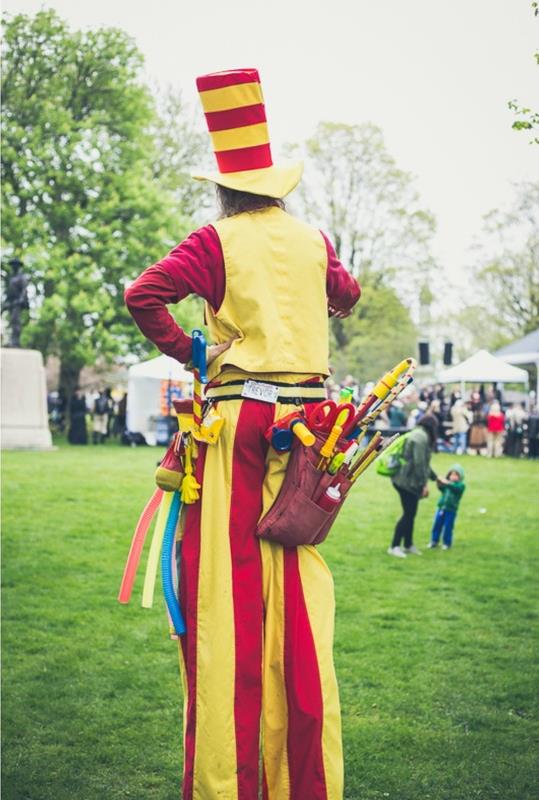 Watch City Steampunk Festival
Waltham MA
May 13, 2017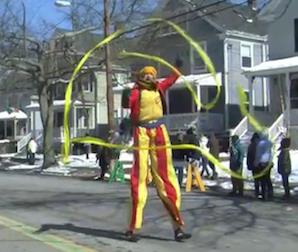 Newport Irish St. Patrick's Day Parade
Newport RI
March 11, 2017

It was so cold that day: 20° with a wind chill factor of -8°! I had to wear my yellow wool beret with a balaclava under it, a scarf, a down vest, two jackets, four shirts, 3 pairs of gloves, three pairs of pants, knee pads, and four pairs of socks including my battery-operated electric socks. It was, indeed, extremely cold outside... but I was toasty! AND, I was voted "Best Crowd Pleaser" in the parade, too! What an honor! What a parade!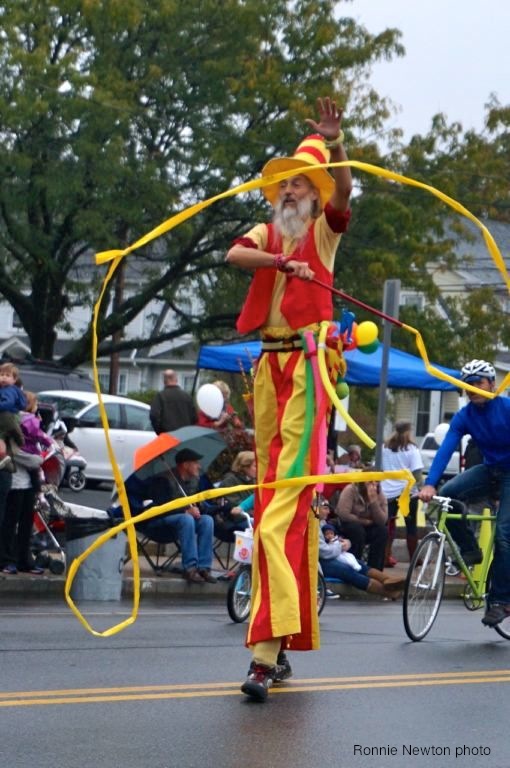 Park Road Parade
Park Road Business Association
West Hartford CT
October 1, 2016
A rather wet day for a parade, but those who braved the weather were very enthusiastic!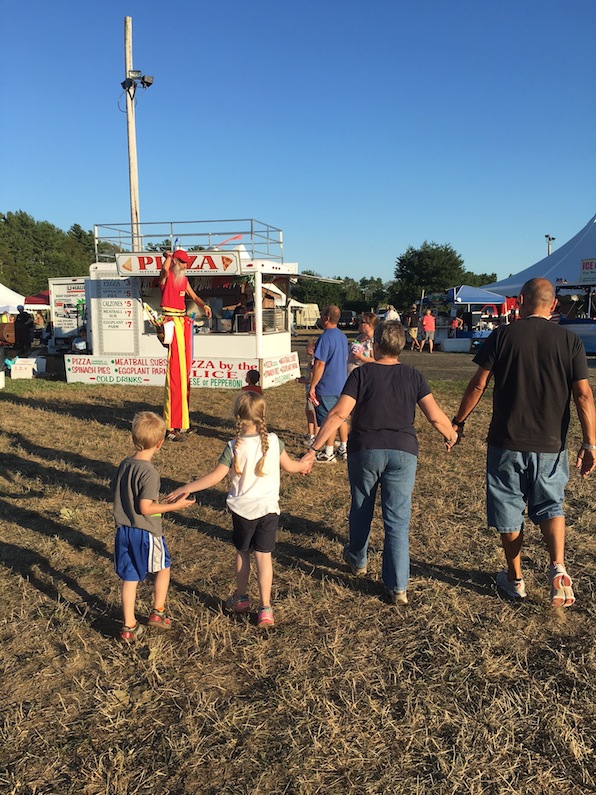 "Going to See TREVOR!"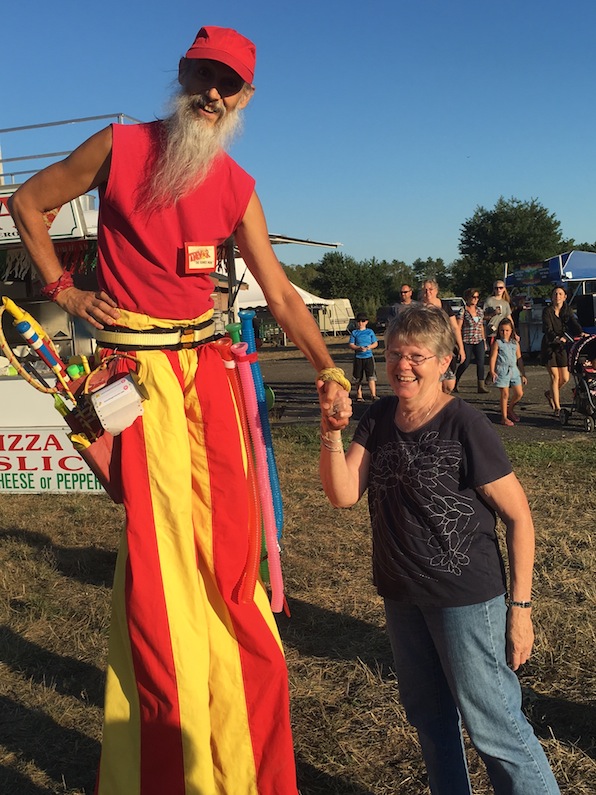 She's know me since I was born and has doted on me my whole life. It was great to see her and her local family members at the fair!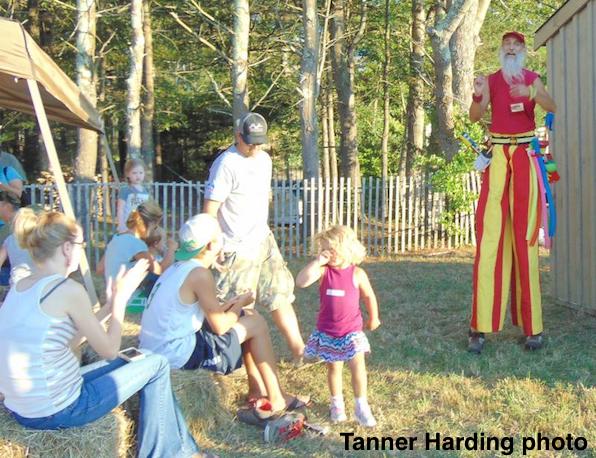 "Waiting for the Show to Start"

the 3 photos above were taken at
Rochester Country Fair
Rochester MA
August 18, 2016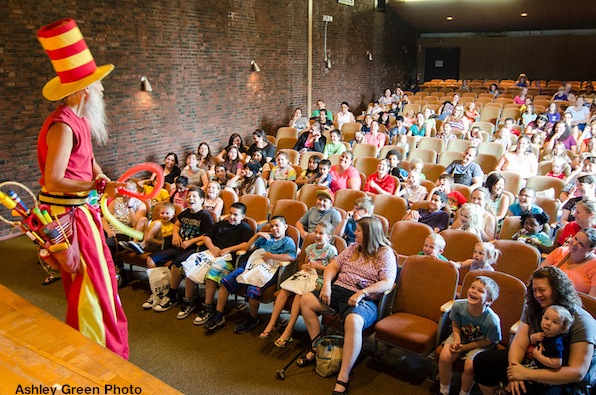 Fitchburg Public Library
Fitchburg MA
June 23, 2016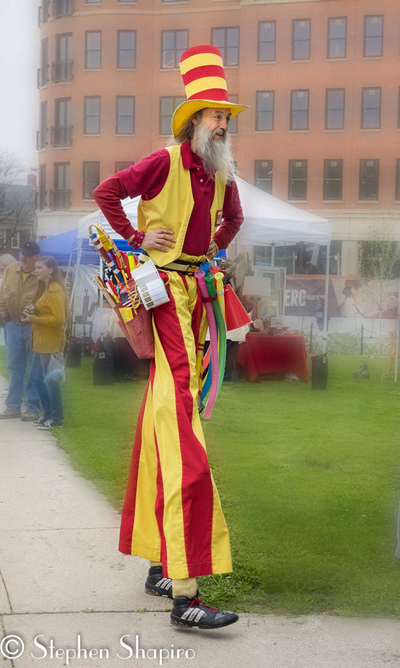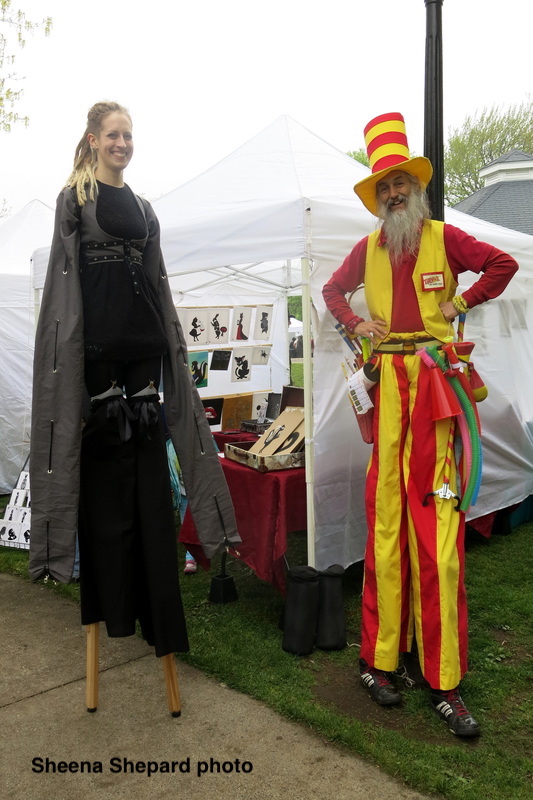 Watch City Steampunk Festival
Waltham MA
May 7, 2016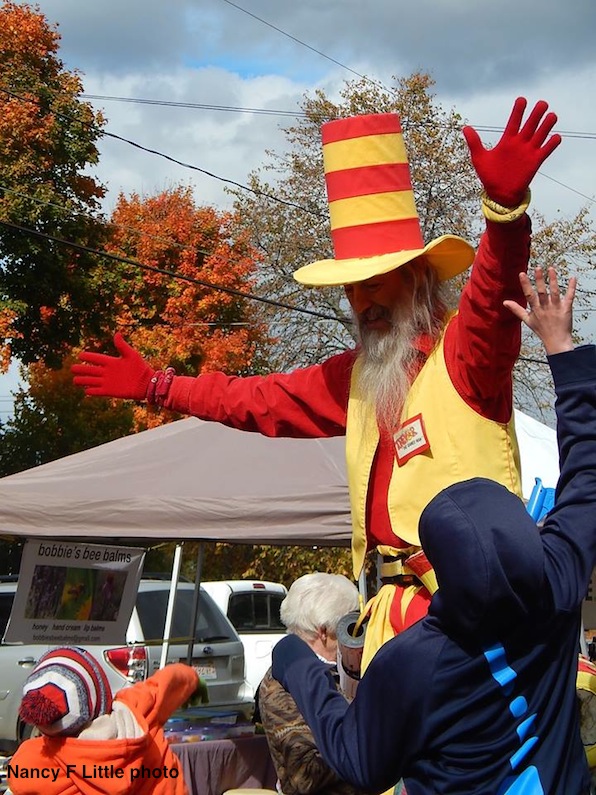 Kestrel Land Trust 5K for Farmland and Farmers' Market Festival
Hadley Common
Hadley MA
October 18, 2015
These two kids just landed from giving me simultaneous High Fives!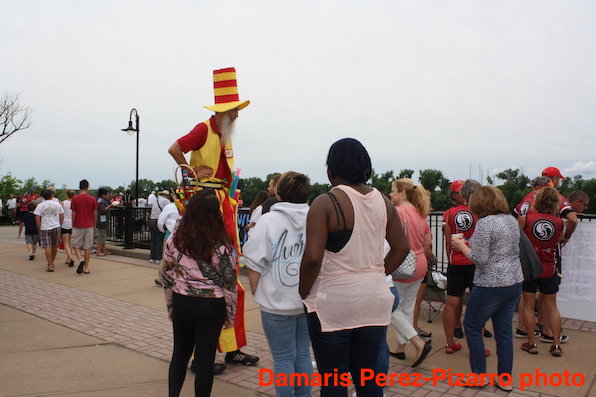 Springfield Dragon Boat Festival
Springfield MA
June 17, 2015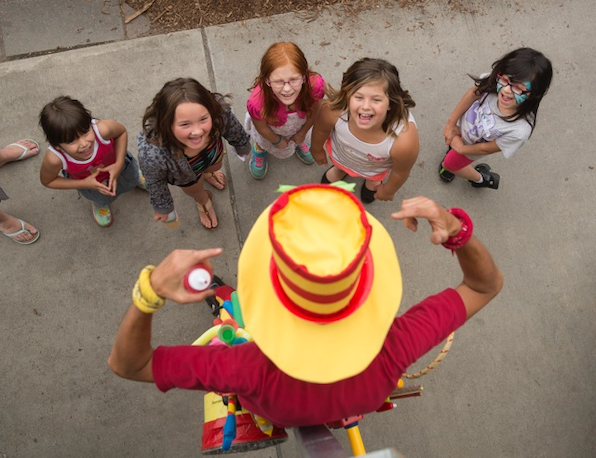 "The View from Above!"

Strawberry Ice Cream Social
River Valley Co-op
Northampton MA
June 18, 2015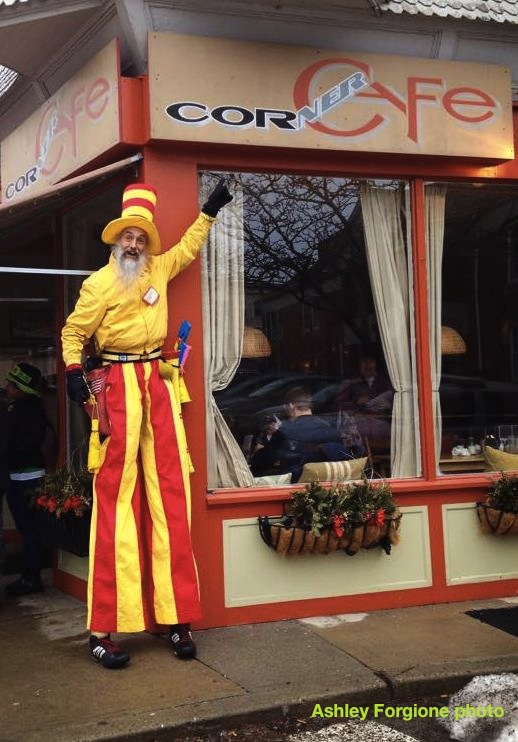 Newport Irish St. Patrick's Day Parade
Newport RI
March 14, 2015
It was a rainy, drizzly day, so before the parade started, I was waiting under this shop's awning (it's the slanty thing viewed end on, just above my hat). One of the staff came rushing out to take a photo of me in front of their cafe. I ducked out from under the awning for the photo, and the photographer was kind enough to send it to me.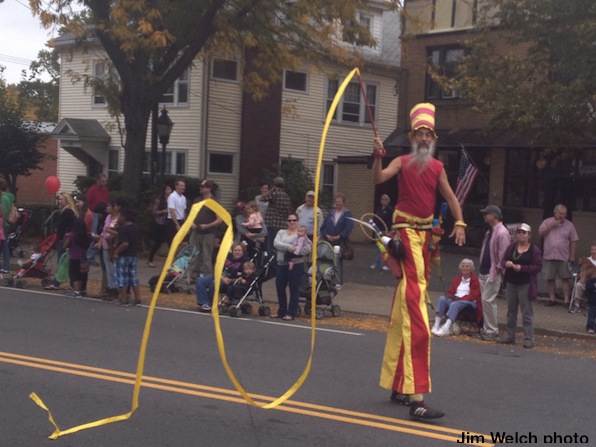 Park Road Parade
West Hartford CT
October 5, 2013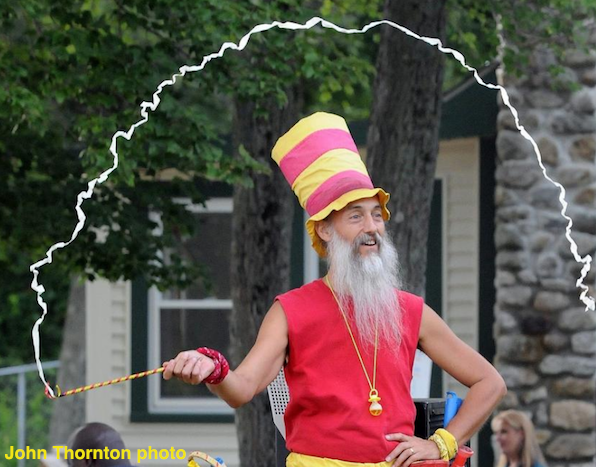 Concerts at the Beach
Mendon MA
July 31, 2013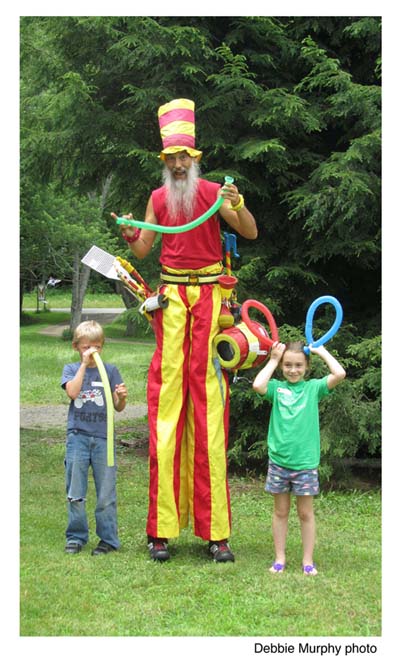 "An Elephant, a Bunny, and Me!"
Irish Festival
Joseph L. Popp Butterfly Conservatory
Oneonta NY
July 13, 2013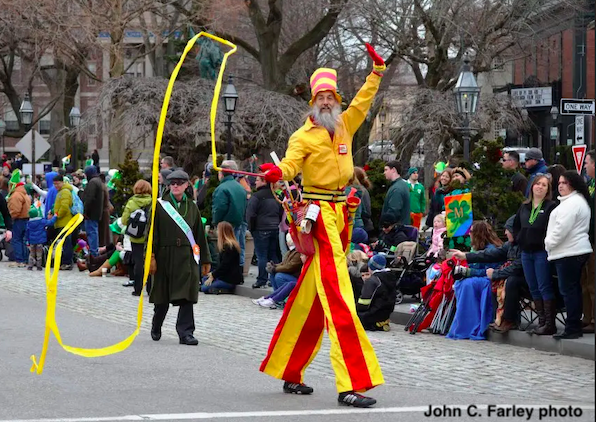 Newport Irish St. Patrick's Day Parade
Newport RI
March 16, 2013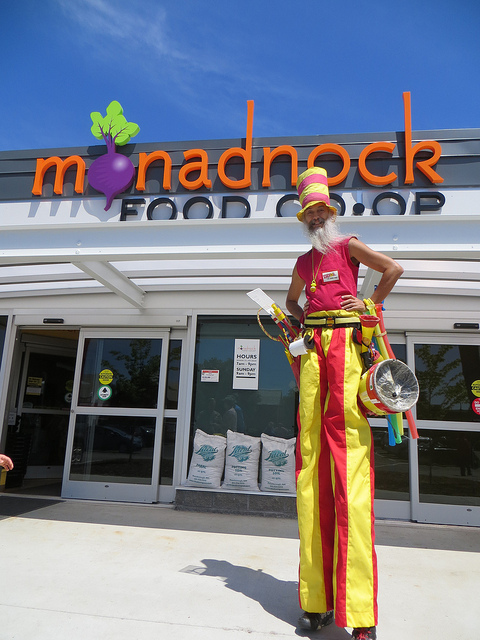 Grand Opening
Monadnock Food Co-op
Keene NH

June 20, 2013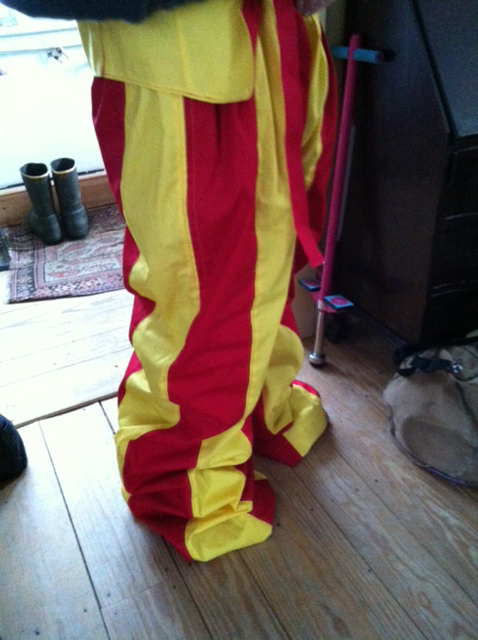 Brownington VT
February 16, 2013
Trying on my newly-finished stilt pants for fit... without my stilts! *hee hee hee*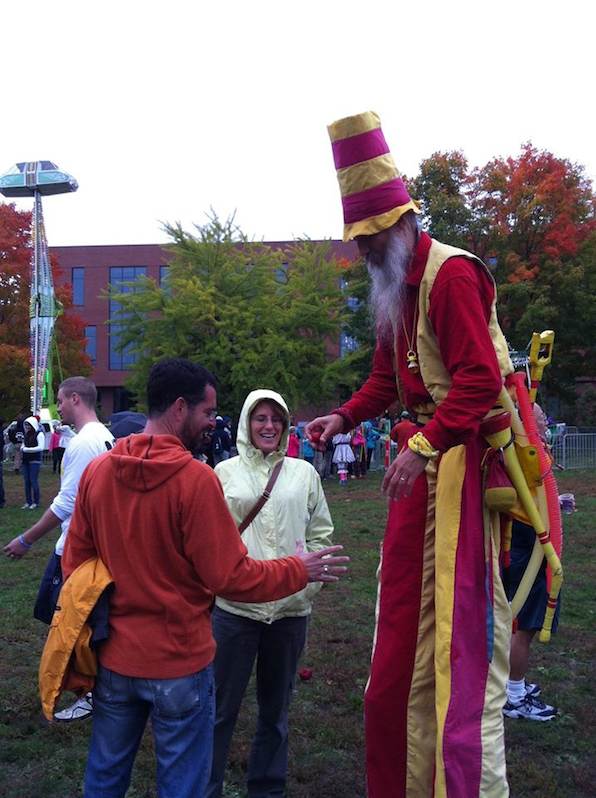 UConn-Storrs Homecoming
Storrs CT
October 7, 2012
Stiltwalking "walk-around" entertainment for adults. They love me, too!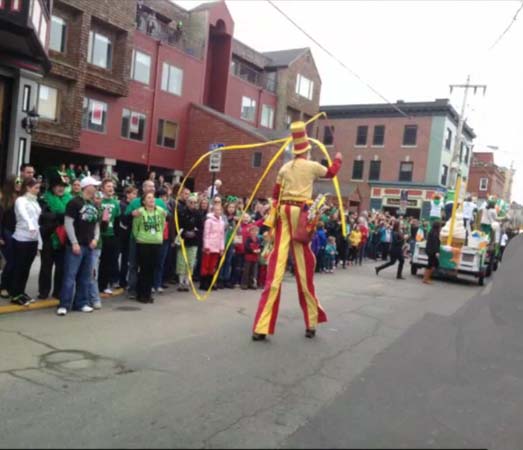 Newport Irish St Patrick's Day Parade
Newport RI
March 17, 2012
A great parade, a delightfully varied parade route, and a mighty lot of green!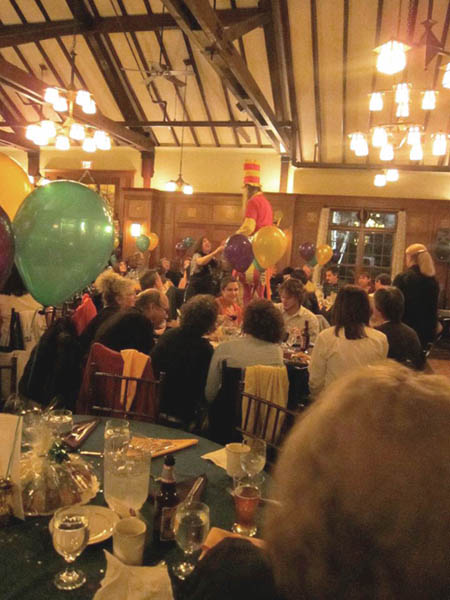 Mardi Gras party
River Valley Market
Northampton MA
February 25, 2012
A wonderful time stiltwalking the crowd in the Look Park Garden House at River Valley Market's 2nd annual Mardi Gras celebration! A fabulous Big Easy meal by RVM's Quarry Cafe, plus music by Lil Orphans Cajun Express and New Orleans native Samirah Evans & Her Handsome Devils.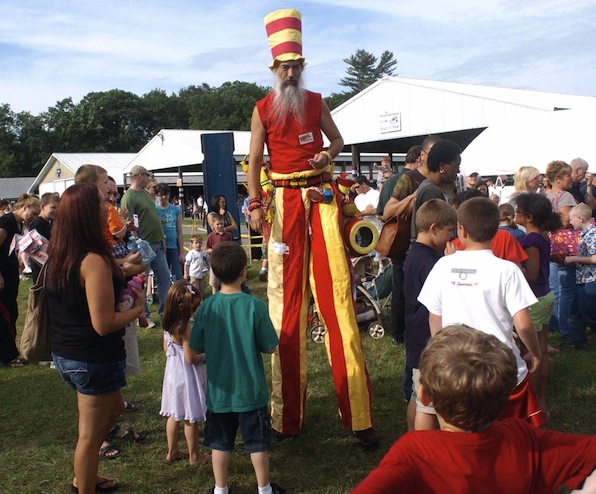 Ballston Spa Village Family Fun Day
Saratoga County Fairgrounds
Ballston Spa NY
June 26, 2011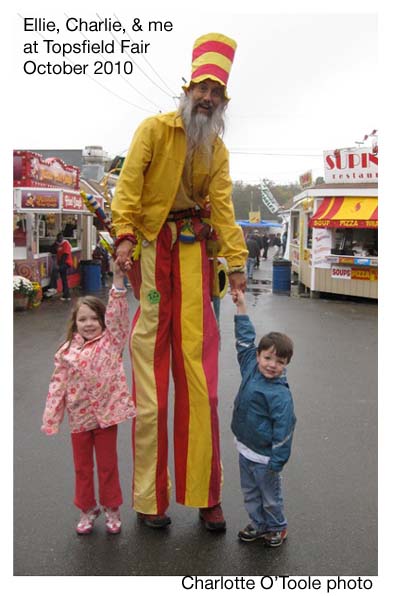 Topsfield Fair
Topsfield MA
October 6, 2010
It was a very rainy day at the fair, but there were still smiles all around! Ellie(6) and Charlie(4) were there with their Grammy who took this picture.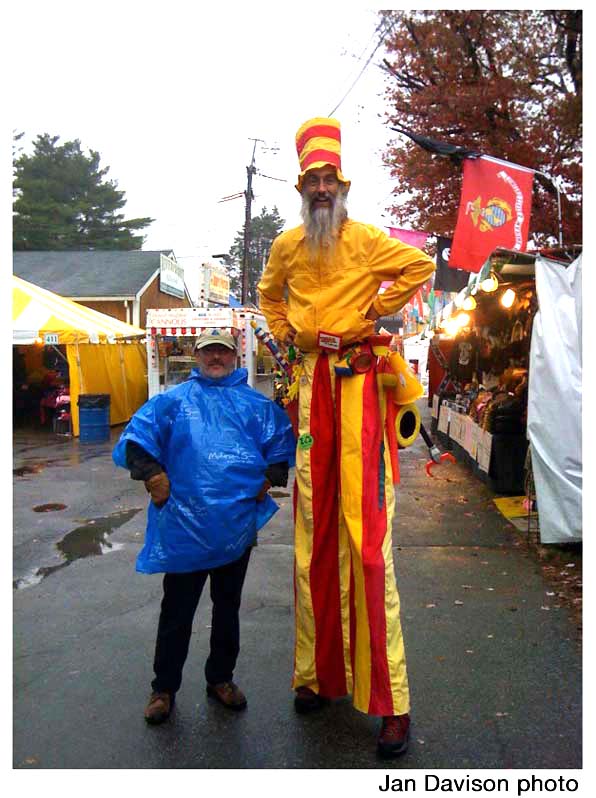 Topsfield Fair

Topsfield MA

October 6, 2010
On the same rainy day as the photo just above, this guy, Bill Davison, really wanted his wife to take a picture of us together. He was imitating me, too, so I told him to Grow UP!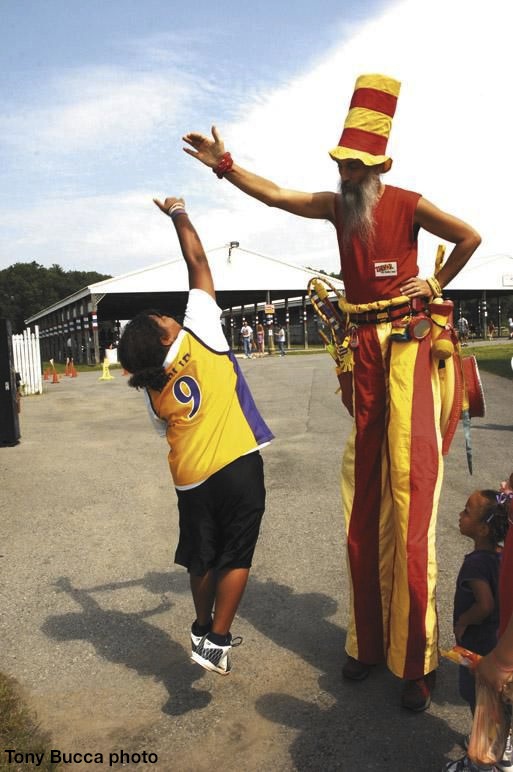 Ballston Spa Village Family Fun Day
Saratoga County Fairgrounds
Ballston Spa NY
June 27, 2010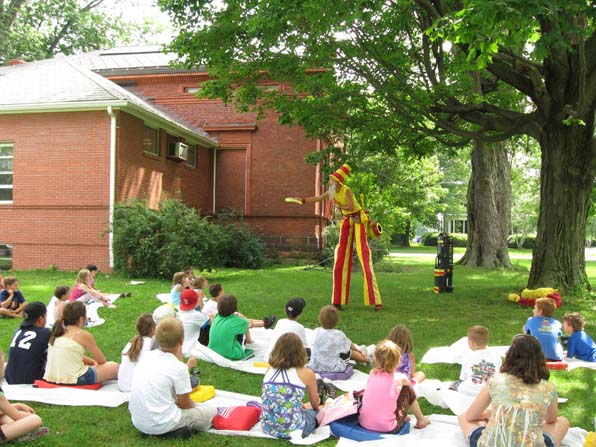 Hatfield Public Library
Hatfield MA
June 10, 2010
Demonstrating my frisbee skills in a section where the kids guess what sport I'm doing.

Opening Day Game
Wahconah Park
Pittsfield MA
May 31, 2010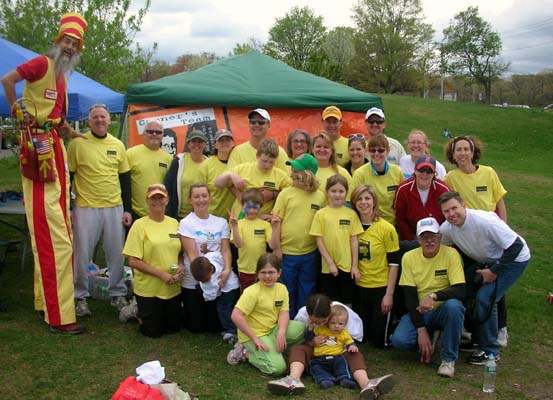 "Community Walk for Autism Awareness"
Autism Center of Central MA
Worcester MA
April 25, 2010

The Autism Resource Center of Central MA has booked me several times for their annual Spring Walk-a-thon at Lake Park in Worcester. At this event, caring adults gather a team of walkers around a specific loved one who has autism. Towards the end of the walk this particular year, I just happened to be walking by as Conner's Team was gathering for their photo when they beckoned me over to be in the photo. Team member Erica Ploof was kind enough to send me a copy.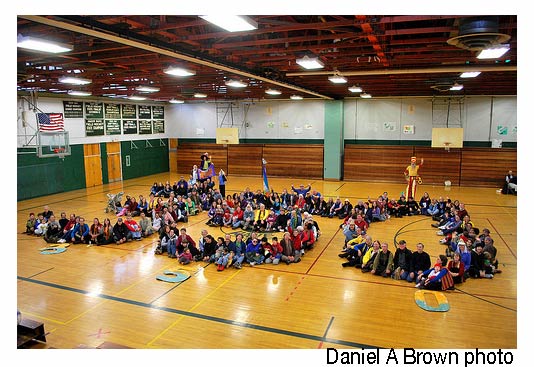 350 Climate Action Carnival
Greenfield High School
Greenfield MA
October 24, 2009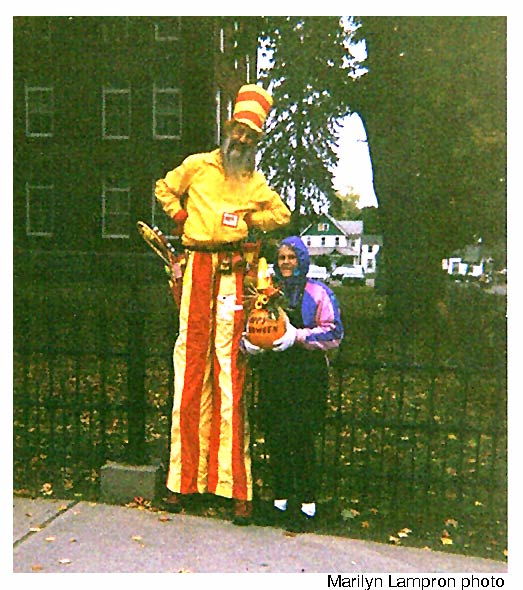 "Third Thursday" trick or treating
Pittsfield MA
October 15, 2009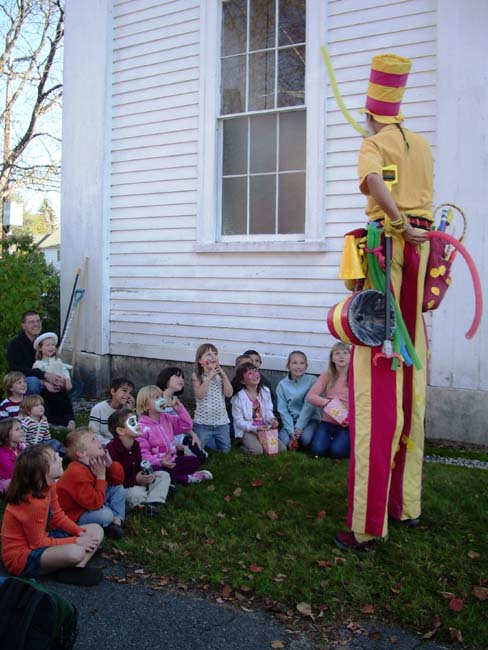 "Look! An elephant!"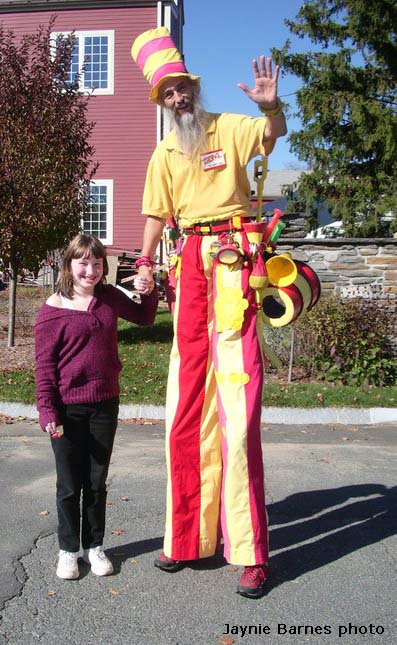 Burgy Fall Festival
Williamsburg MA
October 26, 2008

The above two photos were taken at the Burgy Fall Festival, a great local small town event.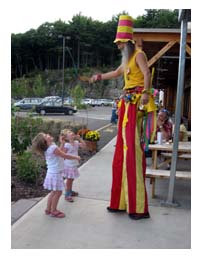 Pleasant Revolution Parking Lot Party
River Valley Market
Northampton MA
September 16, 2008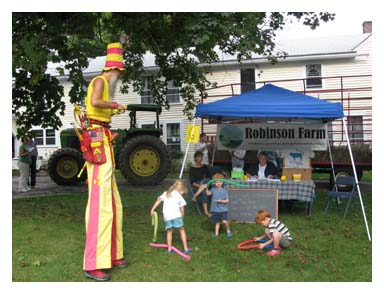 Raw Milk Day
Robinson Farm
Hardwick MA
September 3, 2008

Terryville Fair
Terryville CT
August 23, 2008
A high five photo of me the previous year won a blue ribbon. I had (easily) stepped over a chain keeping the crowds away from the photos to get a closer look when the photographer (who had pointed it out to me) thought it would be FUN to take a picture of me with last year's photo. I struck up this pose, and in 2009, this photo won 1st place! At the end of the 2009 fair, they let me keep the photo and the ribbon, both of which hang proudly on the wall in my office.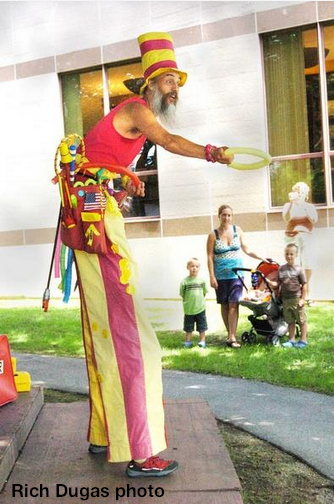 Gale Free Library
Holden MA
July 25, 2008

About to throw my "frisbee" to someone in the crowd.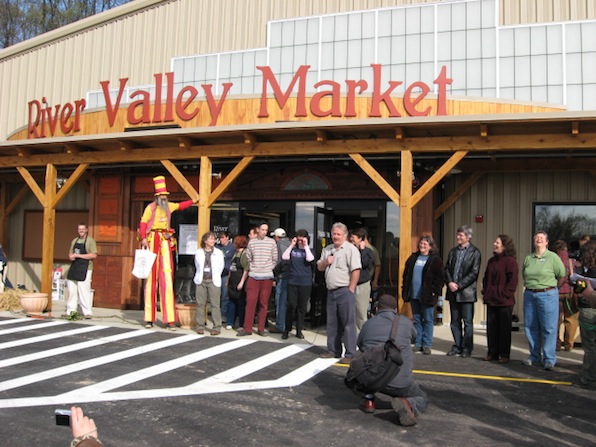 April 30, 2008
Grand Opening
River Valley Market
Northampton MA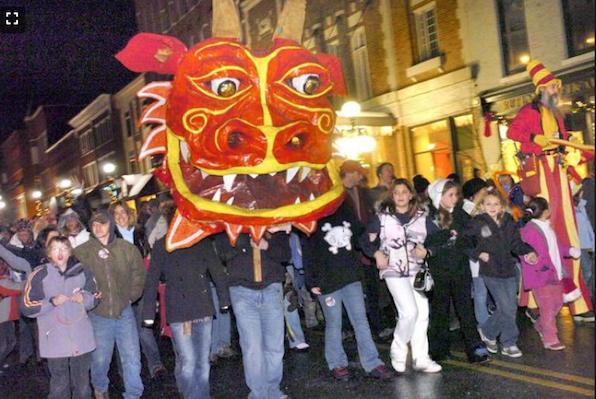 December 31, 2007
Rutland First Night Giant Noise Parade
Rutland VT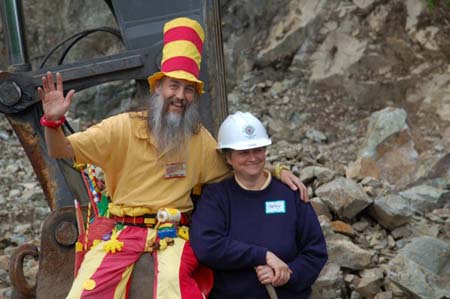 Groundbreaking Ceremony
River Valley Market
Northampton MA
May 17, 2007

This is at the groundbreaking ceremony for River Valley Market in the old quarry site at the top of King St in Northampton MA. RVM board of directors president Betsy Powell is standing on the ground. My feet are on the ground, too, but I'm actually sitting on the bucket of a huge front loader parked on the site. It was the perfect height.

Not only is this the River Valley Market groundbreaking, but this date also marked a professional milestone in my career: I'd been stiltwalking for 20 years! (Mind if I stay sitting down for a bit?)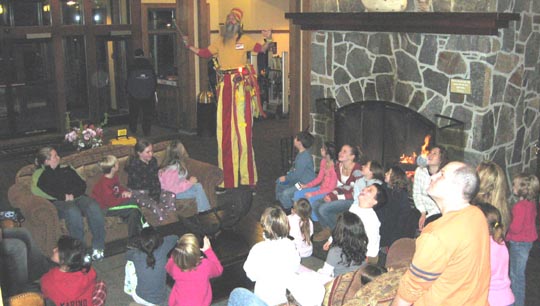 Grand Summit Hotel at Mount Snow
West Dover VT
January 27, 2007

Looks like I'm directing the heavenly choir, but actually they're watching my helicopter fly during a show by the fireside in the lobby of the Grand Summit Hotel at Mount Snow.
This was my 43rd gig at the Grand Summit Hotel at Mount Snow! Awesome!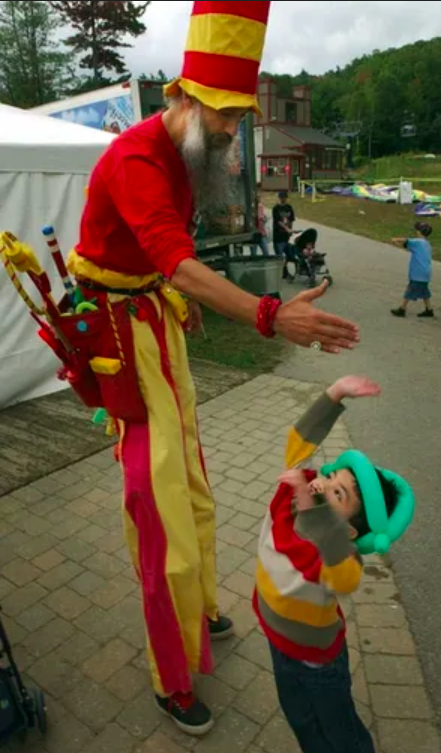 KidsFest
Wachusett Mountain Ski Area
Westminster MA
August 25, 2006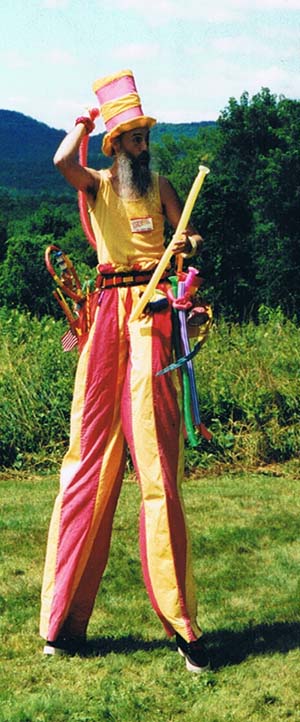 Sarah "Sally" Montgomery & Priscilla "Chips" Wahlen's wedding
South Hadley MA
July 23, 2005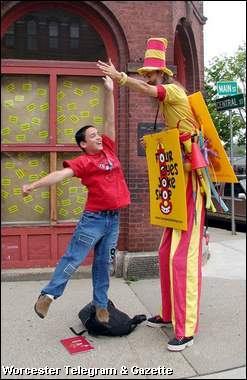 Four Eyes Joke Shop Grand Opening
Southbridge MA
July 25, 2004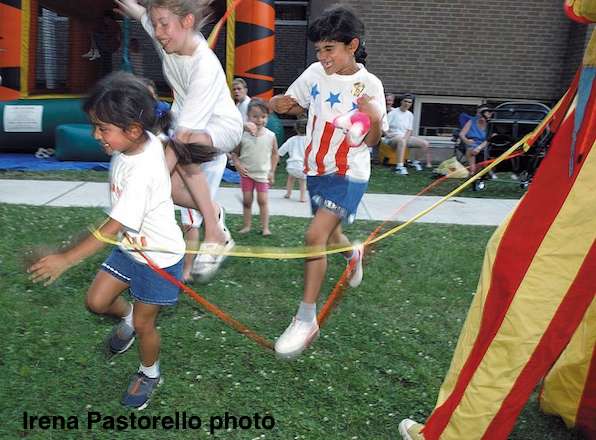 4th of July Celebration
Middletown CT
July 4, 2003
A rare Yellow Sneakers photo! And you can only see one of them! The only other two I have are here and here.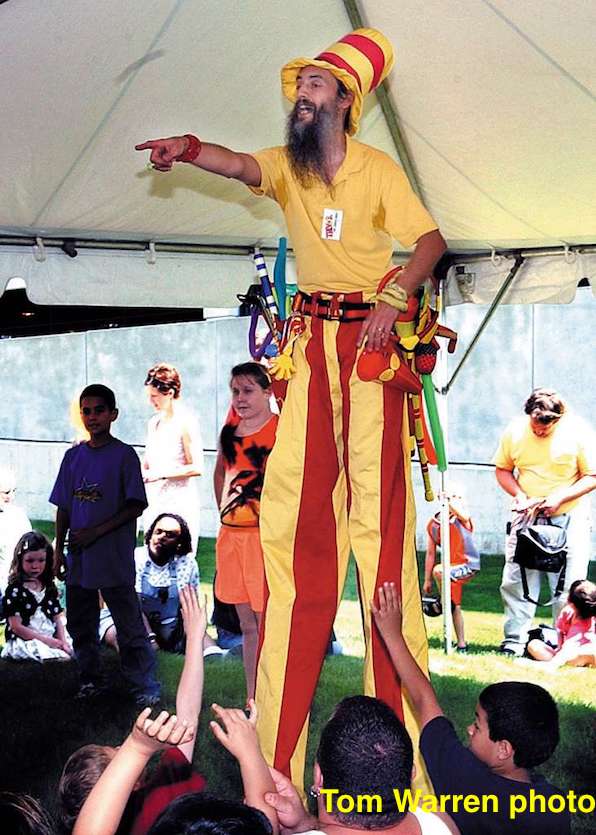 KIDFEST
KidCity Children's Museum
Middletown CT
June 1, 2002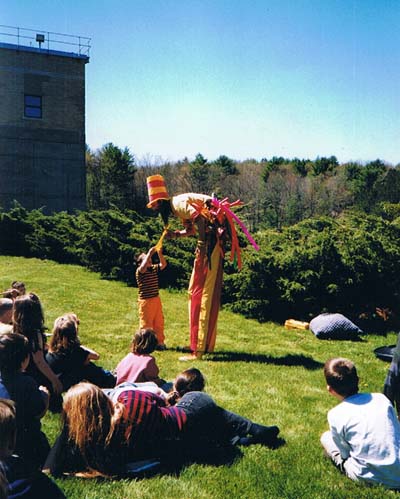 Hubbardston Earth Day
Barre Falls Dam
Barre MA
May 4, 2002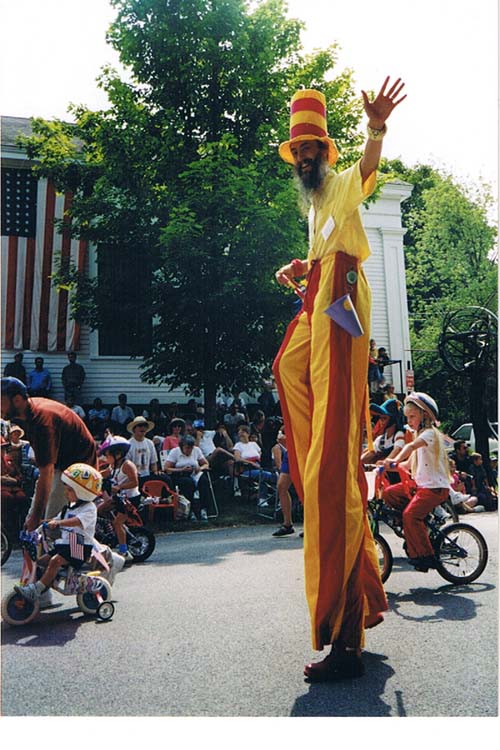 Chesterfield Independence Day Parade.
Chesterfield MA
July 4, 2001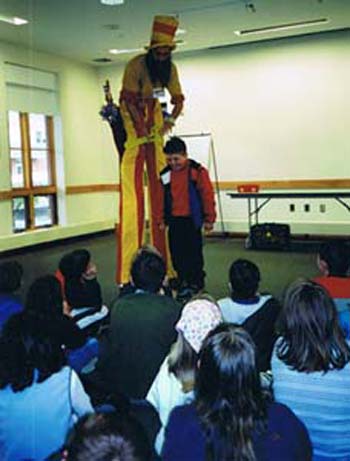 "Giving a Haircut" *

Abington Library
Abington MA
April, 18 2001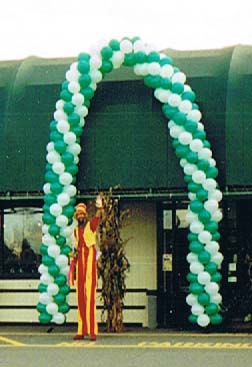 Bread & Circus's 17th anniversary
Hadley MA
October 7, 2000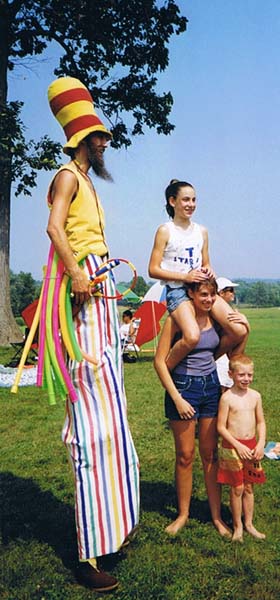 Green River Hot Air Balloon & Music Festival
Greenfield Community College
Greenfield MA
July 17, 1999
At the Green River Hot Air Balloon & Music Festival, I did a lot of "walk-around" that day before doing a show at the end of the festival. This was very early in the day. There weren't very many people there yet, so I spent a lot of time with those who were. This family was intrigued and followed me around a lot.

The two girls had been doing acrobatics on the lawn as I approached, so it didn't surprise me at all when they tried to be as tall as me. They were going to put the little boy up on top, but their dad wouldn't let them for some strange reason that they just couldn't fathom.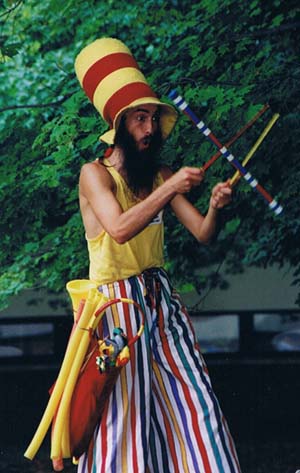 Springfield Day Nursery
East Longmeadow MA
June 26, 1998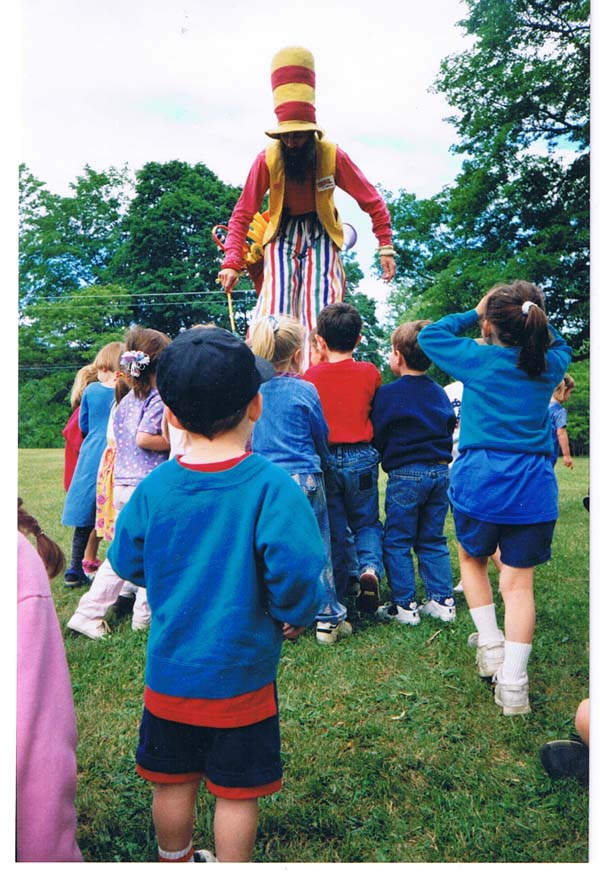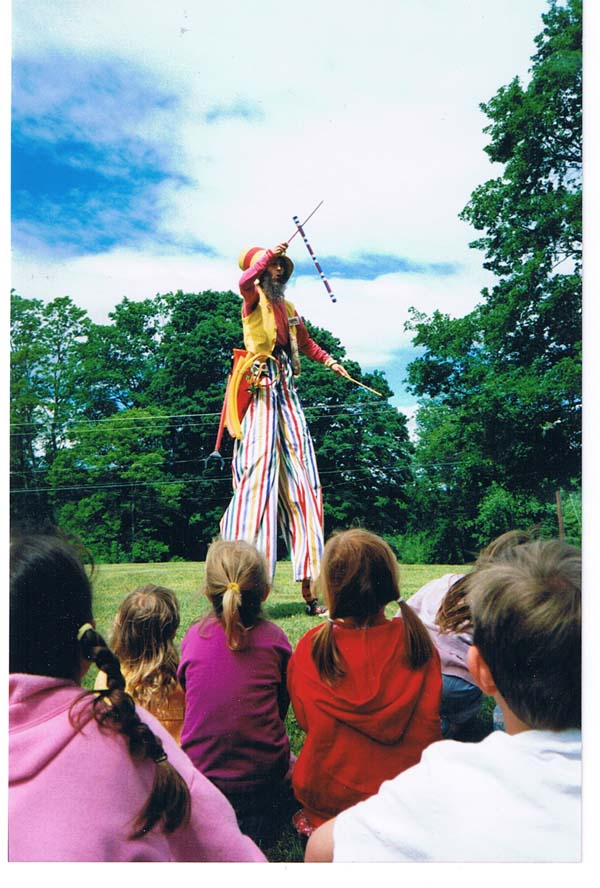 Mountain Road Schoolhouse annual picnic
Gill Elementary School
Gill MA
June 6, 1998

The above two photos are from the same event. The Mountain Road School day care center in Gill MA booked me every year for their end of the year picnic from 1990 until the owner retired in 2005. In the top photo, I'm holding an alligator toy that when you squeeze the red trigger in my hand, the jaws of the alligator open and close. I pulled it out and said, "Does anyone need a little trim?" and was instantly mobbed with kids wanting haircuts! So, I'm giving free trims in that photo.

In the lower photo is the amazing color-changing Chameleon Stick doing tricks for the same crowd. (You may have noticed that in the upper photo at the very left is the right arm of the pink sweat-shirted girl with braids in the photo below. Everyone else who was sitting in front of her is in the mob scene in the upper one!)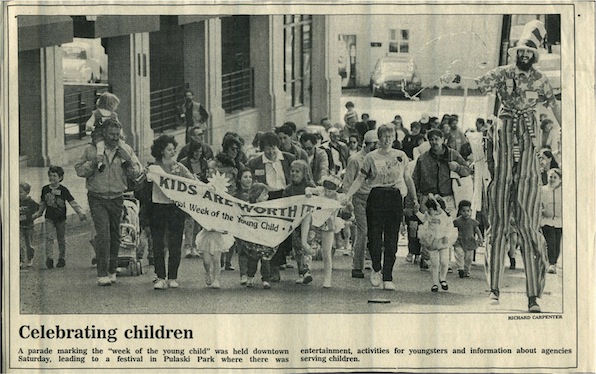 Week of the Young Child Parade & Festival
Northampton MA
April 24, 1993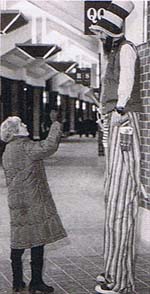 Grand Opening
Mullins Center
UMass-Amherst
Amherst MA
January 31, 1993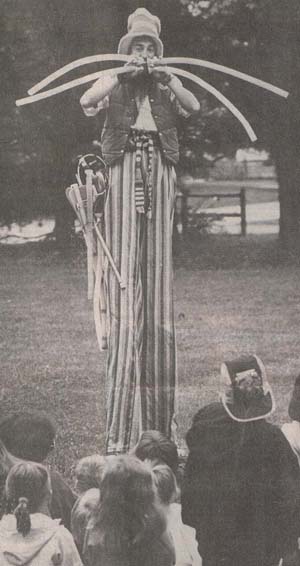 Wonder Day Care Group picnic
Buttery Brook Park
South Hadley MA
June 4, 1991
My impression of a cat!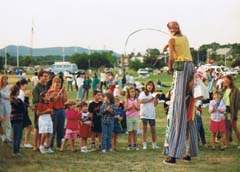 Amherst Fireworks
Amherst MA
July 4, 1990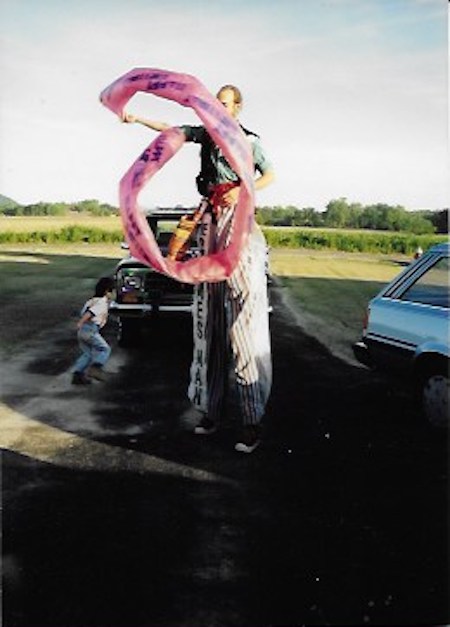 Genevieve Mayer's 4th birthday party
South Deerfield MA
June 12, 1990

Notice that cool leg banner that says "THE GAMES MAN"! I bartered it for a birthday party performance. You'll only see it here at the next event above, though. Here's why: I did a school show that Fall and discovered that it stuck to the velvet stage curtains. So I hung it there for the show so it would get into photos and i.d. me. Unfortunately, I totally forgot about it when I packed up back stage after the show and left it behind. I called the school the next day but not even the custodian could locate it. So it was a 1-season thing.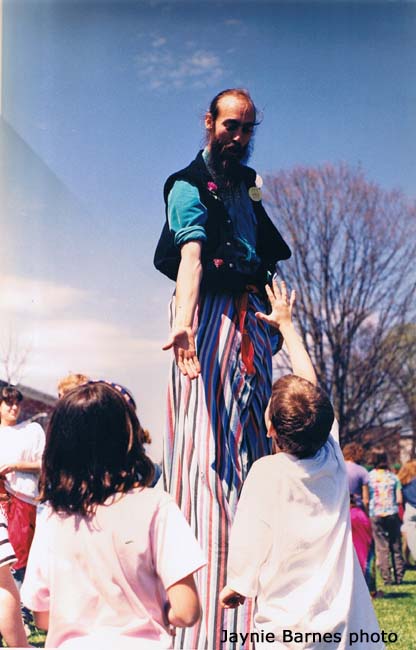 Amherst Earth Day
Amherst MA
April 22, 1990

Before adopting my official red, yellow, and black color scheme in September 2000, I would always try and wear a shirt color to match the event. I also always wore a red carnation.
Westfield River Festival
Westfield MA
June 25, 1988
TREVOR'S QUALITY GUARANTEE:


YOU WILL BE 100% SATISFIED AND
YOUR GROUP WILL HAVE A WHOLE LOT OF FUN...
OR IT'S FREE!
413-247-3322
trevor@trevorthegamesman.com
PO Box 463, Haydenville, MA 01039