"We thought you were the best part
of the entire parade! Did you notice
that me and my men were following
and watching you the whole way?
You were awesome!"
orange-vested street crew chief, Park Road Parade, West Hartford CT
adding a whole new dimension to your procession

==============================

TREVOR was voted
"BEST CROWD PLEASER"
Stiltwalking in the
2017 Newport RI
Saint Patrick's Day Parade!
==============================


10-second demo video (be sure to turn up the sound!):

Strolling along in his signature red and yellow Cat in the Hat hat and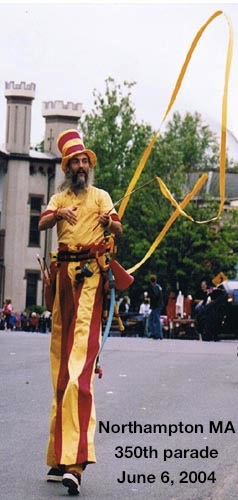 extra, extra, extra long pants, TREVOR's colorful and festive stiltwalking appearance quickly draws the eye of the crowd along the entire parade route. Dressed head to toe in bright red and yellow, waving to everyone, and making eye contact with just tons of folks along the way, TREVOR brings a smile to everyone's face and lots of applause as he strides by, taking one step to everyone else's two!
And as he walks, he thrills the crowd with Big Yellow, a giant ribbon dancer like no other: 30+ feet of big, bright, bold, 3" wide yellow ribbon swirling and twirling through the air, visible over a half mile away. Everyone enjoys the moving show as TREVOR depicts spirals, spinners, tornadoes, and waterfalls in the air with Big Yellow as he strolls past the crowds.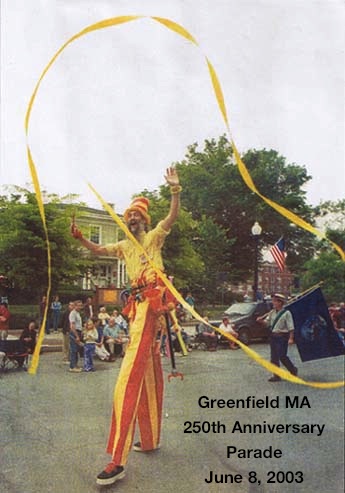 If the parade slows
down (or even, perish
the thought, stops!),
TREVOR performs brief
selections from the
Aerial Delights Show for
the enjoyment of the
nearby parade watchers.
And - if it's allowed -
during those lulls he also
may approach members
of the crowd and
interact 1-on-1 with the
locals, especially with
teens and children,
doing REALLY High Fives
as well as jokes and
other types of good,
clean, festive FUN!

TREVOR was voted "Best Crowd Pleaser" in the 2017 Newport RI St. Patrick's Day parade by the judges at the reviewing stand. The crowds at your parade will be very pleased to see him, too!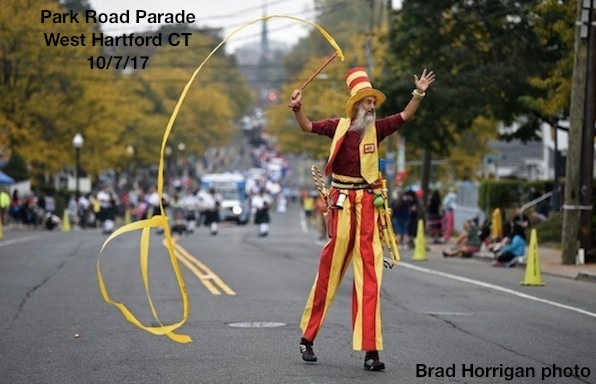 TREVOR has Wowed the Crowd in more than 130 parades since his very first one back in 1989: the Holyoke MA St. Patrick's Day Parade! See the full list here:
TREVOR's Past Parade Appearances
Accolades for TREVOR's Parade Stiltwalking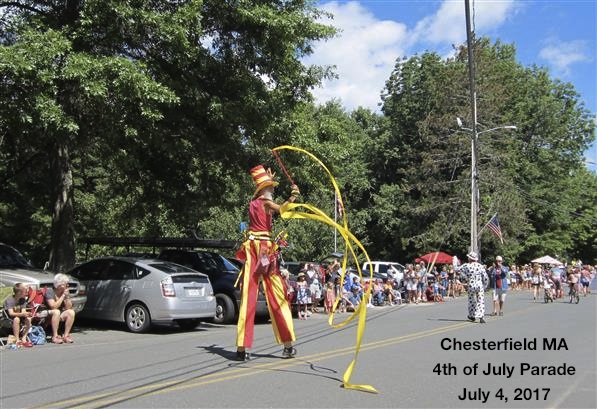 TREVOR'S QUALITY GUARANTEE:
YOU WILL BE 100% SATISFIED AND
YOUR GROUP WILL HAVE A WHOLE LOT OF FUN...
OR IT'S FREE!
413-247-3322
trevor@trevorthegamesman.com
PO Box 463, Haydenville, MA 01039