This was favorite "every day" hat for quite a while. In fact, I'm wearing it right now as I type this about a year later. I like this photo a lot, too. I look good! I think of this pic as "My beard may be turning grey, but I've still got my youthful fu manchu!"
This one's not on the Wicker Hat Wall. It's on the dress-up shelf in my Play Room.
This one is solid plastic and very uncomfortable. Very distinguished, though.
Aren't I macho? My plastic construction worker hat is in my Play Room, but not on the dress-up shelf. Nope, this one is on the toy tools shelf where it belongs! By the way, yellow hard hats are for general laborers and earth moving operators. I have a white plastic hard hat and a real steel hard hat, too.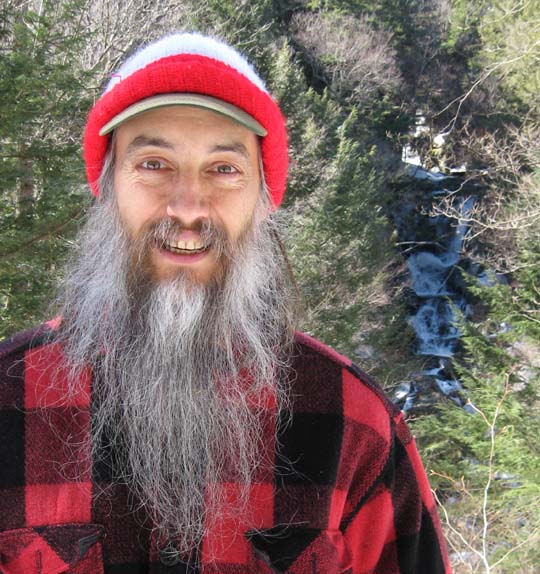 March 17, 2008
Sanderson Brook Falls
Chester MA
My lovely wife and I got to go on a sunny day hike! We'd been wanting to do this for about a month --- ever since my lovely wife (thankfully!) lost her dumb job. This is red and white toque doesn't get worn very often because it's an "emergency hat" that I keep behind the seat of my truck just in case I'm somewhere cold without proper winterware. And this was just such a case. It was pretty warm and most of the snow had melted at our place, but by the time we'd driven the hour to Chester we were surrounded by snow and it was windy and chilly. This red & black flannel overshirt is also "emergency" clothing I keep in my truck. I'm wearing it over my jacket. This stuff has saved my bacon so many times, I'm just glad I'm that organized.
In the distance over my shoulder, you can see the waterfall that was our destination. You can see the upper 20' or so of what is actually about 40' of cascades down the cliffside. I was really happy that we could see the falls from the main trail --- which was a really easy climb --- because the side trail down into the ravine to the base of the falls is only about 12" wide on a very steep hill... and it was covered with ice and snow. Oh yes, plus the access trail itself was not cut level into the hill: at several places it tipped at a big angle down the hillside: kind of treacherous-looking in the ice and snow. So we decided not to chance it --- hence the gladness at being able to see the falls from up on the main trail. We'll go back sometime when there's no snow to get a close up view.
Just a ½-minute walk above this view of the falls, we found a big rock in the sun that was a perfect spot for our picnic. The rock had obviously been in the sun for hours because it was actually a little warm to the touch. So we sat on the rock with the sun in our faces and the sound of a roaring waterfall in the background and had a delightful lunch before heading back down the trail. What a great day trip!
By the way, this is a "USA hat" because, although you can't see it in this picture, somewhere around the white part (probably in the back here) it says "USA" in big red letters.

Easter Sunday
March 23, 2008
So, I used to store a boodle of my hats on top of my dresser. After we got home from church and lunch at a nice restaurant, I tapped my lovely wife to do another hat photo shoot (like the one of the Wicker Hat Wall about a month ago) of just about everything up there. So the next fifteen photos are various hats from the top of my bureau except the sundry brimmed caps from the big pile on the right that already appear somewhere earlier in the Hat Parade.
Be sure not to notice how I sneakily changed shirts between every hat and how we shot each one in a different location in the house so you wouldn't think all these shots were taken on the same day. Don't notice that. And in case you didn't notice something else, let me point out my black eagle hat in it's place of honor on the lower part of my dresser, back left. That wooden thing in front of it holds my wedding hat, keeping it in shape when I'm not wearing it, which I obviously was at the time of this photo. We had just gotten home from church, and I always wear my wedding hat to church. I think it's somehow totally appropriate to wear my wedding hat to church.
62.
traditional businessman's hat

This colorful, thin fabric, blue beret-style hat is too small for me, so I never wear it.
This jester hat and I have a bad history, but my lovely wife the photographer tells me this is a good picture of me, so I guess the hat just lucked out.
An oversized green head scarf that I really like.
A blue print head scarf and Scott Joplin. What more could I possibly need?
My black, Amish, Sunday-go-to-Meeting felt hat looks really good with my suit. (That darker stripe across the front of the hat is actually a shadow.) It's also very comfortable, and warm, too. Those Amish make really good clothing. Check out terrific Amish stuff in the Gohn Brothers catalog.
This "wicker" cowboy hat actually has wires woven in at select places so that you can shape the hat to your liking. Unfortunately, there's none in the upper part and it has become permanently squished so that it kind of squeezes my head and then if I get too active it comes popping off!
The painting is by my mother. She got into watercolors in the 1980's and painted extensively for about 15 years. I have quite a few of her paintings all of which I really love. This one is of the front porch of my parents house where they lived for 30+ years. I only lived there for 3 years.
76.
"The Games Man" decal tie dye baseball cap

Someone once made me some iron-on decals with my old logo on them for my birthday. They also ironed one onto this hat that's just a little too small for my head. I tried wearing it for a while, but it was just too tight so I didn't wear it any more.
77.
white River Valley Market cap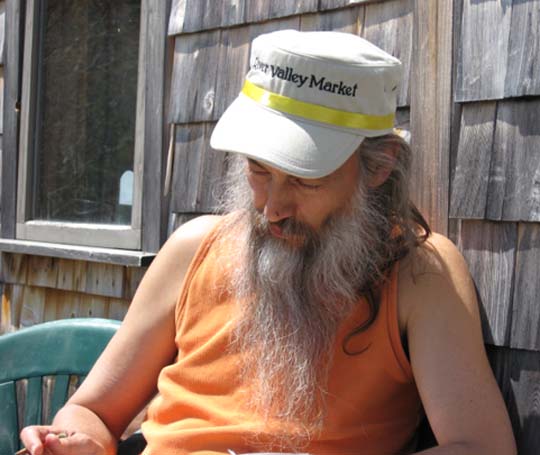 May 11, 2008
Island Pond VT
My River Valley Market cap with an added yellow hat band (from our annual May Day family camp-out weekend). I've gotten into lots of conversations about our big, new food co-op in Northampton MA because I wore this hat all the time for over a year. People are pretty excited about what we've accomplished together... even the few that have never heard of it before. I've gotten a lot of positive comments on the hat band, too.
Check out the updated version of this hat here.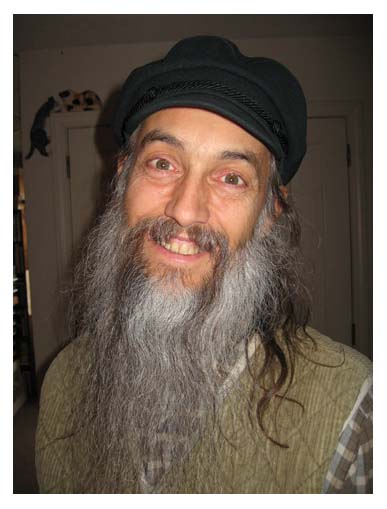 November 18, 2008
our bedroom

My lovely wife's fairy godmother inherited a house and asked her for help cleaning it up. They discovered that the basement was chock full of tools — like really chock FULL. And since our summer camp had put out a plea for tools last season, I decided to go along with her and get some. I brought three suitcases FULL of tools... and that basement didn't look like a single tool was taken, that's how chock FULL of tools the basement was. My lovely wife brought home a bunch of stuff, but all I got for myself was two little wooden sailboat fridge magnets and this Greek fisherman's cap that I really like. (Here's another one.)
79.
double-knit toque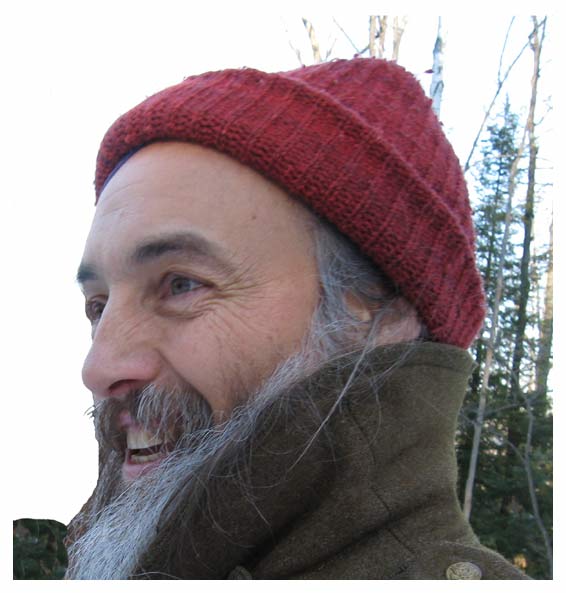 January 3, 2009
Bellows Falls VT
This is my standard winter hat, a sort of brick red, acrylic, double knit toque. Very, very warm. It's deep enough for me to pull it all the way down and then turn the edge up and have a four-ply layer over my ears. It wasn't quite that cold this particular day though, so it's not pulled down quite that far. It lives in the pocket of my winter coat --- the vintage WWII wool army coat you can see here. It's very, very warm, too!
80.
white baseball cap with black brim

March 3, 2009
In front of our yellow bookcase
6a.
homemade Little Dutch Boy hat

April 18, 2009
Willamsburg MA
Way back in 1967, when I was 11 years old, I was a "Little Dutch Boy" for Halloween and wore a goofy hat with yellow yarn hair attached to it. 42 years later, I'm at our regular monthly clan gathering and potluck at my nephew's house when they start passing this hat around. Nobody would try it on but me, and when I did I got this vivid deja vu feeling that just filled my entire being.
If you compare this hat with the one fourth down from the top here (#6a) in my Hat Parade, you may became as convinced as I am that it's the very same hat! My mom made this.
81.
white baseball cap #2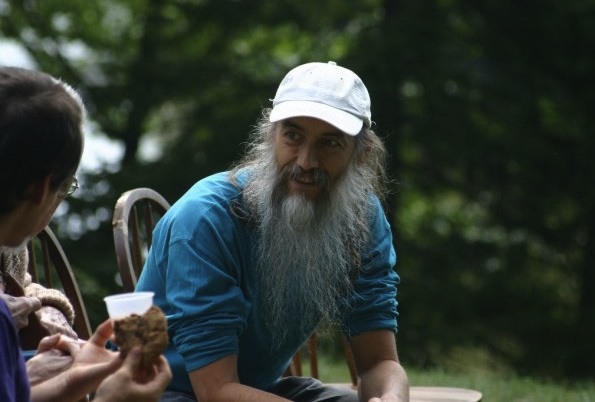 August 2009
Fryeburg New Church Assembly
Fryeburg ME
A plain white baseball cap that I keep at camp in case I need a hat. I needed it that day.
It's not the same as the one just below or
this 2004 one
.
82.
white baseball cap #3

December 21, 2009
our house

This white baseball cap is one of my "quick substitute hats" that I occasionally wear when I can't wear the one I really want to wear because it's in the wash or something. (It's NOT the same as the one just above or this 2004 one.)
And, just in case you want to know, that's two hunks of Siljans Knackebrod (huge, round, whole-grain, Swedish rye crisp crackers) seen edge-on in a mug of my lovely wife's chili. The original photo was captioned: "Good chili in here!"
My lovely wife took this photo. She also took the one on the wall you can see behind me as well as the one above it that you can't see.

83.
"Let Your Light Shine" light-up baseball cap #1

June 9, 2010
on top of Jockey Cap "Mtn."
Fryeburg ME
Memorial Day Weekend every year is Work Weekend at camp. This year, like several recent years, there was also a teen retreat going on there at the same time. As usual, my lovely wife, the camp registrar at the time, was at Work Weekend doing camp registrar stuff, but she didn't have time for one fairly large project that she had hoped to get done, so a week later, the two of us drove up together for a delightful 4-day stay there alone. We practically had the whole place to ourselves. It was GREAT! She completed her project and I put in 12-16 hours a day building the camp's new website from scratch. It went live the following day.
Well, to get to the point of this story, one of the minor chores we attended to was sifting through all the stuff the teens left behind that was in the Lost & Found. One of the things was a bag with several brand-new items in it including this very cool hat that just totally resonates with me. The back says: "Live Your Love" --- which I do big time! And the front says: "Let Your Light Shine" --- and guess what? It does! If you look carefully at the brim of the hat you'll see two tiny headlights that light up quite brightly when you slide the switch in the center of the hat strap in the back! So I'd like to thank some anonymous teen from the Swedenborgian Youth League for this wonderful piece of brand-new headgear: the Hat with Headlights!
P.S. I got a second one of these two years later under nearly the same conditions!

P.P..S. The top of Jockey Cap "Mtn." where this photo was taken is where I proposed to my lovely wife nearly 12 years ago. I was wearing my steel hard hat at the time.
P.P.P.S. "Mtn" is in quotes in the P.P.S. above because although that's what is says on the sign at the bottom of the trail, nobody local ever actually calls it a "mountain" since you can easily walk up it in less than 10 minutes! It's just called "Jockey Cap" everybody, okay?

84.
my 3rd gig hat
cloth Cat in the Hat hat #2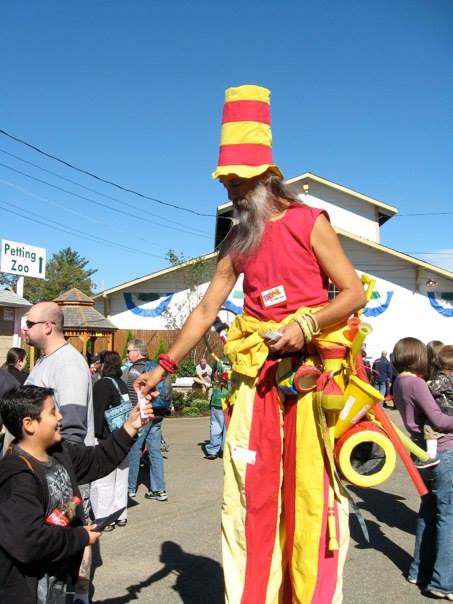 October 10, 2010
Topsfield Fair
Topsfield MA
True Confessions: When I made this version of my gig hat, I never really liked the floppy, not-quite-big-enough brim. Nonetheless, I still wore it for a good seven or so years without ever doing a single thing to at least just stiffen it up a bit. It's not like I didn't know how, since all the hats that I've made before this had had stiff brims... I just didn't do it this time around for some reason. Oh well. Nobody complained about it but me, so I guess it still worked just fine.
My first gig hat was made of felt and was really hot in warm weather.
My second gig hat was better because I made it out of cloth.
My fourth gig hat, I very carefully made the brim big enough and stiff. I really like it.

85.
lightish green baseball cap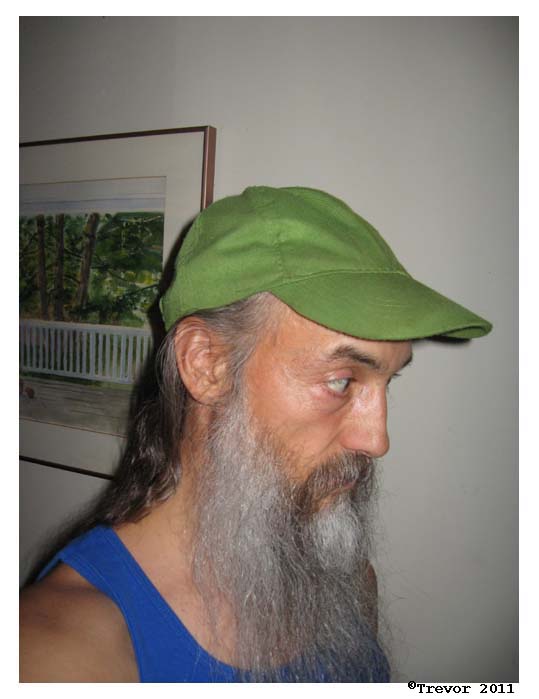 June 9, 2011
next to one of Mom's paintings
It was time for a new hat. I tried on several. This was one of two that made the finals. I wasn't too sure about the color though: it's not a color I wear a lot and I think it probably clashes with several of my plaid winter shirts, but my lovely wife said it's okay, so I bought it. Sure looks good with this deep blue tank top, though.


86.
Chinese mandarin-style cap with long tassel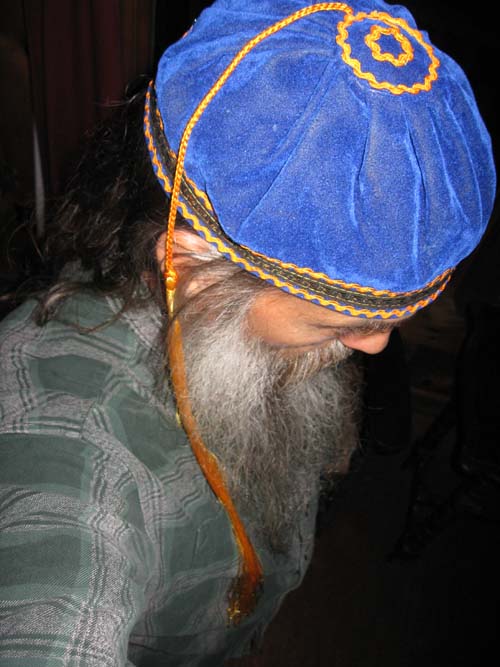 August 13, 2011
Fryeburg New Church Assembly
Fryeburg ME
Every once in a while, something totally unexpected comes in over the transom. In this case it was our old camp friend Jim Lowe and his lovely wife Betty gave me a present completely out of the blue last Monday: this hat. When someone asked him where he got it, he replied, "I bought it from a little old wizard downtown." I don't know why Jim would think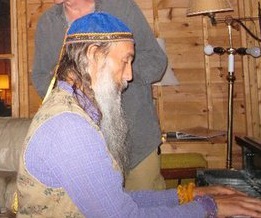 someone like me would like a hat like this... but let me tell you: he's right!
Taking a picture of it that shows its true character, however, was a little tough since I wanted to show not only the crown design, but also the headband pattern and the long yellow tassel that has been hanging down my back for the past week! It took about 20 tries but I think I nailed it, folks.
Here's what it looks like from the side. --------->
87.
strapless khaki baseball cap

One of three free baseball caps I snagged this summer that have been sitting on my dresser waiting to be worn. I like this tan cap because, as you can see in the photo, it's solid all the way around the back... it doesn't have a buckled strap or any sort of tightening device that can be just so uncomfortable to lean back against. And no hole back there to let the draft in either.
88.
"Let Your Light Shine" light-up baseball cap #2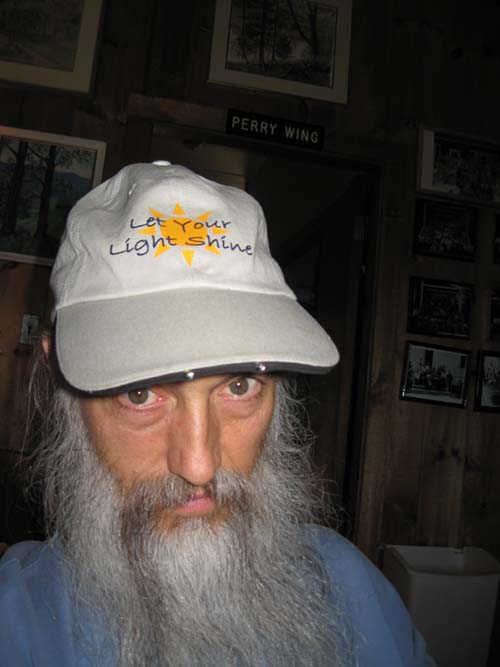 August 7, 2012
Fryeburg New Church Assembly
Fryeburg ME
This is the second light-up "Let Your Light Shine" hat I scrounged from the Lost & Found at camp. It's a flashlight in a hat! See those two little shiny spots on the front edge of the brim? Those are headlights! It's perfect for camp because I don't have to carry a flashlight around at night.
This one is definitely a design improvement over the old one which had a rather hard-to-use, little, tiny, on/off slider switch on the adjustment strap around the back. But this new one has a very easy-to-use push button switch built into the brim of the hat in a very ergonomic place. Just reach up and squeeze the hat brim, and the lights come on! I admit, however, that when I clip this hat to my belt, sometimes I sit on the brim and accidentally turn the lights on by mistake. :D
89.
"Apple Spree" straw hat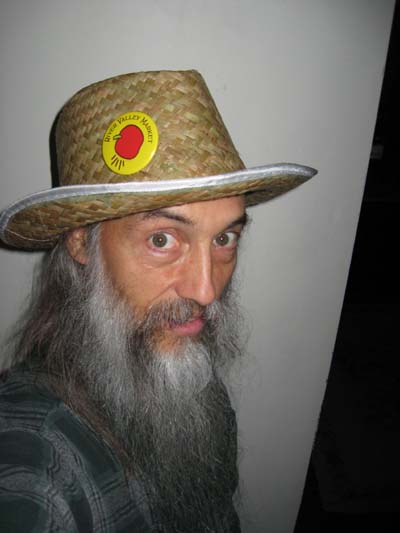 September 30, 2012
at our house
At River Valley Market's "Apple Spree" event at Look Park in Northampton, they were giving out 100+ of these straw hats for free. I, of course, had to have one, along with the event button which I pinned onto it. Much to many of the RVM staff's pleasure, I wore it for about 6 weeks as my regular daily hat until it got too cold for it in mid-November. Regularly during that time, complete strangers would say things to me like (and these are actual quotes) "Are you with the Jesse James gang?", "Are you [famous country singer]?", and the inexplicable "You're wearing a straw hat."
90.
Home-Made Purple Corduroy Beret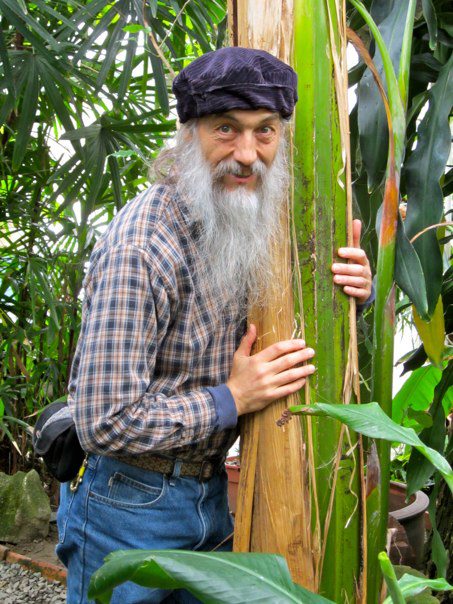 March 8, 2013
Smith College
Lyman Plant House "jungle room"
Northampton MA
March 8, 2013

I had a Hat Party and my son didn't have one (he pretty much doesn't wear hats), so my daughter quickly whipped up this one out of a piece of dark purple corduroy. And, lucky for me, I got to keep it after the party! Here I am, hugging a banana tree in the "jungle room" of the greenhouses at the Smith College Botanical Gardens.
91.
chef's hat

August 18, 2013
March 20, 2015
in the Play Room at our house

In October of 2012, I became an avid biker when I snagged an old mountain bike (the red one in the background) in a free pile on the side of the road. I spent $128 having it fixed up and made road-worthy. And shortly after my first ride, because I was getting so little exercise, I made a commitment to myself to ride every single day, year round. At first, my goal was 1/2 hour a day; but within a year, I was averaging over an hour a day and 400-500 miles a month!
This is me in my full It's Snowing Outside winter riding gear. I only wear this neon orange with yellow and silver reflective stripes nylon hat under very strict conditions: only when I'm biking (it's pretty goofy otherwise!), visibility has to be low (I want vehicles to SEE me!), it has to be cold outside (otherwise this hat makes me sweat!).
By the way, you can't see it very well in this picture, but nearly every ride I do --- unless it's above 80° or so --- I wear the nearly matching orange vest with yellow reflective stripes in the photo (Thank you, my lovely wife!). It has a battery pack that powers four very brightly flashing lights front and rear. Now that's visibility!
95.
my 4th gig hat
cloth Cat in the Hat hat #3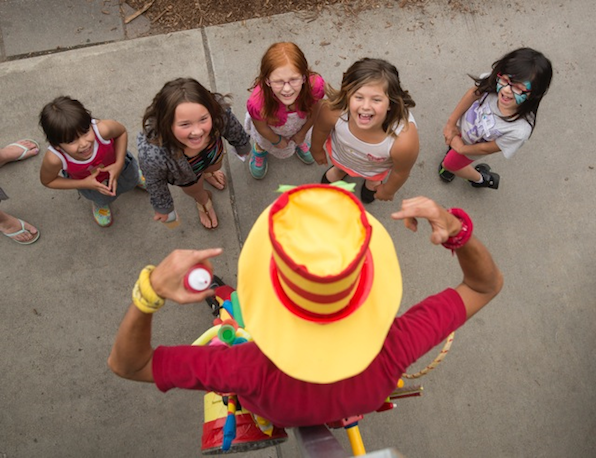 June 18, 2015
Strawberry Ice Cream Social
River Valley Co-op
Northampton MA

I never really liked the narrow, floppy brim on my previous gig hat, so when I made this one (some time between October 2013 and March 2014), I purposely gave it an extra wide, stiff yet shape-able brim. I am very, very, very pleased with it!
This photo was taken from partway up the outside stairs on the front of the Co-op. It has become one of my all-time favorite pictures of me at work — this is how the world looks to me when I'm stiltwalking, folks!
My first gig hat was felt and really hot in warm weather.
My second gig hat was better because I made it out of cloth.
My third gig hat was like the second one expect it had a floppy brim I didn't really like.

96.
light blue gardening hat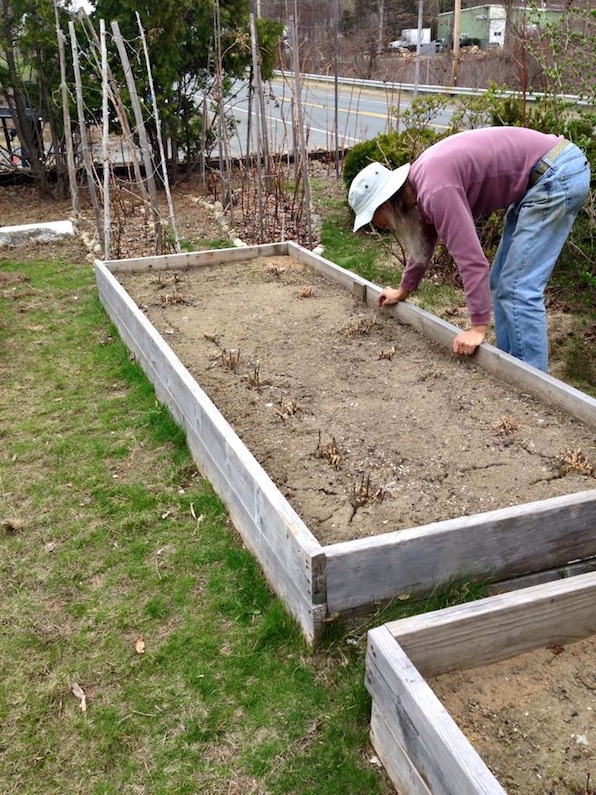 April 27, 2015
inspecting my asparagus bed for new growth
Officially, this light blue hat is called a bucket hat or a tennis hat, but it's also widely know as a Gilligan's hat, popularized by the title character who always wore one in the 1960's tv show Gilligan's Island. Because I don't really care for this style of hat, a few years ago, I decided that this would be my gardening hat since I wouldn't really care if it got dirty, grubby, splotchy, or even (*choke*sputter*) ruined completely. I wear it pretty much all the time when I'm working in the garden. I've gotten used to it over the last few years and don't really mind it so much any more. It, on the other hand, doesn't really seem to be wearing out very fast either. Go figure.
NOTE: It finally bit the dust 5 years later just in time for me to get a new gardening hat. But that one turned out to be just a little too small. Luckily, I got a another new gardening hat that I really like that actually fits.

97.
black River Valley Co-op hat
I've been an active food co-op member since the 1970's. For a whole bunch of reasons, our local co-op (which I've been very involved with since its inception) recently changed its name from River Valley Market to River Valley Co-op. The store manager gave me this brand new hat as soon as they came in to replace my old one, so I could wear it when I'm working Co-op events, knowing full well that I'd also be wearing it all the time for a while as my Everyday Hat. I think I'm the only non-employee who has one! Lucky me.

Here's my previous Everyday Hat.

98.
tiny black and white checked baseball cap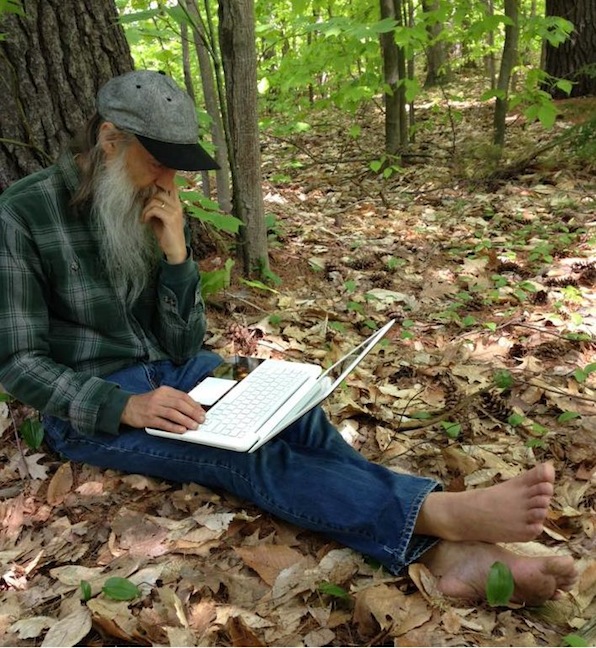 That painting behind me, by the way, is one of my favorites. It's by my high school friend Sandy "Sandal" Friedman. What I'm obscuring with my head and this fine hat is more trees that basically fill about 90% of the part you can't see. There's a tiny bit of tree branches barely visible through my hair at the lower right next to the signature, so you can actually see that the trees do indeed go that far in the painting.
Cambridge MA
Over the past two months, I've picked up several terrific new hats for myself at various yard sales, as well as several new hats for the dress-up drawer in my Play Room for the kids to enjoy. Today, I took pictures of all the ones that aren't on this page yet: the next 12 hats.
This photo was taken in my Science Fiction and Fantasy Library.
My lovely wife picked this up when she first started stocking the Dress-Up Drawer in our Play Room. It was an instant hit with my 3-year-old granddaughter, who made a beeline for the Dress-Up Drawer and put on this hat on arrival during their weekly visit for at least a month!
This "old lady hat" is covered with some sort of veil-like fabric.
my office
Picked this up in a free pile somewhere because I thought it might be good for winter riding. Turns out it's made out of neoprene which is both waterproof and breathable. It will keep the wind out, too, if I pull the chin strap tight enough. I'm looking forward to trying it out this winter to see if it's warm enough during cold weather.
side view and top view
One day when I was visiting my parents 20 or so years ago, my mom was sitting on the couch finishing up knitting this hat. This is not at all unusual behavior for my mother — she probably knitted well over 100 winter hats in her lifetime, not to mention mittens, scarves, socks, sweaters, nose-warmers, and more. What was unusual about this was that when she was done, she stood up and gave it to me saying, "This is probably the last hat I will ever knit." And it was. To this day, it still hangs in a place of honor over my desk.
This hat lives in the pocket of a 1-piece ski suit that I never wear, so I never wear it. In fact, when I gave away the ski suit because I never wear it, I left the hat in the pocket.
And this was the funny long tail hat I wore before I got the "boop boop" hat just above. My little sister Ellen gave me this for Christmas one year long long ago, so it's appropriate that I'm looking in the window at our Christmas tree in this photo.
I've always wanted one of these toasty warm ear flapper hats that the ear flaps snap up. Now I do! These photos were taken in front of the huge snow mountain on our front lawn. All the snow from our driveway and from the truck company next door gets piled up on our front lawn all winter long. Sometimes by the end of winter it gets to high you can stand on it and look in the 2nd floor windows.
February 19, 2019
August 25, 2019
my house
May 29, 2020
in my office
Picked up this grey fedora from a free pile on the side of the road while I was out for a bike ride, along with some pretty cool sailboat hooks (that's hooks with sailboats on them, not hooks for sailboats). It's just a little too big for me, but nothing unmanageable. The feathers are connected together in a tuft that you can remove for cleaning. I know this because the hat was pretty dusty and I spent quite a bit of time cleaning it. It looks pretty good now, though, don't you think?
BTW: For a while there, the word in black on the sign next to me changed every week, much to the amusement of my grandchildren and the homeschoolers in the weekly gym class that I did online throughout most of 2020 and 2021.
Fryeburg ME
Unusual Hat Day!
The FNCA was 100% virtual the summer of the pandemic, but we were perhaps the only people there at the time because, as chair of the Online Programming Committee, I wanted to be able to share events from our facility. So this photo is taken inside our family cabin. vFNCA 2020 had daily spirit themes to help with a feeling of unity. It was Unusual Hat Day!, and although I have quite a few unusual hats, I hadn't brought any with me, so in the spirit of playfulness, I wore this pillow that happened to be on the couch next to me during the first event of the day as my unusual hat for all of that day's events!
September 6, 2020
my basement workbench
January 14, 2021
in front of my dresser
I got this nice black driving cap at the thrift store today, too! I think it looks pretty sharp.
You may notice that light attached to the brim. I got it to use as a headlight when I'm biking at night (which I do regularly). On a regular size baseball cap, the back of the light bangs against my head every time I pedal, so I had to special order this long brimmed hat to solve that problem.
July 4, 2021
Found this on the side of the bike path a couple of days ago on my daily bike ride. It was just sitting there all by itself looking lonesome so I brought it home with me. My lovely wife says I can keep it.
November 3, 2022
This is one of two hats I found at Goody's today. This 50/50 cloth flat cap is lined with red plaid on the inside. It just became my latest Everyday Hat.
February 18, 2023
This is the second hat I found at Goody's today. It has a bigger than usual brim, which I like. I wear this style of plain red or yellow hat to and from gigs so I'm wearing the right color hat when I arrive and leave. Red ones are fairly easy to find, but plain yellow ones like this are rather rare, so I snatch them up whenever I see them. This probably won't get worn for several years, but when the time comes, I'll be glad it's there waiting for me.
May 27, 2023
When I picked up this wool cap at a yard sale in Vermont, my immediate thought was, "This is going to be GREAT in the winter!"
My lovely wife and I celebrated our 25th Wedding Anniversary with a day trip to the Berkshires on our actual wedding date, followed a few days later by a delightful 4-day vacation on Cape Cod. This photo is taken in front of the little rental home we stayed in right on the water in Eastham. I picked up this black fedora in Provincetown at what my wife humorously referred to, not as as "tag sale" (which is what yard sales are called in Massachusetts), but a "drag sale"! It was a very obviously gay guy selling mostly wigs and women's clothing in his front yard right on Commercial St. --- which is the main drag (pun intended) through downtown P'town. When we got home, my housemate (who often comments about my hats) said, "Man, you look handsome!"
HOPE YOU ENJOYED TREVOR'S HAT PARADE!

And to repeat what I said at the top: if you know the dates (even roughly) or locations of any of the ones I don't know or that have question marks next to the date, or if you can update/correct any of the info in the text, please let me know so I can update this page. If you have any photos of me in hats that aren't here, please, Please, PLEASE send them to me! Thanks!

=========================================================
=========================================================

Special Bonus Sections below
#1: The Imposter
#2: Favorite Hat Quotes
#3: Make Your Own Strawberry Hat!
#4 National Hat Day

=========================================================
=========================================================

Special Bonus Section #1:
The Imposter!

light grey fedora


=========================================================
=========================================================

Special Bonus Section #2:

Favorite Hat Quotes

"I wear my hats as I please, indoors or out."
~ Walt Whitman

"Personally, I'd never want to be a
member of any group where you either
have to wear a hat or you can't wear a hat."
~ George Carlin



"A man walks down the street with that hat,
people know he's not afraid of anything"
~ Alan Tudyk as "Wash" Washburn in Firefly "The Message"




What did the hat say to the tie?
"You hang around here, I'll go on ahead."

And if you wanted to wear something on your head there was a perfectly good item designed for that too: it was called a hat."
~Peter Bunzl in Coghart


A man asked a small boy his name.
"Six and Seven-Eighths," he replied.
"How in the world did your parents come up with such an unusual name?"
"They just picked it out of a hat."





"It is impossible to travel faster than light, and certainly not desirable, as one's hat keeps blowing off."
~ Woody Allen



"Don't be fooled. I kept all my workout clothes
in that top hat."
~ Abraham Lincoln
"How a hat makes you feel is what a hat is all about."
~ Philip Treacy, London milliner
"Why should anyone be frightened by a hat?"
~Antoine de Saint-Exupéry in The Little Prince

"Hats have power. Hats can change you into
someone else."
~ Catherynne M. Valente

One psychiatrists says to another, "I once had a patient who insisted he heard music every time he wore his hat."
"So how did you treat him?"
"I grabbed his hat and removed the band!"
Did you hear about the cowboy singer who wanted to be famous, so he put a corduroy sweat band in his hat?
He made headlines.





"Any plan where you lose your hat is a bad plan."
~ Phil Foglio




"Cock your hat — angles are attitudes"
~ Frank Sinatra
"Caps! Caps for sale! Fifty cents a cap!"
...
"You monkeys, you," he said shaking a finger at them, "you give me back my caps."
~ in Caps For Sale by Esphyr Slobodkina

"My hat is old.
My teeth are gold.
I have a bird
I like to hold.
My shoe is off.
My foot is cold.

My shoe is off.
My foot is cold.
I have a bird
I like to hold.
My hat is old.
My teeth are gold.
And now
my story
is all told."
~ Dr. Seuss in One Fish Two Fish Red Fish Blue Fish

=========================================================
=========================================================

Special Bonus Section #3:
by Marah MacCrostie
(pictured in the last photo in this section)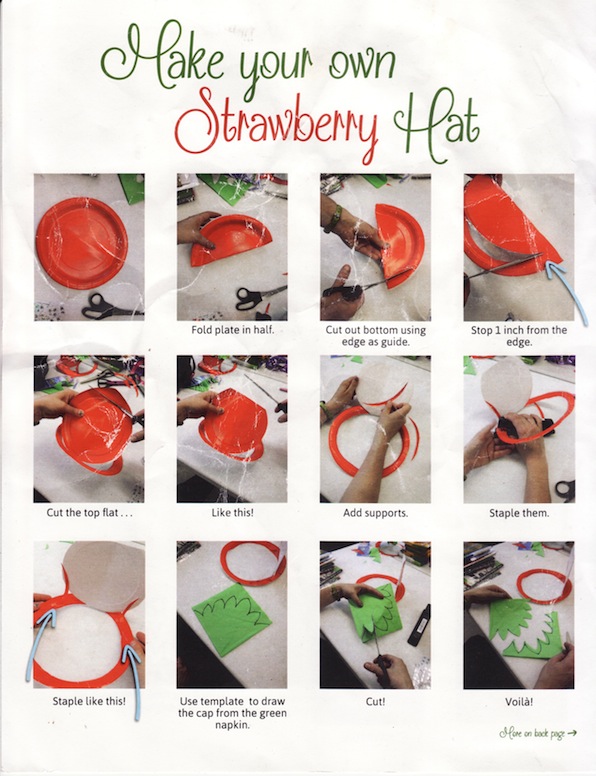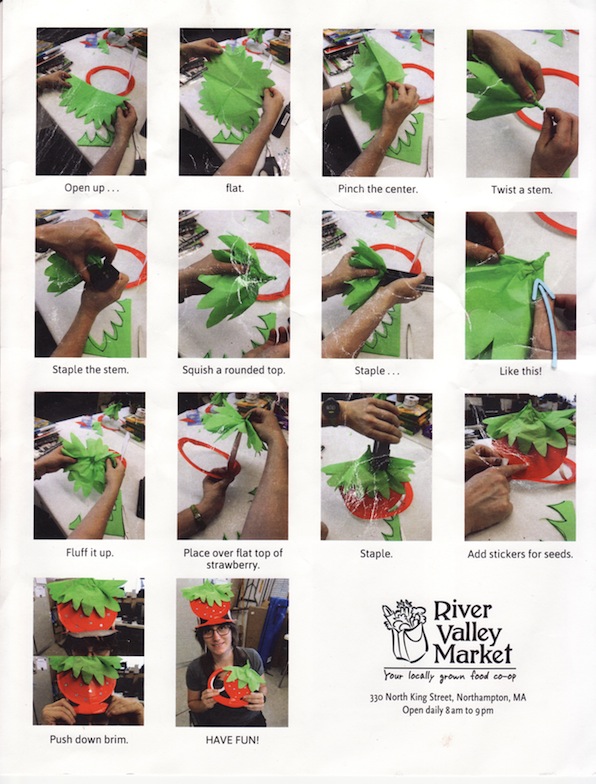 =========================================================
=========================================================

Special Bonus Section #4:
National Hat Day in the U.S.A. is celebrated yearly on January 15.


=========================================================
=========================================================

TREVOR'S QUALITY GUARANTEE:
YOU WILL BE 100% SATISFIED AND
YOUR GROUP WILL HAVE A WHOLE LOT OF FUN...
OR IT'S FREE!

413-247-3322
trevor@trevorthegamesman.com
PO Box 463, Haydenville, MA 01039