A Brief Chronology
of
TREVOR "The Games Man"

March 22, 1956 Born in New York City ----------------->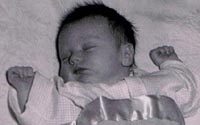 Summer 1957 Move to Ferndale MI (near Detroit)
Summer 1963 Move to Des Plaines IL (near Chicago)
August 1964 Family Vacation out West: Grand
Canyon, Yellowstone, Badlands, etc.
December 1967 Move to Webster Groves MO (near St
Louis)
Summer 1968 Family vacation all over Missouri: cultural, natural, and historic sites
Summer 1971 Move to Sharon MA (near Boston)
April 1972 Older sister introduces him to New Games
July 1972 1st time leading New Games, Rec Director, Blairhaven, Duxbury MA
August 1973-now Activities Director, FNCA family camp, Fryeburg M

E
June 1974 Graduated as Student Body President of Sharon Alternative
High School, Sharon MA -------(SHS yearbook pic)------>
July-Nov. 1974 Live with my older brother and his wife in Ctr Harbor NH
December 1974 Move to Bryn Athyn PA (near Philadelphia) for college
June 1975 Given the "Student Work Award" by John Willey, head of maintenance, Bryn Athyn College, Bryn Athyn PA
May 1977 Graduate from college with an A.A.
May 1977 Move to New York City for a 6-month internship
November 1977 Move in with my older brother and his wife in Providence RI
June 1978 Get married and move back to Bryn Athyn PA
July 1979 1st outside call to do New Games, Camp Laurel Leaf, Trent PA
March 1, 1980 My son is born!
May 1980 1st New Games Festival, S Orange NJ
April 1981 1st adult audience, private house party, Bryn Athyn PA
June 1981 1st Cooperative Play staff training, Camp Laurel Leaf, Trent PA
Summer? 1981 Move about a mile to Huntingdon Valley PA
March 1982 1st non-camp paid gig, Bryn Athyn High School 9th grade girls gym
class, Bryn Athyn PA
May 25, 1982 My daughter is born!
July 1982 Director of Camp Blairhaven, Duxbury MA
September 1982 Move to the Pioneer Valley of Western Massachusetts
January 1983-89 New Games at Amherst MA Leisure Services Dept after school
programs approximately 1500x
July 1983 Director of Camp Blairhaven, Duxbury MA
April 1984 1st birthday party, Michelle Deveney's 7th, Amherst MA
July-Aug 1984 Assistant Director, 4H Camp Howe, Goshen MA
October 1984 1st Hospital Sick Bed Visit, BethAnn Freed, Cooley Dickinson Hospital,
Northampton MA
April 1985 1st picture in the paper leading New Games, the Sentinel,
Belchertown MA
November 1985 My After School Activities Program (A.S.A.P.) starts, Dunphy Elementary
School, Williamsburg MA
March 5, 1986 My After School Activities Program (A.S.A.P.) starts, Goshen Elementary
School, Goshen MA
Sept. 1986 Get unmarried
Nov. 10, 1986 1st paid adult audience, Collective Skills & Fun Club, Amherst MA
May 31, 1987 Move into my first cooperative household
1987-1995 Run a Family Day Care in my home
Spring 1988 Housemate nags me into learning to use professional stilts
May 11, 1988 1st Library Performance, Forbes Library, Northampton MA
June 1988 Begin actively pursuing entertainment as a career


June 5, 1988 1st Grand Opening, Maplewood Farms store, Amherst MA
July 4, 1988 1st professional Stiltwalking "Walk-Around" appearance,
Amherst MA fireworks ------------------------------------>
July 7, 1988 1st music festival, Bright Moments Jazz Festival, Amherst MA
March 19, 1989 1st parade stiltwalking, St Patrick's Day Parade, Holyoke MA
May 10, 1989 1st restaurant performance, the Depot, Northampton MA
May 18, 1989 1st college performance, Mount Holyoke College, S Hadley MA
May 31, 1989 Move into my second (and still current) cooperative household
June 1989 1st stage show, Bernardston Elementary School, Bernardston MA
Sept. 23, 1989 1st Bar Mitzvah, Jacob Urbel, Northampton MA
Dec. 25, 1989 get my first juggling sticks
May 1990 monthly Adult Play Group starts, Little Moon Studio, Hatfield MA
December 1990 1st performance for the deaf, Clark School for the Deaf,
Northampton MA
January 1991 2,000th performance, UMass-Amherst, Adventures in Lifelong Learning
March 21, 1991 1st Stiltwalking Delivery, Kim Eastman's 50th birthday party, Hotel
Northampton, Northampton MA
April 19, 1991 1st cover feature, Hampshire Life magazine, Daily Hampshire Gazette
newspaper, big article with lots of pictures, Northampton MA
April 1991 Voted "Best Children's Entertainer", Valley Advocate readers' poll
June 12, 1991 1st Keynote Address, Breor Elementary "Moving Up" banquet,
Hatfield MA
June 15, 1991 1st Wedding Performance, Ann Walsh & Jay Sullivan, Hadley MA
June 1991 1st Cat in the Hat hat (It might have been May, but June '91 is the
earliest photo I have of me in it. It definitely was NOT April.)
Sept. 15, 1991 1st concert hall event, opening for Tom Paxton & Tom Chapin, John M.
Greene Hall, Northampton MA
January 1992 100th adults-only event, Early Childhood Program staff, Greenfield MA
May 2-3, 1992 start attending Hardwick May Day family camp-out weekend
October 1992 1st radio appearance, WHMP "Real Health" show
December 1992 1st golf club, Thomas Memorial Golf Course, Turners Falls MA
February 1993 Founded the Hats Off Performers Guild (stills meets monthly!)
February 3, 1994 1st television appearance, "The Jason Belland Show", Dalton
Community Cable Association, Dalton MA
September 1994 1st New Games consulting, p.e. teacher, Hartsbrook School, Hadley MA
August 1995 Become a full-time entertainer (YAY!!!)
September 1995 3,000 performance, Longmeadow Center School, Longmeadow MA
Nov. 9-13, 1995 Solo driving vacation down the East Coast as far as Myrtle Beach SC
June 1996 200th adult audience, Madeleine Molta's 60th birthday party,
Southwick MA
January 1998 500th birthday party, Kelsey Patnaude's 8th, Worcester MA
July 1998 1,000 Youth Organization Appearance, Oakham MA Park & Rec Dept,
October 1998 Marry my lovely wife :-D


February 1999 1st big ski resort, Grand Summit Hotel at Mt Snow, ------>
W Dover VT
September 1999 1st trade show appearance, Chamber of Commerce, Berlin CT
June 2000 4,000 performance, Wee Haven Childcare, Charleston NH
Sept. 4, 2000 Debut of my strictly red/yellow/black color scheme, Charlton Old Home
Day, Charlton MA
May 28, 2001 Plan and pull off a birthday party for my Pop's 80th featuring his favorite
group, the Black Eagles Jazz Band, live in his back yard, Sharon MA June 2001 Did more than 50 shows in one month (Whew!)
December 2001 300th adult event, Shriner's Club of Worcester County, Sturbridge MA
January 2002 1st M.C. performance, River Valley Market Bingo Night, Northampton MA
October 2003 1st entire week at a fair, Topsfield Fair, Topsfield MA
October 2005 1st zoo performance, the Zoo in Forest Park, Springfield MA
March 22, 2006 Turn 50 years old
March 2, 2007 5,000 performance, Yurt School homeschoolers, Amherst MA
July 14, 2008 400th day care center appearance, Kindercare, Glastonbury CT
June 2009 Named "Entertainer of the Month" by County Fairgrounds USA
September 2009 Helped create and booked the music for River Valley Co-op's monthly Arts Night Out artist receptions until the program ended in 2020
May 31, 2010 1st appearance at a professional baseball game, Can-Am League,
Wahconah Park, Pittsfield MA
Summer 2010 400th Fair & Festival Performance
Nov. 2, 2010 200th workshop/training, Natick Extended Day Program, Natick MA
August 2011 1,000th summer camp performance, FNCA family camp, Fryeburg ME
Sept. 18, 2011 1st performance during a church service! Trinity Congregational Church,
Northfield MA
October 2012 Pick up a free bike and become a daily, year-round biker.
Oct. 8, 2012 1,000th school performance, Whole Life Learners Homeschoolers
Consortium gym class, Amherst MA
Dec. 8, 2012 My 1st granddaughter is born!
Dec. 20, 2012 6,000th performance, CT Forum Children's Christmas Party, Hartford Marriott Hotel, Hartford CT
Oct. 11, 2013 500th teen performance, 1st Baptist Church Teen Lock-In, Amherst MA
Nov. 23, 2013 1,000th birthday party, Sameer Goddard's 9th b'day, Easthampton MA
April 2014 Helped create and booked the talent for River Valley Co-op's weekly
summer children's series until the program ended in 2020
Sept. 4, 2014 My 2nd granddaughter is born!
May 23, 2015 1st funeral, Dale Burke, Gill MA "He wanted it to be FUN!"
Jan. 22, 2016 1st performance in a racquetball court! Whole Life Learners
homeschoolers group gym class, UMass-Amherst MA
Feb. 17, 2016 100 Jewish Celebration, Jewish Community Center, Springfield MA
June 2016 Awarded the Austin Miller "Co-op Hero Award" by River Valley Co-op,
Northampton MA for my extensive local Cooperative Games work
October 2016 100th parade, Waterford NY Bicentennial Parade
October 2016 After decades of using wooden peg stilts, I buy metal sheetrock stilts for
non-"walk-around" gigs (like birthday parties), use them a few
times, then mothball them because they are just way too clunky.
Jan. 25, 2017 1st indoor urban park performance, Mill 180 Park, Easthampton MA
March 11, 2017 Voted "Best Crowd Pleaser", St. Patrick's Day Parade, Newport RI
March 17, 2018 Broke 2,000,000 people entertained (yes, I keep track!),
Newport Irish's St. Patrick's Day Parade, Newport RI
July 4, 2018 30 years of professional stiltwalking!, Chesterfield 4th of July Parade,
Chesterfield MA
August 12, 2018 7,000th performance, FNCA family camp, "Sparks Games", Fryeburg ME
January 2, 2019 3,000th Recreation Facility & Event Performance, Whole Life Learners
homeschoolers group gym class, Hadley MA
March 16, 2019 300th Known Media Appearance, whatsupnewp.com, brief listing of my
appearance in the Newport RI St. Patrick's Day Parade 3/16/19
March 22, 2019 Celebrate my 63rd birthday (my favorite #!) with a huge 9-hour party.
May 5, 2019 500th Fair & Festival Performance, May Day Festival, Hardwick MA
May 19, 2019 300th City & Town Appearance, Westfield 350th parade, Westfield MA
March 25, 2020 1st online program, Whole Life Learners homeschoolers group gym
class, Pioneer Valley of Western MA and North Central CT
March 1, 2021 1st online performers showcase, MA Library Performers vShowcase
Nov. 19, 2021 Town Common Sing in Montague for the first time
June 3, 2022 3,000th School Appearance, New Hingham Regional Elementary School,
Chesterfield MA
June 4, 2022 3,000th Recreation Facility & Event Appearance, Union Green Town Park,
Middletown CT
July 3, 2022 It's my professional 50th anniversary! 50 years ago today, I did my
very first professional show!
Dec. 4, 2022 Broke 3 million people entertained (yes, I keep track!),
Rochester Christmas Parade, Rochester NH
Dec. 21, 2022 300th Library Appearance, Hadley Public Library, Hadley MA

TREVOR'S QUALITY GUARANTEE:
YOU WILL BE 100% SATISFIED AND
YOUR GROUP WILL HAVE A WHOLE LOT OF FUN...
OR IT'S FREE!!
413-247-3322
trevor@trevorthegamesman.com
PO Box 463, Haydenville, MA 01039