[Appearances]
"TREVOR was a wonderful addition to our
Grand Opening. He was engaging and
friendly, and drew lots of attention!"
~Jen Risley, Marketing & Membership Manager, Monadnock Food Coop, Keene NH


TREVOR's
Grand Openings
and Business & Civic Anniversary Appearances
1996-2022 arranged alphabetically by state & town 1.0% of total lifetime gigs to date
71 performances at 56 sites
in 36 towns in 6 states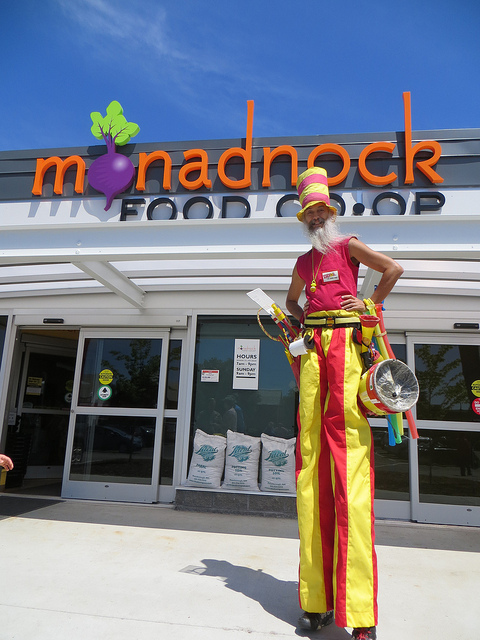 Connecticut
Avon St Francis Care Medical Building Grand Opening (99)
Greenwich Byram Shubert Library's 75th, 76th, and 81st anniversaries (07, 08, 13)
Hartford John C Clark School 20th anniversary (91)
Middletown City of Middletown's 350th anniversary (01)
West Hartford People's Bank Grand Opening (21)
Massachusetts
Agawam Phelps Elementary School's 50th anniversary(89)
Amherst Amherst Barbers Grand Re-Opening (96)
Amherst Leisure Services and Supplemental Education Dept's 4th anniversary (87)
Hampshire College's 20th anniversary (90)
La Veracruzana Grand Opening (98)
Mullins Center Grand Opening (93)
Valley Trade Connection's 5th anniversary (89)
Boston Windsor School's 125th anniversary (11)
Deerfield Traprock Peace Center's 10th &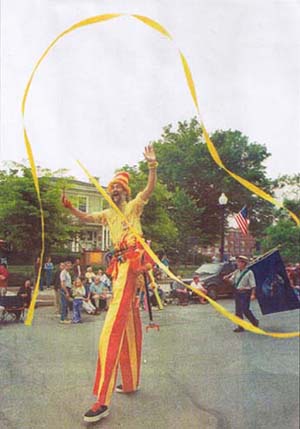 25th anniversaries (89, 04)
Dudley Miss Diane's Day Care's 20th
anniversary (05)
Greenfield Town of Greenfield's 250th
anniversary parade (03) -------------->
Hadley Bread & Circus's 6th, 10th, & 17
anniversaries (89, 93, 00)
Norwottuck Rail Trail Grand Opening (93)
Wholesale Depot Grand Opening (93)
Hatfield Western Mass. Food Bank's 10th
anniversary (92)
Hingham City of Hingham's 375th
anniversary (10)
Holyoke Magnet Middle School Grand
Opening (90[2x])
Hubbardston Town of Hubbardston 200th
anniversary (17)
Longmeadow Ruth's House Grand Opening
(00)
Ludlow Fashion Bug Grand Opening (00)
Mendon Town of Mendon 350th
anniversary parade (17)
New Braintree Camp Putnam's 50th
anniversary (97)
North Adams CVS Grand Opening (93)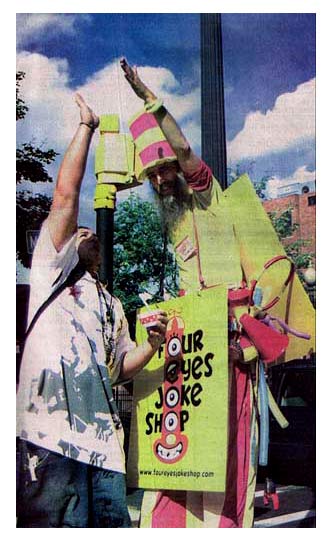 Northampton Bay Bank Grand
Opening (94)
City of Northampton's 350th
anniversary parade & celebration
(04[2x])
Faces Grand Re-Opening (15)
Hampshire YMCA's 100th anniversary
(90)
Ink Solutions Grand Opening (07)
Pearl Street Nightclub's 10th
anniversary (94)
River Valley Co-op Grand Opening
(08)
North Andover City of North Andover's
350th anniversary (96)
Orange Town of Orange's Bicentennial
(10)
Pittsfield Hillcrest Commons 10th
anniversary BBQ (05)
Southbridge Four Eyes Joke Shop
Grand Opening (04[5x]) -------->
Springfield Hampden Bank at Tower
Square Grand Opening (05)
J.R. Kakley & Sons 100th
anniversary (97)
Kathleen Thornton School's 30th
anniversary (95)
7-11 - Springfield St Grand Opening
(07)
Shriners Hospital 75th Anniversary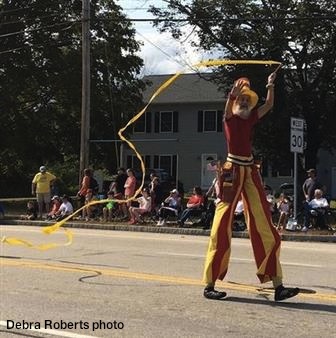 Fair (00)
Taunton Taunton Municipal Lighting
Plant 100th anniversary (97)
Westborough Westborough 300th
anniversary parade (17) --------->
Westfield Mestek Inc's 50th anniversary (96)
Westfield 350th anniversary First Night kick-off event (18)
Westfield 350th Children's Carnival (19)
Westfield 350th parade (19)
West Springfield J.R. Kakley True Value Home Center's 100th anniversary (97)
Williamsburg Town of Williamsburg's
225th anniversary & Giant Kazoo Parade (96)
Williamsburg Fire Department's 150th anniversary (98)
W
orthington Town of Worthington 250th anniversary parade (18)

New Hampshire
Keene Monadnock Food Coop Grand Opening & 1st anniversary (13, 14)
New York
Waterford City of Waterford's Bicentennial Parade (16)

Rhode Island
Providence Providence Children's Museum Grand Opening (97)
Vermont
Burlington City of Burlington's 400th Anniversary (09)


The events above have include the performances below.

for adults & mixed audiences:
The Party Games Show
The Mystery Detective Brainteaser Show

for teens and other active people:
The On-the-Go High-Octane Special
for kids:
Giants & Giraffes * Dragons & Detectives
The Outdoor Special
A Ton of FUN!

add-on craft project:
Project: Ribbon Dancer
stiltwalking:
Stiltwalking & the Aerial Delights Show
Stiltwalking "Walk-Around"
Parade Stiltwalking
TREVOR'S GUARANTEE:
YOU WILL BE 100% SATISFIED AND
YOUR GROUP WILL HAVE A WHOLE LOT OF FUN...
OR IT'S FREE!

413-247-3322
trevor@trevorthegamesman.com
PO Box 463, Haydenville, MA 01039